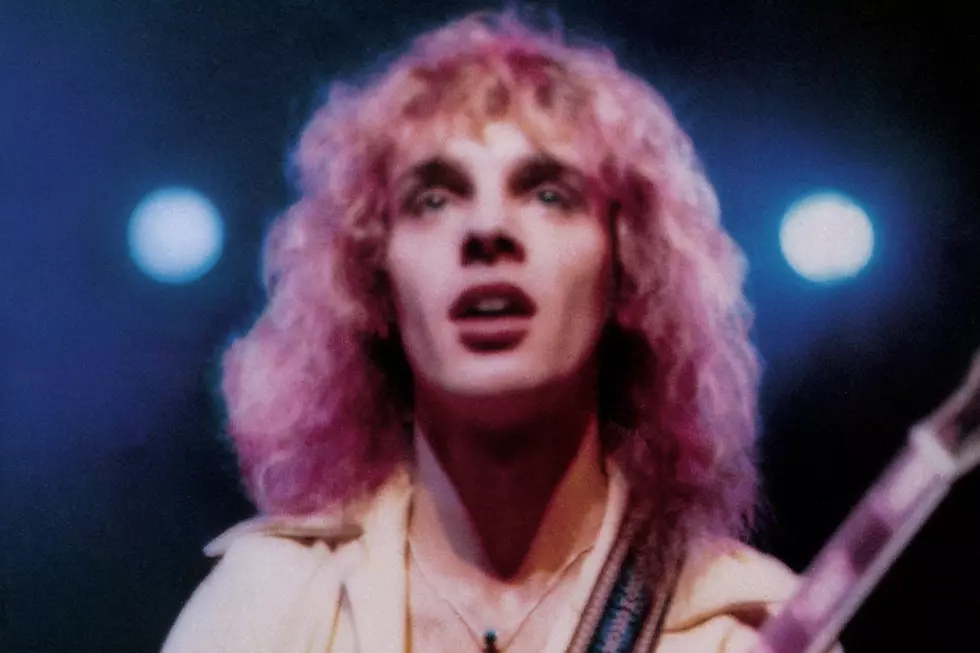 40 Years Ago: 'Frampton Comes Alive!' Hits No. 1 but Spells Disaster for Peter Frampton
A&M Records
By 1976, Peter Frampton had yet to attain the success he'd hoped for when he left Humble Pie to go solo in 1971. Up to that point, the guitarist had released four studio albums, with only 1975's Frampton selling as many as 300,000 LPs. But the earth shifted under Frampton's feet with the release of Frampton Comes Alive! in January 1976. The live double-album, which would achieve eight-times-platinum status, reached No. 1 on the Billboard albums chart for the week ending April 10, 1976.
"It was craziness," Frampton told Bankrate. "It just didn't ever seem to stop. We sold like a million copies in one week; I remember that week. Originally, it was just one single album; 'Show Me the Way,' 'Baby, I Love Your Way,' all the acoustic stuff, none of that was on there. That's when Jerry Moss, the M of A&M Records, heard it and said, 'Where's the rest?' We said, well, we didn't want to spend too much money and we didn't think you'd be up for a double one, and he said, 'But I miss "Wind of Change," I miss "Baby, I Love Your Way." You'd better go out and record some more.' That was the first sign that we were onto something, because he was very excited."
Frampton's concerts in Commack, N.Y., and Plattsburgh, N.Y., were recorded just weeks before the LP's scheduled release. Those performances yielded the iconic versions of "Show Me the Way" and "Baby, I Love Your Way."
"I think every artist has their moment when they just hit a brilliance that's unexplainable," Moss said in Billboard. "The audience and the sounds and the music sort of come together into a thrilling combination. And that album had that."
"It was all a bit surreal, to be honest," Frampton explained in Goldmine. "It's something that very few people have experienced, and you can't really put that into words. You kind of have to be there to know what that was like. Surreal is the right word. It's almost like it's not happening to you, and it's happening to somebody else, because you haven't changed, but the world has changed the way they think about you. Lots of people who didn't know about you now know who you are, so notoriety on that level is a very strange thing [laughs]."
Watch Peter Frampton Play "Do You Feel Like We Do"
The record company wanted a quick follow-up album to capitalize on the enormous success of Frampton Comes Alive! Frampton believes rushing back into the studio was a huge mistake.
"I was literally out there on my own, and taking advice from people who really didn't know any more than I did how to deal with the situation, in order to take full advantage of it and turn it into a long career, not one that was going to fizzle because it got so big so quick," Frampton recalled to the A.V. Club. "This is all with hindsight, which is great, but at the time, it was sort of like I was in the middle of World War III. There were things being fired at me left and right, where everybody wanted me for everything. And having taken, in the scheme of things, not that long – but, as far as I was concerned, most of my life – to get to that point in '76, I didn't want to turn things down. Everybody wants to be on the front cover of People and Rolling Stone. I didn't know then that too much coverage is death, overkill. We didn't realize that at the time. Mistakes were made, so I learned by my mistakes."
The following year's I'm In You album sold millions of copies but was considered a failure compared to its predecessor. Poor choices like co-hosting the 1977 Rock Music Awards with Olivia Newton-John and appearing in the film flop Sgt. Pepper's Lonely Hearts Club Band dissipated Frampton's image as a rocker and helped scuttle his career for years.
"Hey, I've done a lot of other things," Frampton told the Arizona Republic, "but I'm also very aware that when I kick the bucket, the first paragraph will be, 'The man responsible for Frampton Comes Alive! just dropped dead. Frampton Drops Dead! after coming alive all these years.'"
See 'Frampton Comes Alive' and More in the Top 100 Live Albums
More From Ultimate Classic Rock