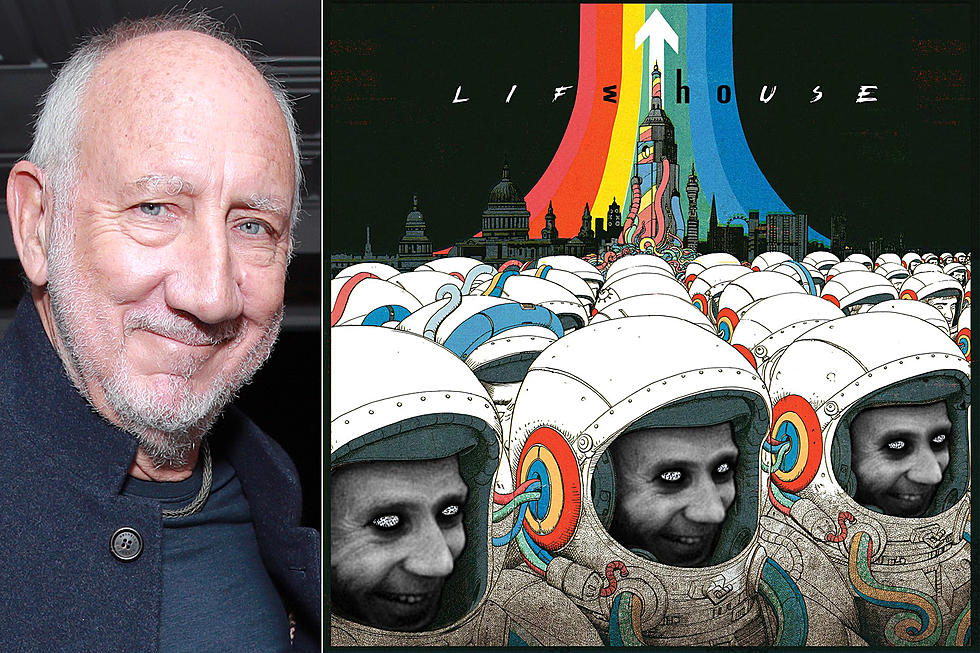 Pete Townshend Says Movie Bosses Now Get His 'Lifehouse' Concept
Rich Fury, Getty Images / Image Comics
The Who's Pete Townshend said the graphic novel associated with his Lifehouse project was generating interest in the movie and TV worlds, offering hope that his shelved but never forgotten concept could be given a new lease on life.
After failing to crystallize his vision in 1970, some of the material appeared on Who's Next the following year. But he's never fully abandoned the original story, which is said to have been difficult to explain in the era before modern communication technology. The most recent related release was a box set that included a graphic novel that told the Lifehouse story, and it will be released as a standalone product via Image Comics on Dec. 19.
"I don't know what's next for Lifehouse, except that a number of film companies and TV companies have seen the graphic novel," Townshend told the Daily Beast in a recent interview. "And that's exciting, because they're all now starting to get it! I do feel that the art installation aspect of it is still potentially possible to imagine might take place."
He added: "I think the possibility now is that the graphic novel might lead to a movie, which will be good; it would be fun." But he went on to say that the intention behind the story – to start a conversation about connecting artists and audiences in a more meaningful way, and using technology for human enrichment rather than financial gain or political control – might not be fully realized.
READ MORE: When the Who Debuted 'Tommy' in Concert
"I think the idea of building an argument, a debate about how people in power wish to use the arts and popular music is a fucking touchy subject, rooted in the fact that musicians, across the board, are like the rest of the populous: polarized into two groups, left and right. There seems to be very little middle."
Comparing the five-decade-old plot to the modern world, Townshend said: "I think, yes, the technology is nearly there, but what has arrived has already been manipulated and corrupted by money people. All of these billionaire leaders of new tech are so rich that they could save the world if they wanted to. I don't know why they don't, but they choose not to."
Elsewhere in the interview, he reflected on the moment he had to abandon the original Lifehouse work, and decided to focus instead on a standard album, which became Who's Next, produced by Glyn Johns.
Pete Townshend's Instructions to the Who Producer Glyn Johns
"I still had the band, and the band was still behind me," the guitarist recalled. "When Glyn took over, I was hoping that Glyn would make a double album. … That's why I gave him the script. And I sat down with him before, and he said, 'I really don't understand this at all.' And I just remember saying to him, 'Listen. I hope you don't feel I'm insulting you, but you really don't fucking need to. This is my project. Just do what you do.'"
Listen to the Who's 'Pure and Easy'
As a result, he was surprised by some of Johns' choices. "I didn't think that we would get to the end of the project and he would decide that the double album was going to be a single album and leave off 'Pure and Easy,'" he said. "I remember thinking that was like leaving fucking 'Amazing Journey' off Tommy! It's the song that sets the scene; that gives the other songs a backbone."
But he continued: "He wasn't thinking about Lifehouse; he was thinking about a bunch of songs, and he made his decisions based on that. But I decided to trust his instincts and his intuition, because by the time we got to the end of the recording, it was clear...there was no way I was going to rescue the movie side of the project."
Top 10 'Leftovers' Albums
Odds-and-ends projects are often overlooked but in time some of them have come to be valued – and in some cases, essential – parts of these artists' catalogs.
Gallery Credit: Bryan Wawzenek
More From Ultimate Classic Rock