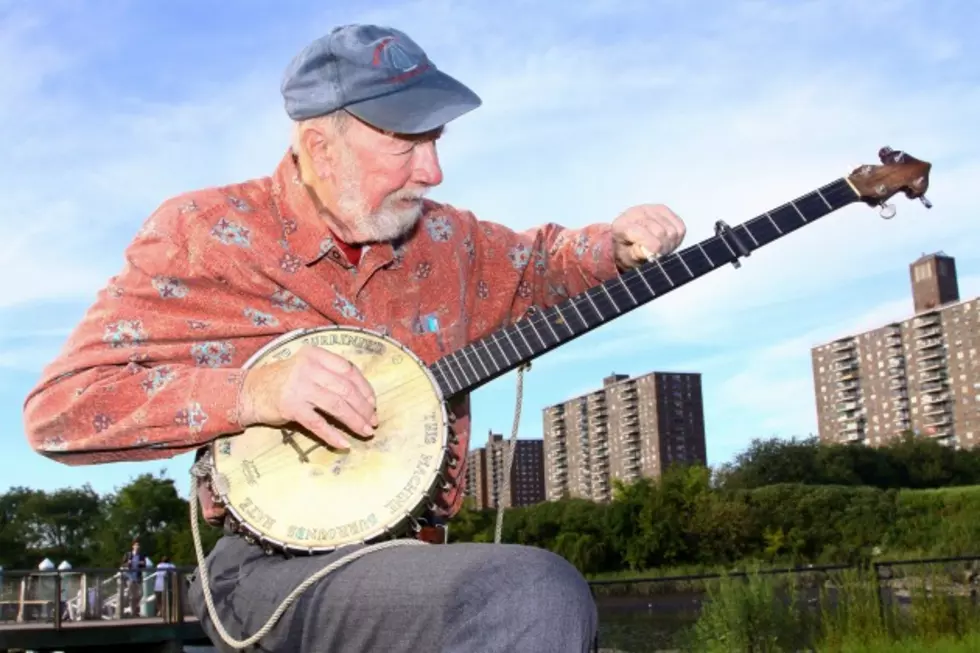 Legendary Folk Singer Pete Seeger Dies at 94
Astrid Stawiarz, Getty Images
Legendary musician and activist Pete Seeger has passed away at the age of 94, closing a chapter on one of the most important and inspiring stories in all of American song.
Born in Manhattan on May 3, 1919, Seeger was raised in a musical household: his father Charles was an Ivy League-schooled composer and musicologist, and his mother Constance was a concert violinist who went on to teach at Julliard. In spite of that rather stuffy-sounding background, Seeger's parents were ardent supporters of populist causes; in fact, Charles' public pacifism during World War I cost him his job at the University of California, Berkeley, setting in motion a chain of events that helped set the tone for the rest of Pete's life and career.
Charles and Constance divorced when Pete was seven, and six years later, Charles married Ruth Crawford Seeger, a composer and folk scholar who worked alongside John and Alan Lomax in their efforts to catalog and preserve traditional songs through the Archive of American Folk Song at the Library of Congress. It was while traveling with Charles and Ruth that Pete first heard the five-string banjo during the summer of 1936, thus starting a lifelong love affair with the instrument. By 1938, he'd dropped out of college, and the following year, he started his musical career in earnest.
In 1939, Seeger took a job with Alan Lomax at the Archive of American Folk Song of the Library of Congress, poring through archival recordings while singing alongside a diverse roster of performers (including Leadbelly, Woody Guthrie, and Burl Ives) in Lomax's weekly radio show 'Back Where I Come From.' Although extremely popular in the D.C. region -- the show was even invited to the White House for a live performance -- its integrated lineup scared off sponsors at the nationwide level, putting Seeger at odds with conservative policymakers for one of the first (but far from the last) times in his career.
Seeger started his rise to national prominence in 1941, when he co-founded the Almanac Singers, an activist folk troupe whose shifting roster eventually coalesced into the Weavers, whose early recordings (particularly the massive 1950 hit 'Goodnight, Irene') made them stars even as their progressive politics made them a target for the anti-Communist hysteria of the early '50s. Blacklisted in 1953, Seeger and his fellow Weaver Lee Hays were called to testify before the House Committee on Un-American Activities (HUAC) in 1955; Hays took the Fifth Amendment, while Seeger took the First.
"I love my country very dearly and I greatly resent this implication that some of the places that I have sung and some of the people that I have known, and some of my opinions, whether they are religious or philosophical, or I might be a vegetarian, make me any less of an American," said Seeger, who was rewarded with a charge of contempt -- later overturned on a technicality in 1961. "I will tell you about my songs, but I am not interested in telling you who wrote them, and I will tell you about my songs, and I am not interested in who listened to them."
Seeger reunited with the Weavers in 1955 for a sold-out show at Carnegie Hall, which led to a new recording contract and a much-needed influx of cash for the group's members, who'd struggled to earn a living during their blacklisted years. For Seeger, however, it was never about the money; in 1949, he and his wife Toshi purchased a plot of land in New York's Hudson Valley, where they built their own log cabin and lived a simple life. When the other members of the group agreed to sing for a cigarette jingle in 1958, Seeger quit the Weavers on principle and focused on his solo career.
A longtime champion of musical education, Seeger devoted much of his career to helping others learn how to play, perhaps most notably through his classic introductory text 'How to Play the Five-String Banjo.' He's also credited with inventing a longer-necked variation on the instrument, dubbed the 'Seeger Banjo,' as well as helping popularize the use of the 12-string guitar in American folk music.
In fact, although Seeger's career is often framed in political terms -- and he certainly deserves respect for his decades of tough, principled work on behalf of civil rights, racial equality, the anti-war effort, and environmental causes -- his musical contributions are equally important. A global ambassador for traditional music throughout his life, Seeger helped influence generations of artists; during the '60s and beyond, his songbook served as fertile ground for a long list of acts who turned to his work to make statements (such as the many performers who covered 'Where Have All the Flowers Gone?') or score hits (as with the Byrds' version of 'Turn! Turn! Turn!').
Seeger was also instrumental in jump-starting Bob Dylan's early career, encouraging legendary A&R man/producer John Hammond to man the boards for Dylan's first album and using his seat on the Newport Folk Festival board to have Dylan added to the festival lineup in 1965, paving the way for the historic "Dylan goes electric" set. (The oft-quoted story regarding an enraged Seeger threatening to chop the power cable with an axe has been widely misunderstood.)
As rock music matured, Seeger's chart presence faded, but he remained steadily active over the years, releasing new albums well into the 21st century (his most recent effort, 'The Storm King – Stories, Narratives, Poems,' came out in April of 2013) and continuing to champion his favorite causes, including ongoing efforts to clean and care for the Hudson River. And although his contributions to American music have become such an integral part of the cultural lexicon that many listeners no longer even realize they're there, Seeger's influence is undiminished, as recently exemplified by Bruce Springsteen's stellar 2006 tribute album 'We Shall Overcome: The Seeger Sessions.'
"Can't prove a damn thing, but I look upon myself as old grandpa," Seeger offered in response to the question of his legacy during a 2008 interview. "There's not dozens of people now doing what I try to do, not hundreds, but literally thousands....The idea of using music to try to get the world together is now all over the place."
According to his obituary in the New York Times, Seeger died peacefully in his sleep at NewYork-Presbyterian Hospital after a short stay. As his grandson told the Associated Press, "He was chopping wood 10 days ago."
"Yes, Mr. Seeger has passed on," said Jim Musselman, president of Seeger's last label, Appleseed Recordings. "But nobody is truly gone until all those who are touched or influenced by that person are gone. So he will live on in the  hearts and minds of so many for years to come."
On behalf of all of us at Ultimate Classic Rock, thank you, Mr. Seeger -- not only for your countless musical contributions, but for your powerfully inspiring example of a life embraced with strength and a clear sense of purpose. You will be missed.
More From Ultimate Classic Rock