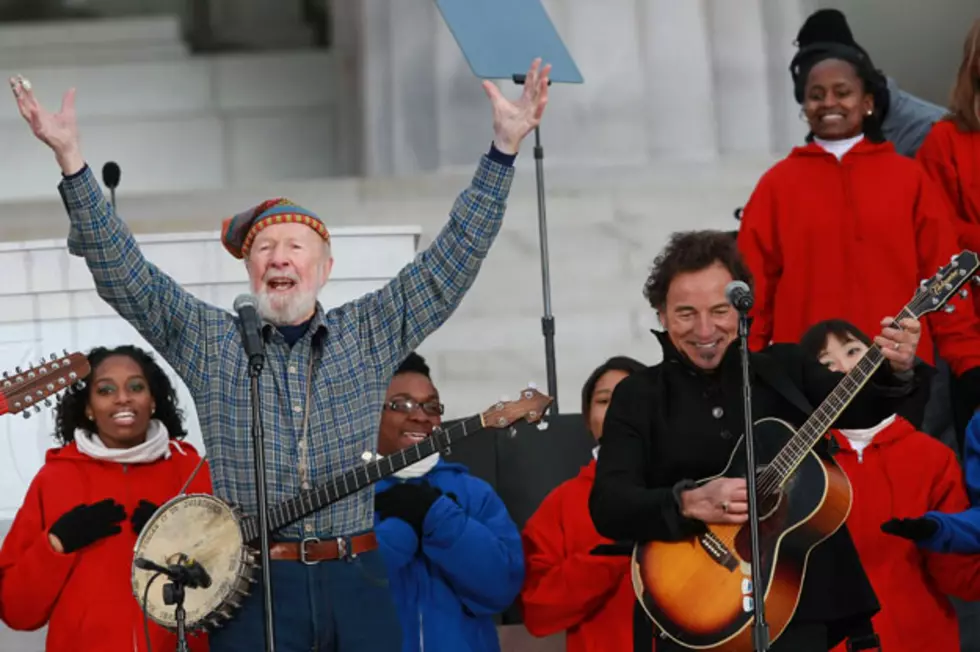 Pete Seeger to Release Album With Bruce Springsteen + Guests
The man who could be called the father of American folk music, Pete Seeger, is certainly keeping busy. At age 93, Seeger is releasing not one, but two albums this fall.  Appleseed Records will issue 'A More Perfect Union,' which features 14 new songs written by Seeger with singer-songwriter Lorre Wyatt. The album includes several duets with the likes of Bruce Springsteen, Tom Morello, Steve Earle, Emmylou Harris and Dar Williams.
Appleseed label chief Jim Musselman spoke with Billboard.com about the project. "We really wanted people who are carrying on Pete's spirit," he said,  "Bruce Springsteen has carried on Pete's vision. Tom Morello and the albums he is doing as the Nightwatchman are among the best political albums out now. All of the artists jumped at the opportunity to do something like this."
The songs tackle such topics as political, economic and environmental issues, along with Seeger's own unique personal observations. Springsteen duets with Seeger on 'God's Counting on Me … God's Counting on You,' which is about the oil spill in the Gulf of Mexico.
The other soon to be released album, 'Pete Remembers Woody,' is a two-disc set that celebrates the late Woody Guthrie's legacy through anecdotes, reminiscences and songs. The album features versions of Guthrie songs performed by Seeger,  Arlo Guthrie (Woody's son), and others. Both albums are set for release Sept. 25.
More From Ultimate Classic Rock