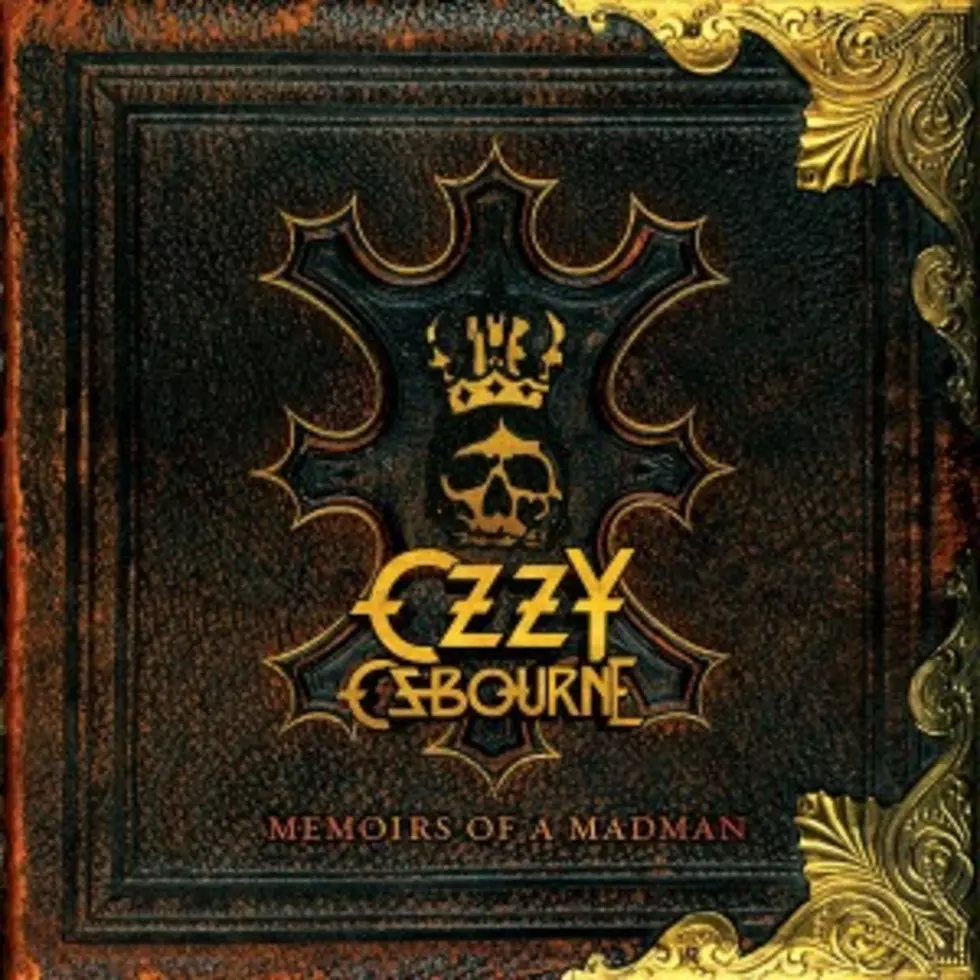 Ozzy Osbourne Announces New 'Memoirs of a Madman' Audio and Video Retrospectives
Epic/Legacy
There's definitely no shortage of Ozzy Osbourne compilations, but if you don't already own one, you might want to wait a little while before making the investment. His latest solo career-spanning collection, 'Memoirs of a Madman,' is right around the corner.
Due Oct. 10, 'Memoirs' bundles together 17 of Osbourne's biggest solo hits on a single CD. As tends to be the case with many major releases these days, it'll also be available on vinyl, with the songs spread out over two LPs (offered on standard 180-gram pressings or special edition picture discs). The CD arrives alongside a double-DVD set -- also titled 'Memoirs of a Madman' -- that includes a hefty array of music videos, unreleased and out-of-print live performances, and interview clips.
Osbourne announced 'Memoirs' via social media campaign, asking fans to "help unscramble Ozzy's new cover art by using the hashtag #OzzyRules on Facebook and Twitter. The more you share the sooner it unlocks." As you can see here, the response was fairly swift -- and now the project's label, the Sony-distributed Legacy imprint, has taken things the rest of the way, unveiling the complete track listing for the CD and the DVDs. Check it out below, and decide whether you'll be making room on your shelf for 'Memoirs of a Madman' when it shows up in stores this fall.
'Memoirs of a Madman' CD Track Listing
'Crazy Train'
'Mr. Crowley'
'Flying High Again'
'Over the Mountain'
'Bark at the Moon'
'The Ultimate Sin'
'Miracle Man'
'No More Tears' (edit)
'Mama, I'm Coming Home'
'Road to Nowhere'
'Perry Mason'
'I Just Want You'
'Gets Me Through'
'Dreamer'
'I Don't Wanna Stop'
'Life Won't Wait'
'Let Me Hear You Scream'
'Memoirs of a Madman' DVD Track Listing
DVD 1
'Bark at the Moon'
'So Tired'
'The Ultimate Sin'
'Lightning Strikes'
'Crazy Train'
'Miracle Man'
'Crazy Babies'
'Breaking All the Rules'
'No More Tears'
'Mama, I'm Coming Home'
'Mr. Tinkertrain'
'Time After Time'
'Road to Nowhere'
'I Don't Want to Change the World' (Live)
'Changes'
'Perry Mason'
'I Just Want You'
'See You on the Other Side'
'Back on Earth'
'Gets Me Through'
'Dreamer'
'In My Life'
'I Don't Wanna Stop'
'Let Me Hear You Scream'
'Life Won't Wait'
'Let It Die'
BONUS
'Mama, I'm Coming Home' (alternate version)
The Making of 'Let Me Hear You Scream'
The Making of 'Life Won't Wait'
DVD 2
Rochester, N.Y. 1981
'I Don't Know'
'Suicide Solution'
'Mr. Crowley'
'Crazy Train'
Albuquerque, N.M. 1982
'Over the Mountain'
New York, N.Y. 1982
'Fairies Wear Boots' (clip)
Kansas City, Mo. 1986
(Jake E Lee, Phil Soussan, Randy Castillo)
'Bark at the Moon'
'Never Know Why'
Ozzy's Bunker
'Killer of Giants'
'Thank God for the Bomb'
'Secret Loser'
Ozzy's Bunker
Philadelphia, Pa. 1989
(Zakk Wylde, Geezer Butler, Randy Castillo)
'Bloodbath in Paradise'
'Tattooed Dancer'
'Miracle Man'
Marquee, U.K. 1991
(Zakk Wylde, Mike Inez, Randy Castillo)
'Bark at the Moon' (clip)
San Diego, Calif. 1992
(Zakk Wylde, Mike Inez, Randy Castillo)
'I Don't Want to Change the World'
'Road to Nowhere'
Japan 1992
Ozzy's Bunker
'No More Tears'
MTV 1992
'Mama, I'm Coming Home'
'Ozzmosis' Recording Session 1995
Ozzfest 1996
(Joe Holmes, Robert Trujillo, Mike Bordin)
'Perry Mason'
Tokyo, Japan 2001
(Zakk Wylde, Robert Trujillo, Mike Bordin)
'Gets Me Through'
Ozzfest 2007
(Zakk Wylde, Blasko, Mike Bordin)
'Not Going Away'
Las Vegas, Nev. 2007
(Zakk Wylde, Blasko, Mike Bordin, Adam Wakeman)
'I Don't Wanna Stop'
'Scream' Recording Session 2010
London, England 2010
(Gus G, Blasko, Tommy Clufetos, Adam Wakeman)
'Let Me Hear You Scream'
Philadelphia, Pa. 1989
(Zakk Wylde, Geezer Butler, Randy Castillo)
'Flying High Again'
Tokyo, Japan 2001
(Zakk Wylde, Robert Trujillo, Mike Bordin)
'Believer'
More From Ultimate Classic Rock