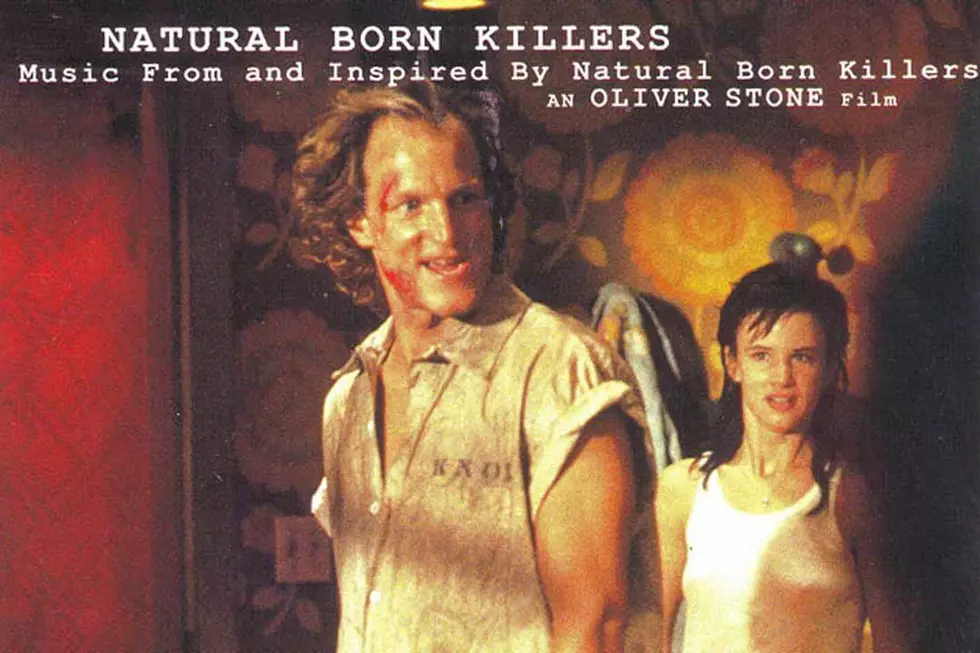 How 'Natural Born Killers' Got a Killer Soundtrack
Nothing / Interscope
When Trent Reznor curated the soundtrack to the Oliver Stone serial-killers-on-the-rampage movie Natural Born Killers in 1994, he was still a number of years away from becoming an Oscar-winning composer. He was even two years away from doing his first project that wasn't made specifically for a record: music for a video game.
But with Natural Born Killers, which was released on Aug. 23, 1994, Reznor uprooted the traditional soundtrack mindset with a 75-minute, 27-track album that unspools something like a modern-day mixtape crossed with a genre-spanning art collage. And through a mix of some new original songs and older tracks by established and not-so-established artists, it also tells the movie's story of Mickey and Mallory, a pair of heartless killers who go on a multi-state terror spree.
In a way, the brutal movie was Stone's response to media saturation and the glorification of violence. The soundtrack itself was nearly as brutal and as jarring in its juxtaposing of singer-songwriter legend Leonard Cohen with riot-grrrl punks L7, Duane Eddy with Nine Inch Nails. More than two decades later, it sounds like it knew something about the future of music that nobody else sensed was coming.
Listen to Cowboy Junkies' 'Sweet Jane' From 'Natural Born Killers'
Through deft edits and the interspersing of movie dialogue throughout the soundtrack, Reznor burns through Natural Born Killers like Stone's characters tear across the southeast United States. But there's a slow, menacing simmer to the mix, one that hints at a dark, imperceptible danger just below the surface.
And if at times the album isn't as seamless as you think it should be, that's probably the point. Mickey and Mallory's world is a messy and violent one, and so is the record. Natural Born Killers isn't a tidy film (the ruthless murderers are rewarded by certain factions for their crimes), so don't expect its soundtrack to be any tidier.
The album reached No. 19 on the chart and went gold -- not bad for a controversial movie that made tons of enemies back in the day and a soundtrack with no real hits (even though the remixed "Sweet Jane" found its way onto more adventurous radio playlists and into the Modern Rock Top 10).
Reznor continued his extracurricular activity with movie soundtracks, eventually winning an Academy Award in 2011 for his work on The Social Network. Natural Born Killers, in a sense, sounds half a world away from that acclaimed score. But its seeds are buried deep in Killers' dark, dangerous grooves.
Top 100 Classic Rock Artists
More From Ultimate Classic Rock