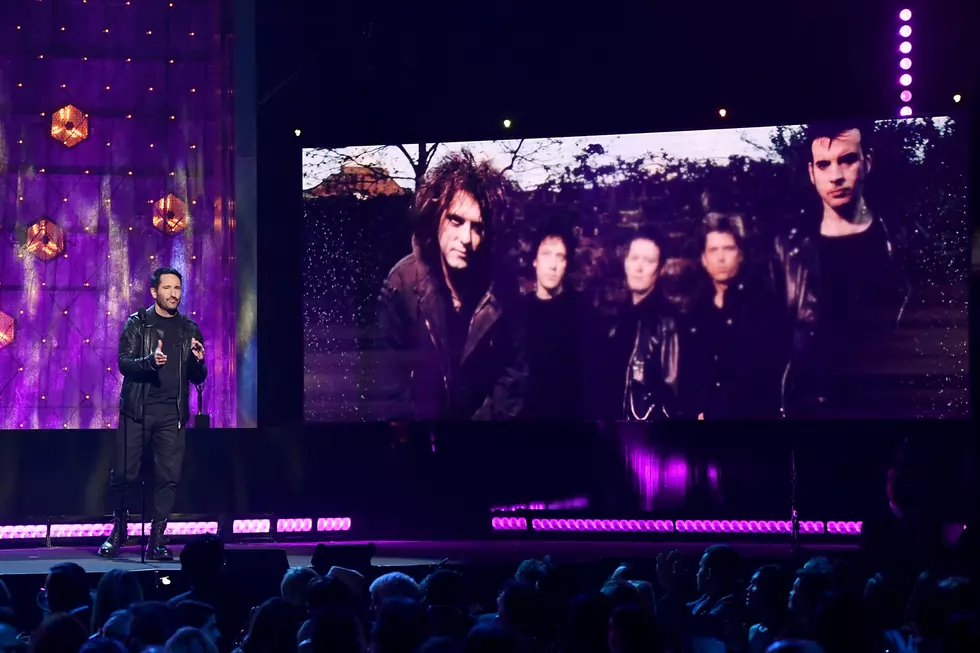 Trent Reznor Inducts the Cure Into Rock and Roll Hall of Fame
Mike Coppola, Getty Images
After starting his speech by crediting Robert Smith and his bandmates for changing the face of modern music "without ever having to compromise their sound or aesthetic," Reznor told of how he first heard the group after moving from a small town to Cleveland. "Everything changed. Just being able to tune into college radio made my head explode with limitless possibilities.
"One of the most important aspects of being swept away by this tidal wave of new music was getting to hear the Cure for the first time. Immediately, this band struck a deep chord with me. The first album I heard was [1985's] The Head on the Door. I hadn't heard anything like it before. A lot of darkness I felt in my head was coming back at me through the speakers; it blew my mind. It was like this music was written just for me. I've struggled my whole life feeling like I don't fit in or belong anywhere," Reznor confessed before getting one of the biggest laughs by looking around the gigantic arena and dryly noting, "kind of like right now."
"Hearing this, suddenly I felt connected, and no longer quite so alone in the world. That's one of the things I find so unique and special about the power of music. It wasn't just the sound, the words or the presentation. All of it was anchored by the most exquisite of instruments - Robert Smith's voice. That voice, capable of such a range of emotion and expression, from rage, sorrow and despair, to beauty, frailty and joy. It might sound naive, but until I heard The Head on the Door, I just didn't realize it was possible to write about such difficult and profound ideas – but do it in the context of accessible songs, that might even get played on the radio, challenging norms from the inside."
Nine Inch Nails have been eligible for induction since 2014, but have yet to be inducted despite appearing on the ballot in both 2015 and 2016. Last October, Reznor said that being recognized by the Hall means almost nothing to him.
"I saw somebody write something online or comment on Twitter like, 'What could be less rock 'n' roll than the fuckin' Hall of Fame,'" he said. "And that is authentically how I feel about it. I'll say this: It's nice to be appreciated. It's nicer when it feels like that's coming from a place that you care about. Like, a Grammy doesn't mean a fuckin' thing. It means a few assholes in a room that are trying to make a TV show have good ratings deciding, 'Let's give it to this guy.' It doesn't feel like it has any meaning behind it. ... With that being said, it's always nice to feel you've been appreciated to some degree, but it's not on my list of things I have to achieve before I die."
Even though Nine Inch Nails released a trio of EPs between December 2016 and June 2018, Reznor has been more focused in recent years on film scoring. He won an Oscar for The Social Network, but he recently said the excitement of the night didn't last.
"The next day by lunchtime, we were back to being the same not-good-enough assholes that we were before we'd won one," he said. "It felt good for maybe 18 hours. It was a great experience and I have a lot of respect for the institution, but it didn't fix everything that's wrong with our brains, and our inadequacies remained."
The 2019 Rock and Roll Hall of Fame Induction Ceremony will air April 27 on HBO.
The Cure Albums Ranked
More From Ultimate Classic Rock