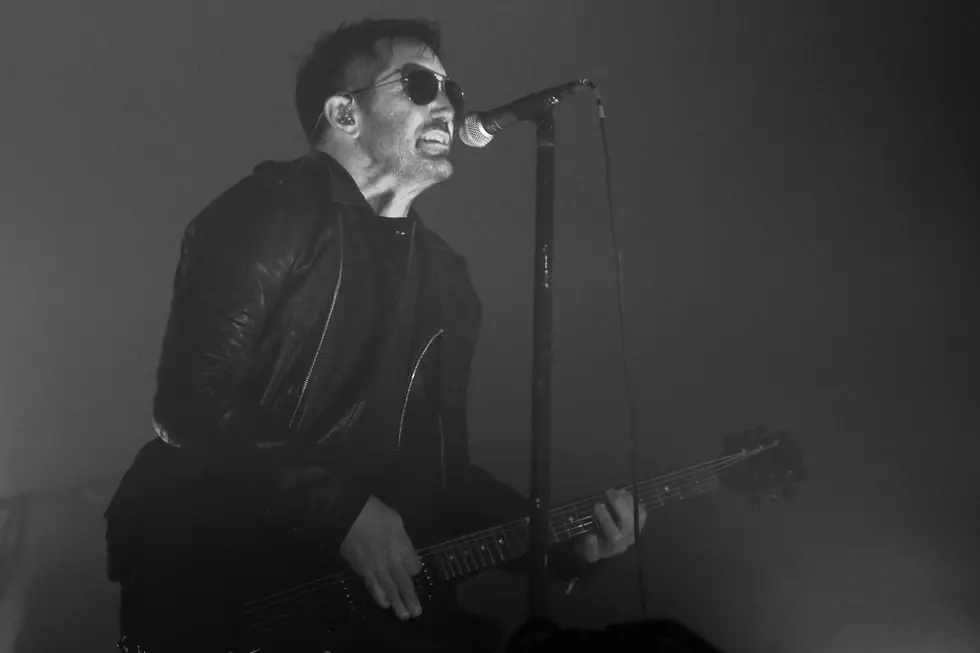 5 Reasons Nine Inch Nails Should Be in the Rock and Roll Hall of Fame
Rich Fury, Getty Images
A pasty-skinned keyboardist from Ohio is probably the last person you'd expect to lead a rock revolution. But that's the beauty of Trent Reznor and his one-man band, Nine Inch Nails. Their arrival, and massive commercial success, was completely unexpected, yet it continues to resonate more than three decades after it began.
Beginning with their 1989 debut album Pretty Hate Machine, Nine Inch Nails have forged a long and storied career. The band was one of the '90s most successful rock bands and has maintained its popularity in the ensuing decades. More than 20 million albums sold and multiple Grammy Awards are among their many accomplishments.
After previous nominations in 2014 and '15, Nine Inch Nails again find themselves among the Rock and Roll Hall of Fame nominees. Here are five reasons why the band deserves to be inducted.
They Brought Industrial Rock to the Mainstream

The seeds of industrial rock were planted in the '70s by avant-garde artists like Throbbing Gristle. However the genre, which mixes electronic elements with the raw aggression of punk, remained on the outskirts of society for two decades before Nine Inch Nails brought it to the masses. The key was Reznor's ability to craft hauntingly catchy tunes within the framework of industrial rock. This wasn't just sound for the sake of sound, but rather a carefully arranged tapestry of forceful, hypnotic noise.

David Bowie, in a piece for Rolling Stone, summed up Reznor's unique talent: "Trent's music, built as it is on the history of industrial and mechanical sound experiments, contains a beauty that attracts and repels in equal measure: Nietzsche's 'God is dead' to a nightclubbing beat. And always lifted, at the most needy moment, by a tantalizing melody."

Trent Reznor Is Revered by His Peers

Bowie is one of the many acclaimed music industry veterans to have sung Nine Inch Nails' praises, comparing Reznor's work to that of Brian Eno and the Velvet Underground. The Thin White Duke and Nine Inch Nails toured together in 1995 and later collaborated on the remix of Bowie's 1997 single "I'm Afraid of Americans." Another music icon, Johnny Cash, chose to cover Nine Inch Nails' "Hurt" for his album American IV: The Man Comes Around. The track became a surprise hit, earning a Grammy, MTV Video Award and CMA Award.

Producer Bob Ezrin -- known for his work with Kiss, Peter Gabriel and Pink Floyd -- called Reznor "a true visionary" who has "broken and reinvented the rules of engagement on every level, from recording to touring to interacting with his fans." 

NIN's Cultural Impact Goes Deeper Than Music

In 1997, Time magazine named Reznor one of its 25 Most Influential Americans. "Reznor wields the muscular power of Industrial rock not with frat-boy swagger but with a brooding, self-deprecating intelligence," the periodical noted, adding that the musician gave a voice to the "Generation Y subculture."

Indeed, Reznor's influence on fans went far beyond album sales. Nine Inch Nails' music videos saw regular rotation on MTV. Their dark, even sadistic themes, stood in stark contrast to things like the Spice Girls and Britney Spears, who were also popular at the time. The NIN logo became ubiquitous in the '90s, appearing on t-shirts, poster art and patches on almost every high-schooler's backpack. The logo was so popular that 20 years later it would be incorporated into Captain Marvel, the superhero film set in the '90s. Even as Reznor and his first generation of fans have aged, there remains a strong connection. The musician has penned the scores to many successful films, including The Social Network (2010), The Girl with the Dragon Tattoo (2011) and Bird Box (2018). Though not officially Nine Inch Nails projects, they reflect the continuing emotional resonance his music has with the public.

Trent Reznor Pioneered the Fusion of Technology and Music

In the studio, Reznor is known for his wizardry, routinely pushing the boundaries of acoustic and synthetic sounds to create a style all his own. The rocker was also at the forefront of music in gaming, composing the score to the 1996 video game Quake. Reznor would take things a step further in 2007 when he created an alternate reality game to accompany Nine Inch Nails' Year Zero LP. 

An advocate for music's digital revolution, Reznor previously encouraged fans to download his music illegally and later gave away his 2008 album, The Slip, for free. His voyages into the world of digital music delivery eventually led Reznor to join Beats Music in 2012, taking the role of Chief Creative Officer. He became part of Apple Music's executive team in 2014 when Beats was acquired by the computer giant, remaining with the company until 2018. 

One album does not make a Hall of Fame career, no matter how good it is. Nine Inch Nails have an impressive catalog of music spanning two decades and nine studio albums. Still, the importance of their sophomore LP The Downward Spiral cannot be overstated. The release was a game changer, with critics calling it a "full-on noise attack," "the ultimate, purist form of self-expression" and noting that its release "reshaped the world for millions of high school kids." The Downward Spiral continues to be praised as a seminal LP and has appeared on multiple lists of the greatest albums of all-time. Its success opened the door for many other like-minded industrial acts of the '90s, including Marlyn Mason, White Zombie, Filter and the Prodigy.
More From Ultimate Classic Rock