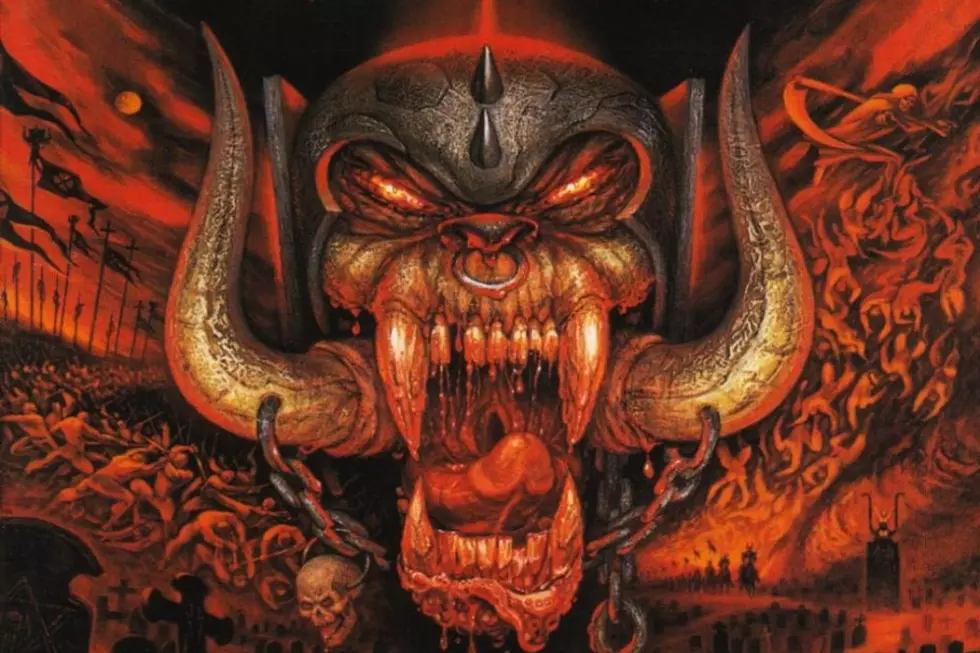 How Motorhead Pushed Ahead With the Furious 'Sacrifice'
CMC International
When Motorhead unveiled their 12th studio album in July 1995, Lemmy Kilmister's indestructible musical mean machine was celebrating their 20th anniversary. So it was entirely fitting that they choose a title befitting of all the Sacrifice that had gotten them this far.
The excellent Sacrifice would close a significant chapter in the band's career with the departure of longtime guitarist Wurzel, and mark the beginning of a new period of creative stability for the long-suffering group, who spent half of the '80s locked out of recording studios due to ongoing contract litigation.
The '90s started off in a rather checkered manner for the group as well, with two of the band's finest latter-day albums, 1991's 1916 and 1993's Bastards separated by the borderline heretical sellout of 1992's pandering March or Die. Fans were quite relieved when Sacrifice proved to be another barnstorming effort, very much in the true Motorhead sonic tradition.
The recording of Sacrifice was not without its challenges. Kilmister, the still-present Wurzel, guitarist Phil Campell and drummer Mikkey Dee reportedly had to contend with a much smaller recording budget than what had been available to them for Bastards. Luckily the band, as is their way, made up for these deficiencies with sheer, decapitating fury.
The opening title track is a great example of the power on display here. Built around a complex Mikkey Dee drum pattern, the song set the tone for a slew of astonishingly brutal head-bangers ("Over Your Shoulder," "War for War," "Order/Fade to Black," "Make 'em Blind"), devoid of melody and packed with wonderfully ugly riffs.
Listen to Motorhead Perform 'Sacrifice'
For much of the album, the familiar '50s rock fundamentals that typically underpinned Kilmister's songwriting (and which allow him to defend Motorhead as a rock 'n' roll group and not a heavy metal band) were largely absent. These familiar tricks were wheeled out for the memorable "Sex & Death" (about, in Kilmister's own words, the "two most important things in life"), "All Gone to Hell," and in particular, the piano-enhanced "Don't Waste Your Time."
Toward the end of the LP, both dimensions meshed again on "In Another Time" and "Out of the Sun." The latter also served as the platform for a parting guitar solo for long-serving guitarist Wurzel, who would leave Motorhead after Sacrifice's recording and return the group to their original three-piece lineup.
As Kilmister recounted in his autobiography, White Line Fever, "It became clearer every day that Wurzel was on his way out of the band. He wouldn't extend himself at all and usually just sat there while we were writing songs, with his guitar across his knees. It was very difficult for me because for years he was my best friend in the band and then he became this person I didn't know, and who hated me, and that can break your heart."
But broken hearts, too, require Sacrifice, and after receiving widespread kudos for their latest effort, Motorhead embraced their renewed power-trio lineup for the equally acclaimed Overnight Sensation the following year. The trio spent the next decades unchanged and unflagging in their desire to deafen everyone they can, all in the name of rock 'n' roll.
Motorhead Albums Ranked
Remembering Motorhead's Lemmy Kilmister
More From Ultimate Classic Rock