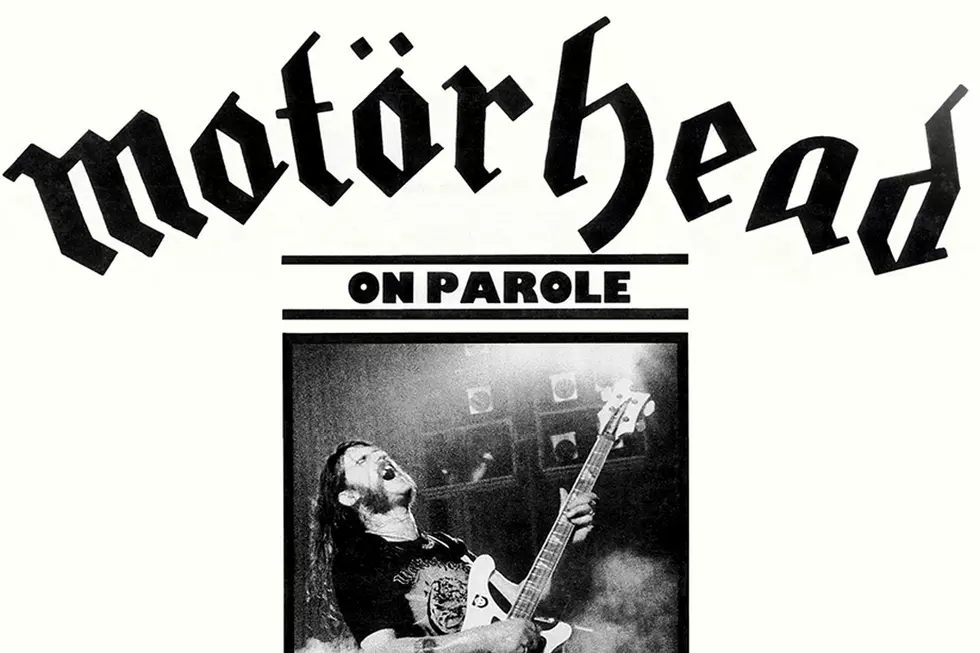 How Motorhead's First Sessions Were Finally Issued as 'On Parole'
United Artists
When a band becomes popular, recordings that had previously been deemed unsuitable make their way into stores to capitalize on their success. One of those, Motorhead's On Parole, was released on Dec. 8, 1979.
In the wild days of the early '70s, there were a handful of groups who pumped life into a post-hippie apocalyptic landscape. Taking certain elements from the ashes, bands like Hawkwind, the Deviants and the Pink Fairies soldiered on in a somewhat hallucinatory haze. But in place of mellow introspect, these bands turned up the volume and kicked out the jams.
Lemmy Kilmister made his presence known as a member of Hawkwind, singing lead on the band's sole charting hit, the dynamic "Silver Machine" in 1972. At the same time, the Pink Fairies were pounding out their own distinct brand of loud rock and roll chaos. The two bands not only shared a bond in attack but they often shared stages in those days.
Lemmy was unceremoniously sacked from his beloved band following a 1974 tour of Canada where he was the subject of a drug bust. Meanwhile, the Pink Fairies called it a day after released their masterpiece, Kings of Oblivion. Call it fate, or good timing, but these events left Lemmy and Fairies guitarist Larry Wallis without gigs. This problem was soon resolved as the duo joined forces to create what would ultimately become an institution of rock 'n' roll, Motorhead.
Lemmy originally wanted to name the band Bastard, but the decision was made to take the name from one of Lemmy's final contributions to his old band. "Motorhead" was originally the b-side of Hawkwind's "Kings of Speed" single, and would work as a blueprint of sorts for this new band with its full-speed-ahead driving attack. Two does not often a real band make, so Wallis and Lemmy called upon drummer Lucas Fox to round things out. With the lineup complete, Motorhead set about to make their case in the studio.
They headed into the famed Rockfield studios in late 1975 with producer Dave Edmunds behind the board. A handful of tracks were recorded including early versions of "On Parole," "Motorhead," the Holland/Dozier/Holland classic "Leaving Here," and a remake of the Pink Fairies killer, "City Kids." During the early sessions, it all proved too much for the young Lucas Fox to handle, and following their less-than-triumphant live debut opening for Blue Oyster Cult at the Hammersmith Odeon, Fox was gone. His replacement would prove himself more than capable of getting the band back on track.
Listen to Motorhead Perform 'Motorhead'
Phil Taylor, aka "Philthy Animal," was a rowdy but solid timekeeper who was able to capture the energy and push Motorhead where they wanted to go. The recording sessions continued and the band were finding their sound. Early on, due to other commitments, producer Edmunds had to bow out, leaving the task of getting that fire on tape to staff producer Fritz Fryer, one time member of the Four Pennies, an early '60s pop band who couldn't have been further from the sonic attack of Motorhead, but somehow, it worked.
Aside from the classic song which gave them their name, the band also reached back and revamped a couple other songs from Lemmy's past. Both "Lost Johnny" and "The Watcher" were featured on Hawkwind albums, (Hall of the Mountain Grill and Doremi Fasol Latido, respectively), but were given a more stripped down and somewhat more aggressive stance here. "Lost Johnny" was written by Lemmy along with Mick Farren, formerly of the Deviants. "Leaving Here" was a long time favorite of Lemmy after first hearing it done up by Ron Wood's Mod beat group the Birds. The Motorhead version stays true to its form, but ups the ante in terms of sheer volume and attack.
"Vibrator" is a humorous little song written by Wallis with a self-explanatory title. "I'm your friend / My love won't bend / So eager to please / I'll keep you free from any nasty disease": Some might call it poetry. Wallis also checks in with "On Parole," which is straight-ahead no-frills rock 'n' roll at its finest. The song would later show up as the flip to "Police Car," Wallis' solo debut for Stiff Records. This early incarnation of the band had much in common with the ongoing pub-rock scene that was in full swing with bands like Dr. Feelgood and Ducks Deluxe. They were all pushing an aggressive back-to-basics approach before the punks got hold of the ball.
Motorhead had made a deal with United Artists Records, and as recording sessions wrapped up in early 1976, they awaited the release of their efforts. But that day never came: After listening to the finished recordings, those calling the shots at UA had second thoughts about the signing, and, doubting its commercial potential, decided to shelve the entire project. At this point, Larry Wallis left the band to focus on a solo trek that would find him among the first signings of the upstart Stiff Records that would soon play a key role in the U.K. music landscape with the likes of Elvis Costello, Ian Dury and the Damned, among others.
Listen to 'Iron Horse/Born to Lose'
At the same time, Lemmy and Philthy recruited "Fast" Eddie Clark. With the classic Motorhead lineup now complete, they would ultimately sign a deal with another fledgling punk label, Chiswick, and head in to re-record most of the tracks from the Rockfield sessions. Those recordings made up the first official Motorhead album, which would finally see the light of day in the summer of 1977.
Following the success of Motorhead's second and third albums, Overkill and Bomber, United Artists realized the error of their ways and released those early sessions as On Parole. You can debate all day long as to which versions of these great songs are the definitive – in some cases you have three to pick from – the original Hawkwind, the On Parole lineup and the final takes on Motorhead. Any way you slice it, you come up with 100 percent kick-ass rock 'n' roll.
 
 
See Motorhead Among the Top 50 Heavy Metal Albums
Remembering Motorhead's Lemmy Kilmister
More From Ultimate Classic Rock