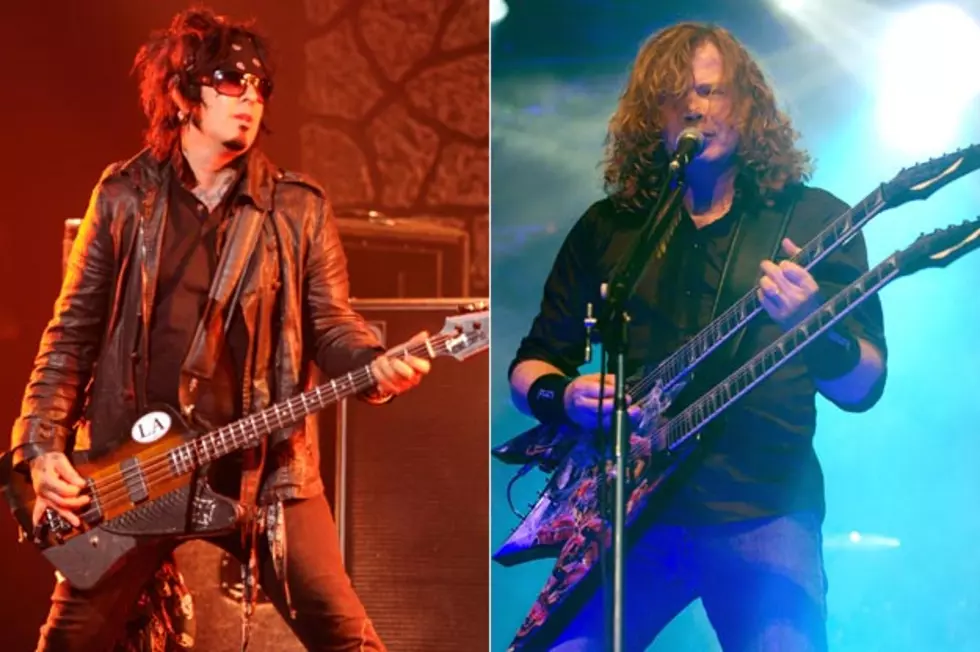 Motley Crue's Nikki Sixx Rips Dave Mustaine Over Shooting Conspiracy Theory
Megadeth singer Dave Mustaine has been spouting some interesting theories about the recent mass shootings in the U.S., trying to tie it to President Barack Obama and his attempts to pass anti-gun legislation. But not everyone subscribes to Mustaine's conspiracy theory and they're using their First Amendment rights to respond right back to the singer.
Motley Crue's Nikki Sixx is just one of the rockers taking Mustaine to task over his comments, explaining in a new Facebook posting: "Dave Mustaine is f---ing a--hole. I can't even imagine how deep this cuts the victims families of these shootings. He owes every family an apology as well as our great country. Hey Dave if you think America is turning into 'Nazi America' as you are quoted saying … Then move the f--- out..."
Motley Crue has certainly stepped up for the shooting victims in Aurora, Colo., recently teaming with tour mates Kiss to offer $100,000 for a relief fund. Sixx stated at the time, "Following the heartbreaking news of the senseless shootings in Colorado we wanted to do something to help the families and victims. We bonded together with our tour partners and friends Kiss to donate money, but we also hope it inspires others to do the same, no matter how big or small."
Mustaine first made headlines by telling an audience in Singapore, "Back in my country, my president [makes puking sign with his finger in his mouth], he's trying to pass a gun ban, so he's staging all of these murders. Like the 'Fast And Furious' thing down at the border; [the massacre in] Aurora, Colo., all the people that were killed there; and now the beautiful people at the Sikh temple [near Milwaukee. I was talking to J.D., our promoter here tonight … What a great guy. I was saying, 'I don't know where I'm gonna live if America keeps going the way it's going because it looks like it's turning into Nazi America. And he [J.D.] said, 'Move down here to Singapore.'"
After ruffling a few feathers and making some headlines in the process, Mustaine attempted to clarify his stance, but stopped short of offering an apology. He called into the show 'Info Wars' to explain the context of his quote. The vocalist stated, "To clarify things, no one can deny that there were criminal rogues in the administration. CBS News got the memos, Congress has the information and basically, Larry Pratt, the head of Gun Owners of America, who is a highly respected person, said that if they would stage 'Fast And Furious,' they'd be capable of staging anything. And it was all done to blame the Second Amendment. We'd be fools not to look at this. Our U.S. border patrol agents were killed. And like I said, I was just quoting Larry Pratt. That's it bottom line."
Mustaine says he may not have come off as eloquent as he would have liked, but he wanted to share the message and quote what Larry Pratt had stated. He added, "We really need to investigate this and we need to have the Attorney General release the documents and find out who's responsible for this. People died and the democratic process says, 'Let's investigate this. Let's find out what's going on here.'"
The musician concluded by stating, "I love our country and I respect it. My whole thing with this is that I think we should just look into it. I just think that we deserve to know the truth - that's it."
More From Ultimate Classic Rock