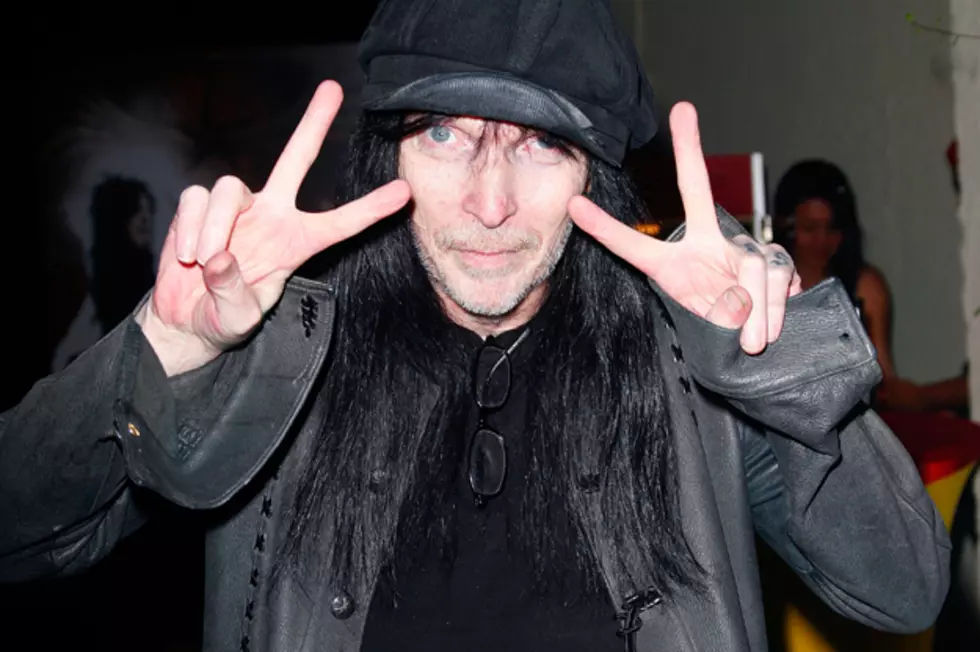 Mick Mars of Motley Crue Details 2013 Plans, Laughs Off Vince Neil's Retirement
One the eve of Motley Crue's current run of intimate Las Vegas residency shows, we talked to guitarist Mick Mars about the band's plans for the big event, how he's progressing with his own solo album, and when fans can possibly expect the next Motley record. (Hint: 2013's looking like a big year for Crue fanatics.)
Are you excited for these Las Vegas shows?
Of course, I'm always excited to break new ground. I don't think any real rock band has done a residency in Vegas. I know Elton John will go there for a month, or Rod Stewart. Tom Jones, he just stays there! It could be groundbreaking for other rock bands -- they could go, "hey, this works!" You never know what could happen; it could be extremely cool or you know, the opposite. Maybe we'll get Jones up there, who knows?
What can you tell fans to expect if they're heading to one of the shows, song-wise?
We're committed to playing the hits of course. But we are going to change up the set, I believe every night if we get the time. I know that we're going to do not exactly the same set every night, but pretty close. Maybe put in 'Helter Skelter' instead of 'Anarchy in the U.K,' stuff like that, to make it a bit different anyway.
Your first band did Beatles covers - was it your idea to cover 'Helter Skelter?'
Yeah, called the Jades. Actually no, it wasn't my idea, we were just sitting around, goofing around, someone said "hey, let's try this song." We wanted to do it the way we would do it, of course. There's parts that are like (theirs) but parts that are not.
How is your solo record progressing?
I'm writing; I've got about a good four or five songs that have potential. I don't know if I'm happy with them, you know, so I have to keep listening. Not to say that I'm going to make the perfect song or this that and the other, but I want to make me happy with what I release and proud of what I release. Maybe I can write a whole record of 'Dr. Feelgoods' or 'Girls,' but not sounding like Motley, you know, being me. I'm trying to do a lot of experimenting too, with different cultural rhythms and mixtures of beats -- say, take some old greek guys that played traditional greek rhythms on their drums, or the Japanese with those big drum things that they use, and throw it all into the mix, see what comes out.
Is it true the record will have an R&B influence?
It could have some stuff like that, if it's right. I don't want to come out with something that's going to sound like that, because you know, just about every blues record --- Gary Moore was different -- but most of those songs are all shuffles. I want to get away from that as far as possible. I don't want to say it'll be, like heavy but something… I can't explain it, I have it in my brain and I know what to do, but I've got to find the right way to do it.
No. No... you can add elements of that, but you also can add elements of messed up, hard hard hard rock, death metal with this really cool rhythmic stuff going on. I don't know, I have to keep going on it. I can hear stuff in my head, but whether it's going to work or not, I don't know. I know it can be done. That's why it's taking me a while. Not to sound selfish or egotistical, but I really want to do something that's not (breaks into dismissive monotone voice) "O.K., here's an album by Mick Mars…same boring stuff." I want to do something that's a little to the left.
When can fans expect a new Motley Crue record?
Well, the movie (based on the band's autobiographical book 'The Dirt')  is supposed to come out next year, we've got the right producers, the right director, I believe. I think we're going to start on that one either late this year or early next year, hopefully for release in 2013. Then, probably at the same time, a new record. It'll be like a double-sock in the stomach.
Do you have riffs in your head or on tape that you know will be part of the new Motley Crue album?
I have a lot of riffs that are done, that I've written here. Whether they'll be on the Motley record or not, I don't know yet. I need to sit down some and collaborate with Nikki. He'll hear something that I'll overlook. I'll think "ahh, that's mediocre." (He'll say) "try it like this, try hitting this note instead of that note," I'll go "OK, I get you." Or I'll do the same thing with him. We go back and forth.
Do You Watch 'American Idol?' How was it working with (rock loving former contestant) James Durbin?
I watch sometimes, but not very often. It was cool. I'm the only one that he asked to play on his record. There were a lot of people that wanted to play on it, but he said, "No, I only want Mick." We've become pretty good friends. I think, possibly, the song I played on ('Outcast') is going to be his next single. From what I understand, and I don't want to be a liar, there's a lot of radio stations and fans that really like that song.
What do you make of (Motley Crue singer) Vince Neil's recent statement that he was pondering retirement?
(laughs) Well, let's see, how can I be, uh… how big is this site of yours? -- (We explain) -- OK, here's my answer: Fat chance! That's a good neutral answer, I think.
More From Ultimate Classic Rock