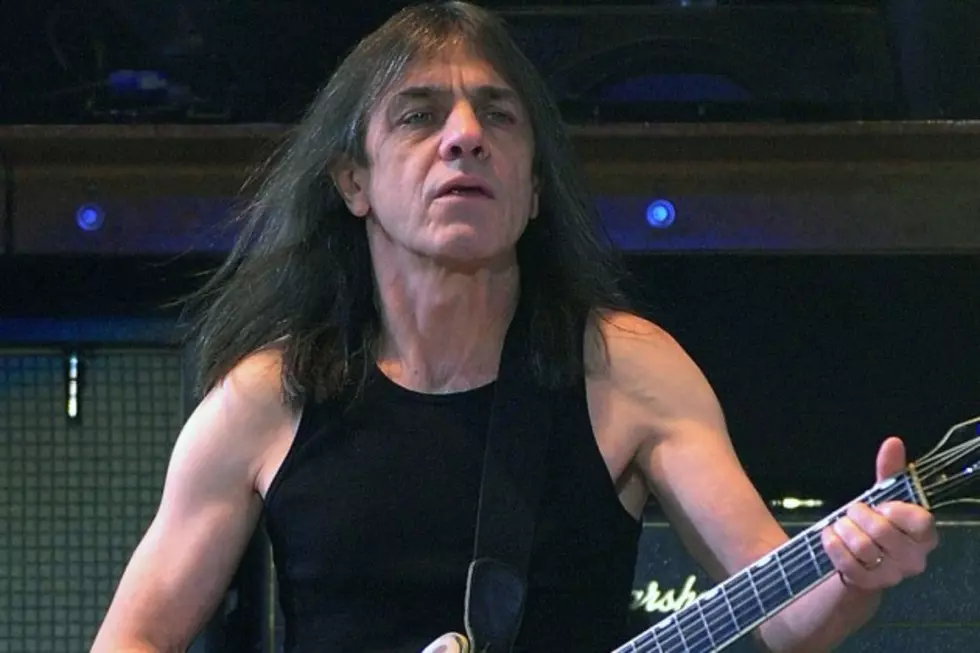 Lung Cancer, Pacemaker: More Malcolm Young Health Woes Detailed
Morena Brengola, Getty Images
According to Q Magazine, the rock legend was diagnosed with lung cancer at the conclusion of the band's tour in support of the 2008 album 'Black Ice.' Luckily, thanks to early detection, doctors were able to treat the condition successfully via an operation.
Then, it was discovered that Young had an unspecified heart condition, which required him to have a pacemaker installed. Judging from the way he revealed the news to bandmate Brian Johnson, these incidents did little to affect Malcolm's spirit. "This is typical Malcolm," Johnson explains, "He got a hold of my hand and went... (bangs repeatedly on his chest) Pacemaker. F---ing good, mate.' He scared the s--- out of us! And there's a twinkle in his eye, he was tickled pink. It's like he was showing us a new fuzzbox or something!"
Lead guitarist Angus Young talked to GMI Rock about what his brother had been through, and the "not easy" decision to carry on without him: "Besides the mental side with the dementia, he had physical problems also. He had a lung operation, which was pretty critical, but he got treatment for that because they got to it. It was like a cancer. So they got that early and then later on he had also a heart problem. So it was like everything hit him at once. The physical side of him, he got great treatment for all that so he's good with all that, but the mental side has deteriorated. He himself had said, 'I won't be able to do it anymore.'"
As a result, Angus and the rest of the band recruited his (and Malcolm's) nephew Stevie Young to play on the the acclaimed 2014 album 'Rock or Bust' as well on as their upcoming world tour, which is set to kick off May 5 in Arnhem, Holland.
You Think You Know AC/DC?
See the Yearbook Photos of Angus Young and Other Rock Stars:
More From Ultimate Classic Rock