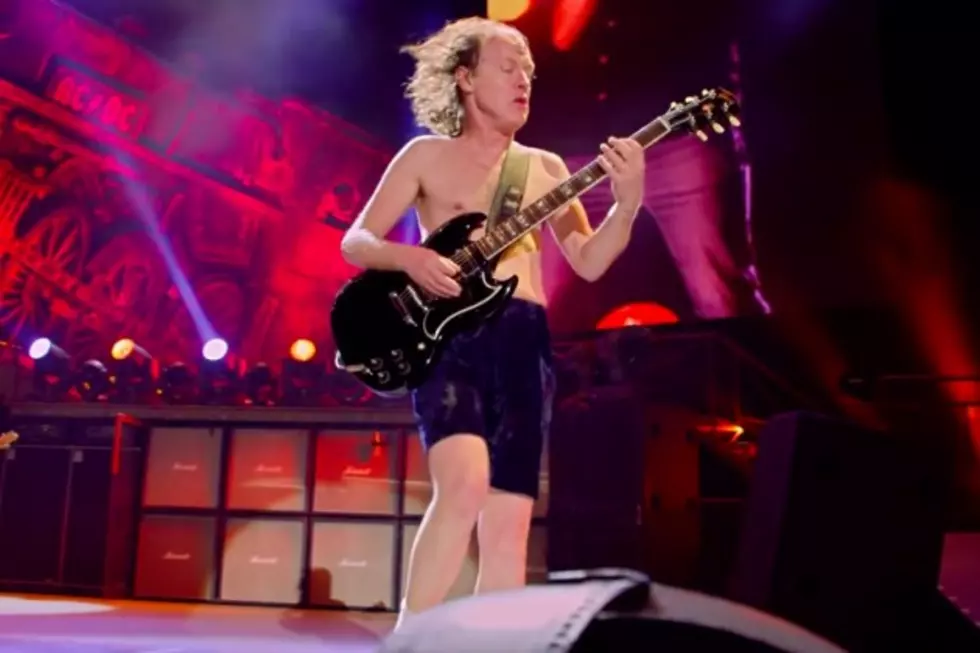 Updated: AC/DC Announce First 2015 Live Dates
YouTube
It isn't quite the world tour that many fans are anticipating, but AC/DC have started filling out their 2015 calendar with the first of what we hope will be many live dates.
12/13 Update: The band has now officially announced 22 tour dates. They are all listed below.
Wherever they ultimately end up performing next year, we know exactly where they'll be on June 28, July 1 and July 4, because those are the dates the band has pegged for a trio of stadium shows set to take place in Glasgow, Dublin and London. Tickets will go on sale Dec. 17.
As previously reported, AC/DC have been strongly rumored as one of the headliners for the 2015 Glastonbury lineup, and although nothing has been officially confirmed yet, the dates they've already announced jibe fairly well with Glastonbury, which is set to run from June 24-28.
Also unclear at this time is who will be keeping time for the group when they take the stage again, as longtime drummer Phil Rudd is currently facing a list of criminal charges that could put him in prison for up to seven years. Although band members have openly stated a willingness to carry on without Rudd, no possible replacements have yet been named.
These new dates come in support of the band's latest album, 'Rock or Bust,' which debuted in the Top 5 of the U.S. album charts after its Dec. 2 release. Take a look at AC/DC's current list of 2015 shows below.
AC/DC 'Rock or Bust World Tour' Dates:
5/5/15: Arnhem, Holland - Gelredome
5/8/15: Nuremberg, Germany - Zeppelinfeld
5/10/15: Dresden, Germany - Ostragehege
5/14/15: Zeltweg, Austria - Red Bull Race Track
5/16/15: Hockenheim, Germany - Hockenheimring
5/19/15: Munich, Germany - Olympia Stadium
5/23/15: Paris, France - Stade de France
5/29/15: Barcelona, Spain - Estadio Olympic
5/31/15: Madrid, Spain - Estadio Vicente Calderon
6/19/15: Cologne, Germany - Jahnwiesen
6/21/15: Hannover, Germany - Messe
6/25/15: Berlin, Germany - Olympia Stadium
6/28/15: Glasgow, Scotland - Hampden Park
7/1/15: Dublin, Ireland - Aviva Stadium
7/4/15: London, England - Wembley Stadium
7/9/15: Imola, Italy - Autodromo
7/12/15: Gelsenkirchen, Germany - Veltins Arena
7/15/15: Roskilde, Denmark - Roskilde Festival Site
7/17/15: Oslo, Norway - Valle Hovin
7/19/15: Stockholm, Sweden - Friends Arena
7/22/15: Hameenlinna, Finland - Open Air Park
7/25/15: Warsaw, Poland - National Stadium
You Think You Know AC/DC?
Watch AC/DC Share Their Crazy Real-Life 'Spinal Tap' Story
Is Rock and Roll Dead? AC/DC Answer 2014's Biggest Question:
See the Yearbook Photos of Angus Young and Other Rock Stars:

More From Ultimate Classic Rock