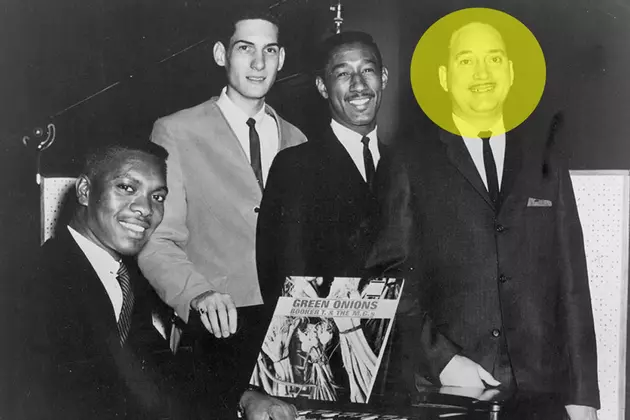 Lewie Steinberg, Original Bassist for Booker T. & the M.G.'s, Dies
Stax Records
Lewie Steinberg, the original bass player of soul legends Booker T. & the M.G.'s, died on Thursday (July 21) of cancer. He was 82.
The news comes via the Memphis Commercial Appeal, who note that, of the original lineup of the famous Stax house band, only organist Booker T. Jones and guitarist Steve Cropper are still alive. Drummer Al Jackson, Jr. was murdered in 1975, while Steinberg's replacement, Donald "Duck" Dunn, died in 2012 while on the road in Japan.
According to Rob Bowman's Soulsville, U.S.A.: The Story of Stax Records, Steinberg was brought into the Stax fold in the summer of 1961 when Dunn decided to go fishing with his father instead of record with the Mar-Keys, the name given to their rotating cast of session players. The song they cut that day, the horns-and-organ-driven "Last Night," became a No. 3 hit.
A year later, a session found them backing rockabilly singer Billy Lee Riley with only Jones, Cropper, Steinberg and Jackson present. Towards the end, while waiting to determine if they were going to do another take, the four men started jamming on off a blues riff that Jones and Jackson had been playing in clubs. Unbeknownst to the band, label co-owner Jim Stewart started recording them and, liking what he heard, made a few suggestions in the arrangement. Thirty minutes later, one of soul music's defining songs was in the can.
Bowman says that Steinberg originally came up with the name "Funky Onions," because "the funkiest thing I ever heard of was onions." Reports vary as to whether Cropper or Estelle Axton, the other co-owner, changed it to "Green Onions." Needing a name for the group to release it as a single, they went with Booker T. & the M.G.'s. The song went to No. 3 on the Hot 100 and No. 1 on the R&B chart.
Steinberg was in the band for two albums, 1962's Green Onions and 1965's Soul Dressing, before being dismissed. In Bowman's book, Cropper takes responsibility for it, saying that the two didn't particularly get along, and Cropper also wanted to play with Dunn, a childhood friend.
The Stax community has suffered three deaths this summer. On June 21, Memphis Horns trumpet player Wayne Jackson, another member of the Mar-Keys, died of congestive heart failure at the age of 74. A week later, Sir Mack Rice, who recorded for the label and wrote hits like "Respect Yourself" for the Staple Singers and "Cheaper to Keep Her" by Johnnie Taylor, died from complications of Alzheimer's disease.
Rockers We've Lost in 2016
More From Ultimate Classic Rock