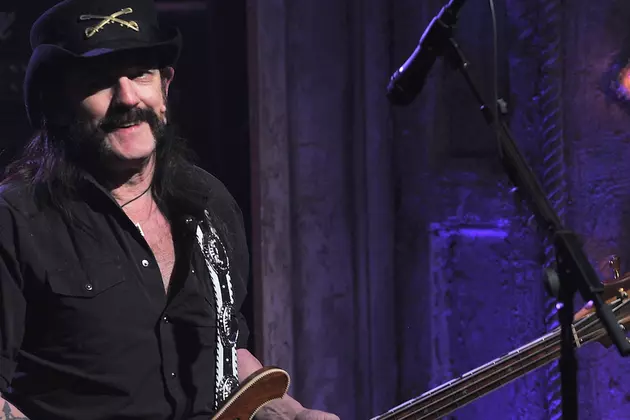 Lemmy's 70th Birthday Celebrated with All-Star Party
Theo Wargo, Getty Images
Motörhead frontman Lemmy Kilmister is a beloved rock legend, and on Dec. 13 at the Whisky in Los Angeles, he was given a 70th birthday party befitting his exalted status.
Naturally, photos from the evening have already started to circulate via social media, with many glimpses of the event surfacing courtesy of the Whisky's Instagram account and a few moments of rehearsal being posted by the Slash Addict Twitter account. Slash himself, meanwhile, expressed appreciation for the invitation through his own Twitter feed.
As previously reported, Lemmy may not have been in the most festive of moods as he prepared to mark seven decades. Although he's defiantly stared down a succession of health problems in recent years, he's also conceded that getting older really isn't much fun sometimes.
"It's when you get to 60 when everything starts to go pear-shaped. Everyone thinks that becoming an older guy is easy, but you never consider it fully. It comes as quite a shock. But the thing is, I don't want to give in to it," said Lemmy. "I'm all right. I'm going out there and doing my best. I have good days and bad days, but mostly I've been doing all right."
Lemmy's 30 Most Historic Moments
You Think You Know Motorhead?
More From Ultimate Classic Rock