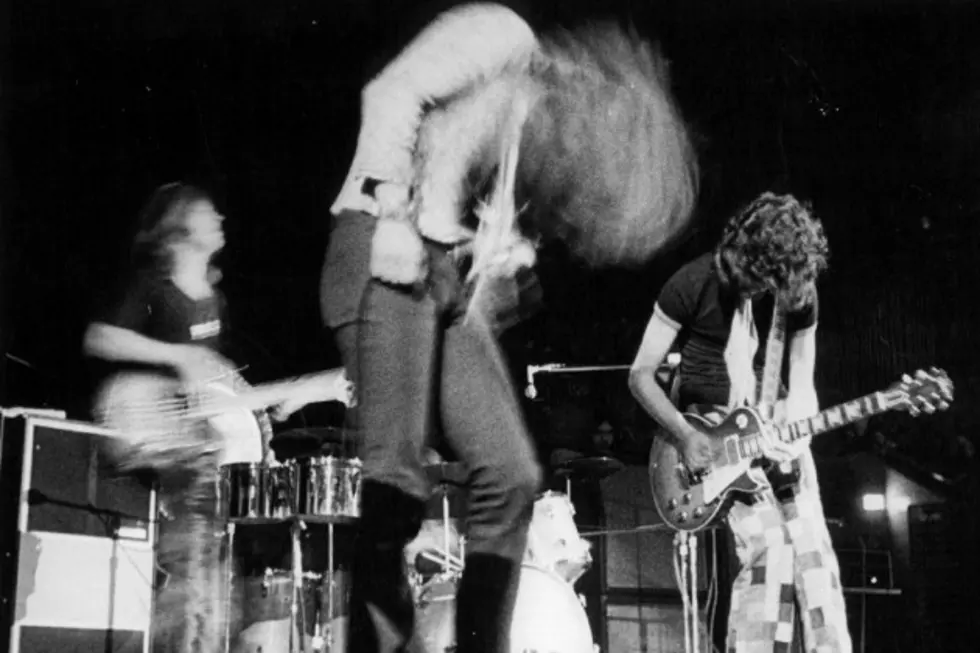 Top 10 Led Zeppelin Live Bootlegs
John G. White, Getty Images
During the course of their 12-year existence, Led Zeppelin rightfully earned a reputation as one of the great live performance bands of all time. Much of this reputation came from word of mouth, from people who had seen for themselves the mighty power produced by Jimmy Page, Robert Plant, John Paul Jones and John Bonham onstage together. As the years have worn on and memories fade, much of that reputation endures by way of the many hundreds of homemade recordings made out on the road. But where to start? Check out our Top 10 Led Zeppelin Live Bootlegs:
10

Knebworth Festival

August 4, 1979

Led Zeppelin played their final gig ever with John Bonham in Berlin on July 7, 1980 but, for all intents and purposes, a pair of shows at Knebworth constitute their final bow. Of course, a good chunk of material from this show was included in the Led Zeppelin DVD. Still, for its import -- and, indeed, for its quality -- the performance as a whole certainly merits the opening slot on our list of Top 10 Led Zeppelin Live Bootlegs.

9

Texas International Pop Festival

August 31, 1969

A rare soundboard recording from the band's earliest years on the road, this show and recording have taken on something of special aura all its own. The performance is astounding, as Led Zepplin already commands much of the swagger and vigor that set them apart from their contemporaries. We know now that most of the sets at the festival were filmed, but until some unknown figure comes forward to produce that long sought visual document, we'll just have to content ourselves with this superb bootleg.

8

Osaka, Japan

September 29, 1971

Led Zeppelin's two forays into Japan in 1971 and 1972 have become the stuff of legend among fans -- both for the quality of the onstage performance, and for the sheer debauchery in their off-hours. While you really can't go wrong in listening to any of the shows played in the Land of the Rising Sun, this gig at the Festival Hall in Osaka on September 29, 1971 stands alone as the highest fidelity recording from those tours.

7

'Any Port in a Storm: Southampton University'

January 22, 1973

Just before mounting a large-scale tour of North America in 1973 that would spawn the album and film 'The Song Remains the Same,' Page and company set out on a shorter tour of smaller venues around the U.K. Whether it was the intimate environment, the scaled-down nature or the fact they were on their home turf, this item on our Top 10 Led Zeppelin Live Bootlegs really brought the fury. It doesn't hurt that the quality of this soundboard recording is truly phenomenal, as well.

6

'Live at Whisky A Go-Go'

January 5, 1969

A mere week after kicking off their first tour of North America on the day after Christmas in Denver in 1968, Zeppelin found themselves headlining a four-night stand at the vaunted Whisky A Go-Go in Los Angeles. Supported by the then equally unknown Alice Cooper, Led Zeppelin seemed determined to prove their mettle and delivered a series of grade-A shows. Their take on the Yardbirds hit 'For Your Love' is rather notably apoplectic.

5

'Live at the Royal Albert Hall'

January 9, 1970

Excepting a few edits, the entirety of this show is also available for all to watch on the Led Zeppelin DVD. It has yet to see official release, however, in any type of audio format. Between the band's medley on 'How Many More Times,' the introduction of 'We're Gonna Groove' and the loose vamping near the end on 1950's rock favorites, it's certainly not one to be missed.

4

'Snow Jobs: Vancouver, B.C.'

March 19, 1975

Despite a number of high-quality audio recordings, concerts from Led Zeppelin's 1975 tour are not generally as highly regarded amongst fans and collectors as others. The combination of Jimmy Page's broken finger and Robert Plant's lingering flu impacted many performances. Fortunately, near the end of the tour, Led Zeppelin were able to bring it all together. This show in Vancouver can be counted as amongst the most inspired of their entire career.

3

'Dancing Avocado: Fillmore West'

April 24, 1969

Clocking in at a just under an hour, this San Francisco show isn't the Led Zeppelin who would come to define the overstuffed arena rock monster extravaganzas of the next decade. No, this entry on our list of Top 10 Led Zeppelin Live Bootlegs is short, sweet and to the point -- a portrait of a young enthusiastic group determined to prove themselves. Sourced directly from the PA monitors, the sound quality of this show is tremendous and Led Zeppelin's medley take on the frequently performed Garnet Mimms song 'As Long As I Have You' may never have been equaled.

2

'Listen to this Eddie!: L.A. Forum'

June 21, 1977

With some exception, Led Zeppelin never played as good as they did as when they played in Los Angeles. From 1970 on, the Forum in Inglewood became the site of some of the group's biggest triumphs, including the vaunted show in 1972 that resulted in the triple-disc collection 'How the West Was Won.' In 1977, Zeppelin played an astounding six-night run at the Forum, all of which produced bootlegs of notable acclaim. It was the first night of their residency, however, that not only produced the best quality recording, but also the best overall performance resulting in what many consider to be the best live bootleg of any artist from that era.

1

'Earl's Court: London'

May 25, 1975

Like Knebworth and the Royal Albert Hall shows found earlier on our list of Top 10 Led Zeppelin Live Bootlegs, a great deal of material from this concert is available on the Led Zeppelin DVD. But this performance simply begs for the full-listening experience -- because it finds Led Zeppelin at their zenith. They were never bigger or as good as they were on this spring night just outside of London. And with a full on mini-acoustic set included, it stands as the greatest live representation we have of the diverse sonic spectrum that they were able to traverse.

BONUS

Think You Know Led Zeppelin?
More From Ultimate Classic Rock