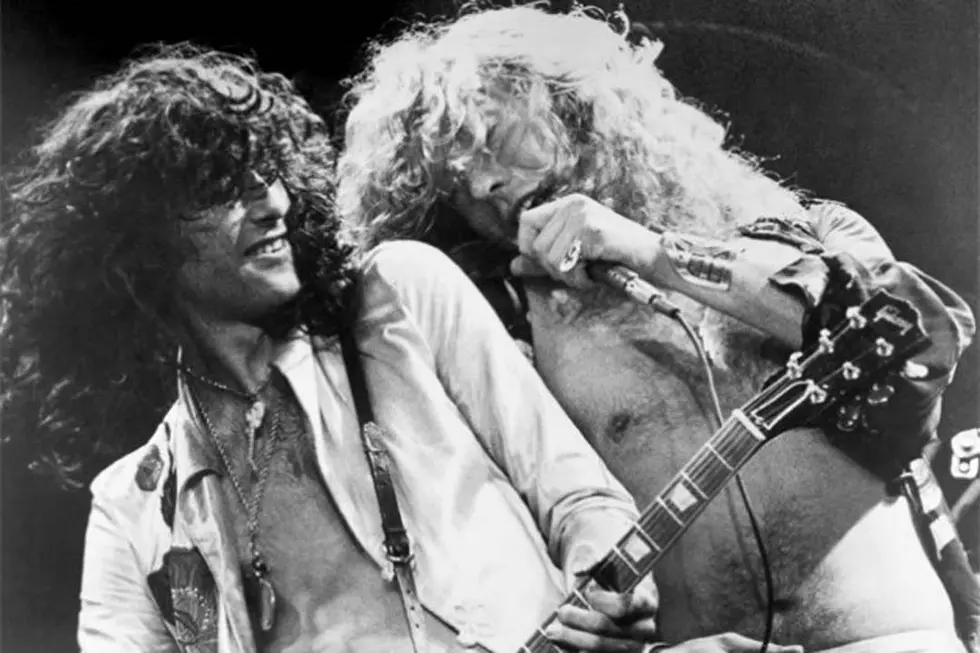 How Led Zeppelin Finally Celebrated Their Long-Neglected Live History
Michael Ochs Archives, Getty Images
Led Zeppelin were one of the preeminent concert bands of the '70s, but their fans had to wait an awfully long time for a proper representation of the band's on-stage career. It wasn't until they released their self-titled live DVD collection on May 27, 2003, that the world got a high-quality visual document of the groundbreaking group's concert history.
Before that, there had been a very active underground network of fans trading in Zeppelin bootlegs of varying quality, but the only official document of Zeppelin live was The Song Remains the Same, a somewhat bloated and self-indulgent concert film that even the band members felt didn't represent them at their best.
After its decision to walk away in the wake of John Bonham's death in 1980, the group reunited for a ragged performance at Live Aid with Phil Collins in 1985, and again for a downright embarrassing set at the Atlantic Records 40th Anniversary Concert in 1988. But while the band members were off moving forward in other projects, Zeppelin's live legacy was mostly languishing in various vaults, untouched.
Robert Plant said the group had been considering a live project for 15 years, but it hadn't transpired because of the enormity of the effort involved. That changed when Jimmy Page did a tour with the Black Crowes that was captured for a live album. Page was so impressed with producer Kevin Shirley that he called and asked him to help go through the backlog of Zeppelin live performances and bring the audio up to date with digital surround mixes.
Page also brought director Dick Carruthers on board as creative director, while the guitarist himself oversaw the massive project. He and Carruthers eventually went through 132 cans of film and two sets of two-inch video tape for the project, which required them to bring together a wide variety of video sources from the course of a decade of live performances and try to make them flow visually.
The audio was just as problematic, since the sources ranged from eight-track one-inch tape, to 16-track two-inch tape and 24-track two-inch tape. Many of the source tapes were shedding their original oxide and had to be baked to get rid of excess moisture before being transferred to the digital domain – a process that took 60 hours per tape and set the project months behind schedule.
Shirley told Sound on Sound he also had no track sheets to work from, and he not only had to figure out what instruments were where on the relatively primitive original tapes, he also had to painstakingly re-construct certain passages by digitally flying individual notes in from other parts of songs in the instances where there were drop-outs in the original audio record.
What was originally apportioned as a 10-week endeavor ultimately stretched into six months as Page, Carruthers and Shirley brought together classic Zeppelin performances from Theatre Olympia in Paris in 1969, the Royal Albert Hall in 1970, Madison Square Garden in 1973, Earls Court in 1975 and Knebworth in 1979 for a career-spanning DVD collection that showcased Zeppelin in all their live glory. The massive project featured a spectacular cross-section of their best material and performances from each era. The collection also included a smattering of other TV and in-studio appearances as well as old interviews and incidental footage.
Zeppelin rewarded their long-patient fans with a stellar piece of work, and the fans in turn rewarded the band with their continuing loyalty. The DVD was an enormous success both critically and commercially, reaching No. 1 in many countries across the world and being certified 13-times platinum in America. Echoing the sentiments of almost every professional reviewer, Rolling Stone called the Led Zeppelin DVD "one of the best rock documentaries ever made" and "the Holy Grail of heavy metal."
 
 
Led Zeppelin Albums Ranked
Why Led Zeppelin Won't Reunite Again
More From Ultimate Classic Rock