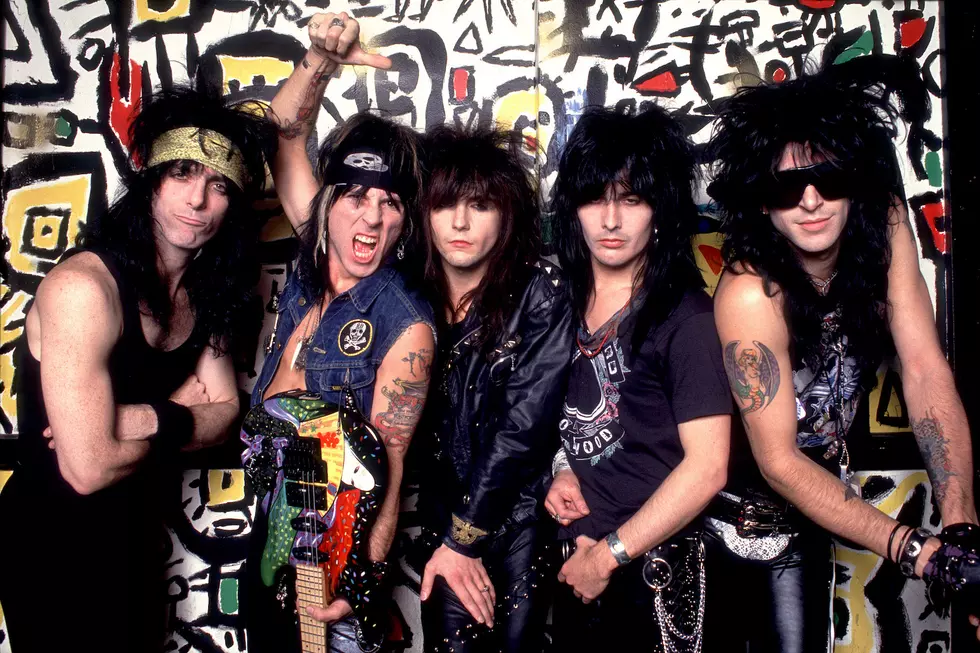 How L.A. Guns' Raw, Sleazy Debut Album Set Them Apart
Paul Natkin, Getty Images
The Los Angeles hard rock scene exploded at the dawn of the '80s thanks to platinum-selling glam-metal bands like Motley Crue, Ratt and Quiet Riot. But when those groups graduated from Sunset Strip clubs to arenas around the world, they left a void that would soon be filled by a younger crop of bands that were looser, grittier and sleazier than their forebears.
Enter L.A. Guns, whose geographically specific name belied a transatlantic lineup that went through more than half a dozen iterations before the band released its self-titled debut album on Jan. 4, 1988. Guitarist Tracii Guns founded the band in 1983, assembling a hodgepodge of supporting players that briefly included former Hollywood Rose singer Axl Rose. Rose and guitarist Izzy Stradlin would soon draft Guns into a reunited Hollywood Rose, which they quickly rechristened Guns N' Roses, which Guns would leave after a falling-out with Rose, rejoining L.A. Guns and ceding his GNR position to Slash. Got all that?
By mid-1985, Guns was back in his namesake band alongside singer Paul Black, guitarist Robert Stoddard, bassist Mick Cripps and drummer Nickey Alexander (aka Nickey Beat). The quintet began writing songs that would appear on L.A. Guns, establishing themselves as part of the Sunset Strip's next wave.
"Before us, you had Ratt and Motley Crue and W.A.S.P. and Great White, guys like that that are a little older and were in a way a part of the end of the '70s rock scene," Guns told Tom Beaujour and Richard Bienstock in their 2021 book Nothin' but a Good Time. "What they did was they revived rock after punk had just stormed through L.A. So you had some viable rock bands that had record deals that were now leaving town. And the void was being filled by Poison and Guns N' Roses and L.A. Guns and Faster Pussycat and Jetboy, who were from San Francisco but they were a great band.
"It was definitely a turning point music-wise because everything became more rough around the edges, more blues-influenced, more alternative," he continued. "It wasn't just about looking like Motley Crue anymore. It was about injecting the Stones and the [New York] Dolls and the Germs and all these other influences into it. So what really happened is the quality of music, diversity of music, got turned up in the scene. It got dirtier."
Listen to L.A. Guns' 'Sex Action'
L.A. Guns caught the attention of PolyGram Records A&R man Bob Skoro, who offered them a development deal — essentially a pre-record deal in which the label pays for the band to record some demos to see if they want to continue a partnership. But they weren't going any further with Black at the helm.
"We're up there [in a meeting] and Bob Skoro starts asking each guy some questions: 'What do you want to get out of making records?' 'How do you see yourself as a musician in five years or 10 years from now?'" Guns recalled. "Everybody gives their spiel. And then he gets to our singer, Paul Black. He asks the question. And Paul just falls asleep. Like, right there on the couch. I had no idea what was going on. And then Bob Skoro goes, 'Sorry, guys. I can't do this.' And just like that, it's over."
Eager to keep the ball rolling, the band gave Black the boot and quickly recruited Phil Lewis, former singer of British glam-rock band Girl. (They also poached bassist Kelly Nickels from Faster Pussycat, and Cripps switched to rhythm guitar.) With their lineup solidified, L.A. Guns headed to Los Angeles' Village recording studio in the summer of 1987 with producer Jim Faraci to commence work on their debut album.
Armed to the teeth with streetwise punk-metal bruisers ("No Mercy," "Nothing to Lose") and slinky sleaze-rockers ("Sex Action," "Electric Gypsy"), L.A. Guns set themselves apart from their pretty-boy pop-metal peers, and their debut album featured raw, in-your-face production to match. "I did not want them to sound like Ratt. I didn't want them to sound like Poison," said Faraci, who had previously engineered both groups. "I thought they were a totally different band. They were much more gritty, much more edgy. That's why, if you notice on the L.A. Guns record, there's not a whole lot of background vocals, there's not a whole lot of cool melodies like we did with Ratt or with Poison, because I didn't think it called for it. I thought they were a four-on-the-floor, here-we-go kind of band."
Listen to L.A. Guns' 'Electric Gypsy'
L.A. Guns was a moderate success, ascending to No. 50 on the Billboard 200 and eventually earning a gold certification from the RIAA. The band quickly followed it up with 1989's Cocked & Loaded, which featured the Top 40 single "The Ballad of Jayne." Although L.A. Guns never enjoyed the stratospheric success of some of their peers, their first two albums remain highlights of the '80s glam-metal zeitgeist. Their debut, in particular, crackles with a youthful exuberance, and Guns is still proud of its unadulterated authenticity.
"The idea was to get enough recognition locally to get a record contract, and then taking the record contract seriously once we got it. And then the conversation was defining a sound," the guitarist told UCR in 2021. "How do we make sure that we take our collective influences and make our own sound? If nothing else, the first L.A. Guns record definitely did that. You can't compare that record to anything else. It just doesn't have obvious influences."
Top 30 Glam Metal Albums
There's nothing guilty about these pleasures.
More From Ultimate Classic Rock