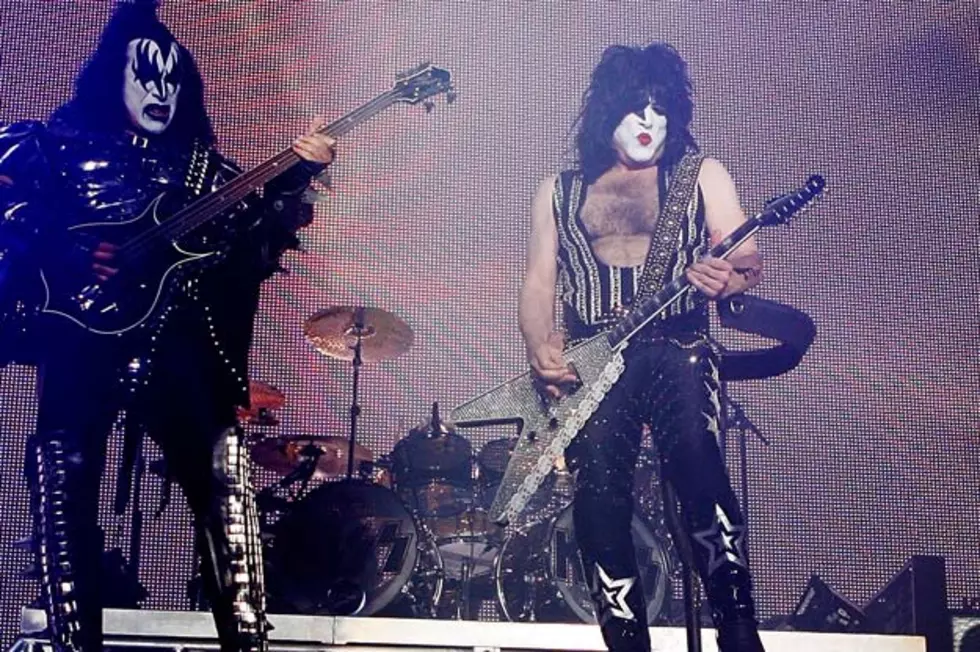 Kiss 'Kissology Vol. 4′ Contents Revealed
Here's something for your 'Kissmas' wish list! As drummer Eric Singer revealed a while back, Kiss will be releasing 'Kissology – Vol. 4,' a DVD box set, in late November. It's the fourth in an ongoing series of video collections from the band, and now we've got some specifics on what will be included in the set.
Lucky for you - now you won't have to struggle over what to get for that Kiss fan in your life, because this box set certainly will suffice and satisfy that special person! Don't think that the calendar wasn't considered by the marketing and branding genius that is Gene Simmons, either.
'Kissology - Vol. 4,' which we are tempted to call 'Kissology, V. 4.0,' will feature footage from both their current and original lineups, spread across four discs, with a fifth bonus disc for the first-run limited edition. If you like to collect Kiss items, this box set has quickly ascended to the ranks of "must own."
Here's what the set will include:
1976 - Houston full 'Destroyer' show
1977 - Cobo Hall
1980 – "Kids Are People Too" segment
1983 – U.S. Armed Forces segment on 'Lick It Up' Tour
2002 - Winter Olympics
2007 - "VH1 Rock Honors"
2009 - Cobo Hall full Alive35 show
2009 - "Modern Day Delilah"
2010 - Wetten Dass Medley
If you're looking for perhaps the last piece of Kiss merchandise you'll ever need, the band recently announced they'll be selling their own logo-covered cremation urns, on what just happened to be the same day Paul Stanley welcomed his fourth child into the world.