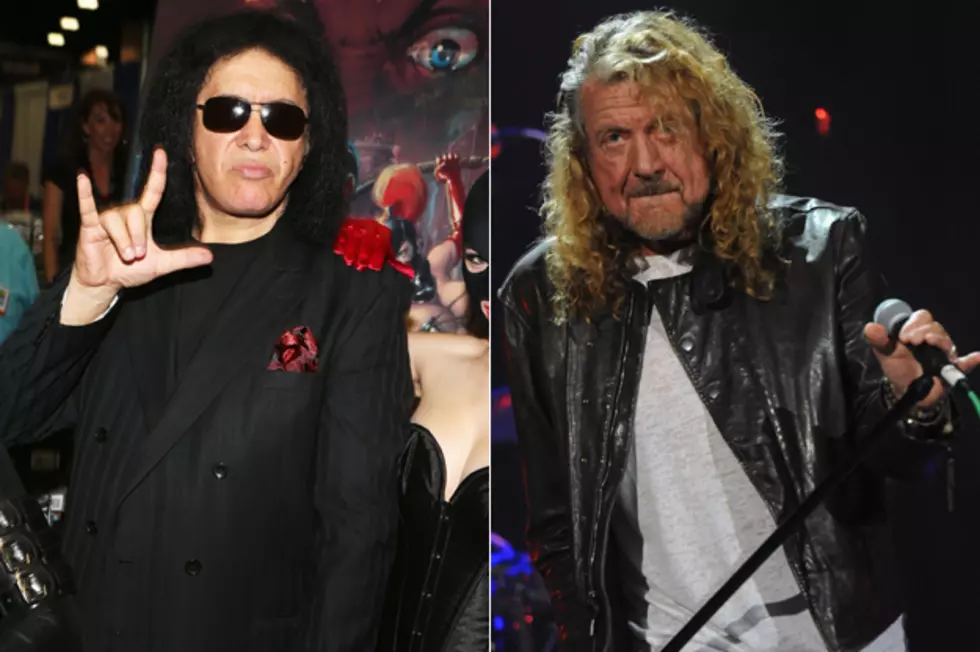 Kiss' Gene Simmons Claims He Was Asked to Reunite Led Zeppelin
Christopher Polk / Rick Diamond, Getty Images
A lot of people would love to see Led Zeppelin play again, and Kiss' Gene Simmons says there was one promoter who went as far as to use him as a go-between in attempting to reunite the band for at least one more show.
Simmons tells the Sun that a promoter one handed him close to £200million (approximately $320 million) to tempt the remaining band members to play again. The singer recalls, "In 2009/10, I was given a few hundred million dollars in an account by a large concert promoter and given the task of reaching out to Jimmy [Page] and Robert [Plant] and trying to convince them to get back together. Of course, it didn't work. Robert just doesn't want to do it."
Led Zeppelin have been asked multiple times to reunite, but have always kept quiet about how much they were offered to get back together. During a recent press conference to promote the band's 'Celebration Day' concert film, the band bristled at questions about whether or not they would perform again, with Plant going so far as calling a reporter a "schmuck" for asking the question.
After realizing the reunion questions would continue, Plant elaborated, "If we're capable of doing something, in our own time, that will be what will happen. So any inane questions from people who are from syndicated outlets, you should just really think about what it takes to answer a question like that in one second. We know what we've got, you know."
As for Kiss, Simmons recently answered a few questions of his own about the band's original lineup. He stated, "It would be the death of the band with Ace [Frehley] and Peter [Criss] today. They're both equally important as Paul [Stanley] and I for the beginnings of the band but not everybody is designed in their DNA to be a marathon runner. They were short distance runners and that was great for the beginning of the band but we have to take it to the next level. With Eric and Tommy (Thayer) in the band it sort of revitalized the band, through fresh eyes and fresh ears you realize, 'Wow, we're in Kiss!'"
Kiss are promoting their newly released 'Monster' album.
More From Ultimate Classic Rock