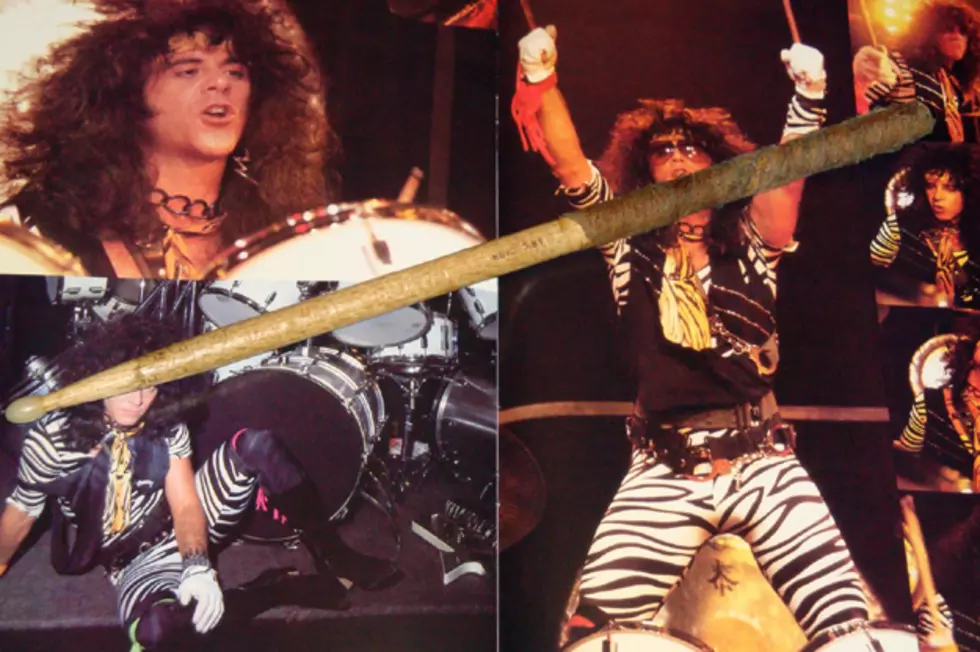 Kiss Drummer Eric Carr's 'Animalize' Drumstick Sells for $699 on eBay
eBay
A drumstick used on stage by former Kiss drummer Eric Carr during the 1984-1985 'Animalize' tour recently sold on eBay for $699.99. This vintage, unbroken and personalized drumstick fetched a hefty but fair price considering the abundance of overpriced Kiss collectables on the market.
In 1980, Kiss were already a very successful band but they were in desperate need of a personnel change, and original drummer Peter Criss 'The Catman' was the first member to be replaced. The Brooklyn born Carr was hired to take his seat, and he injected the muscle into the band that Gene Simmons and Paul Stanley were looking for.
'The Fox' makeup and persona that Carr took on was fitting; swift and small bodied, the big-haired, powerhouse drummer quickly proved that he had the chops to perform in "the hottest band in the world -- Kiss."
The exact origin of this drumstick is not revealed in the listing, but knowing that the 'Animalize' tour was very successful on both sides of the sea, the seller was smart to emphasize that the drumstick was "used." Carr employed his drum tech to wrap his drumsticks, and this one remained wrapped and was graded to be in excellent condition.
Sadly, Carr passed away in 1991 due to complications related to heart cancer. Beloved by both the band and his fans, it's not too surprising that the percussionist's collectables still hold value. In a perfect world the seller would've offered up a pair of 'Animalize' drumsticks, but here, only the one was auctioned and it still received 25 bids. Who knew? Heaven's still on fire.