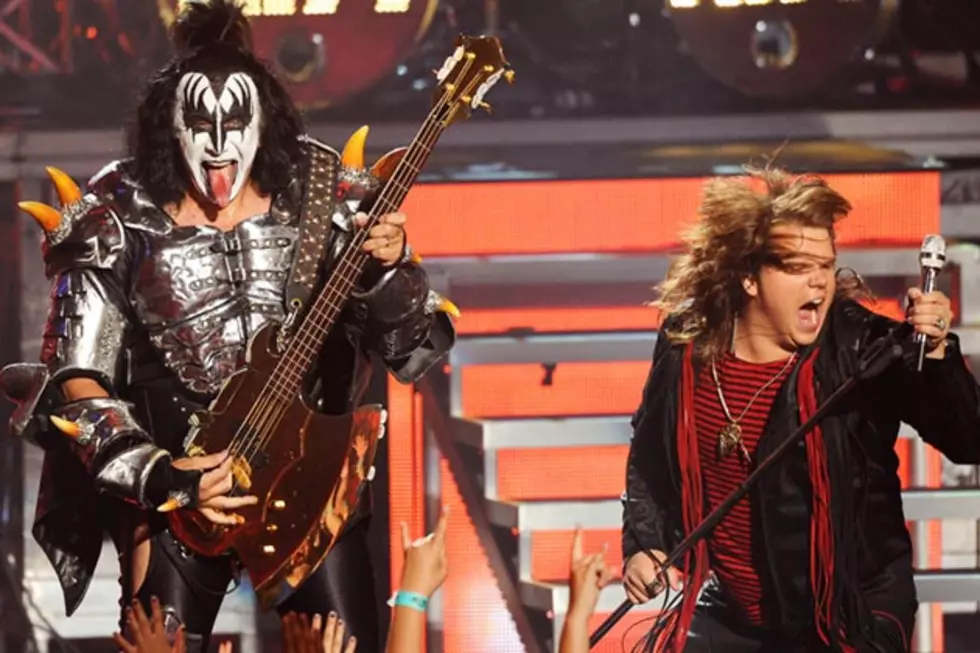 Kiss Performs With Caleb Johnson on 'American Idol'
Fox
Kiss was joined by 'American Idol' finalist Caleb Johnson for a live medley of 'Love Gun' and 'Shout it Out Loud' on the nationally televised karaoke competition's season finale last night.
Mercifully, between Steven Tyler abdicating his role as an 'Idol' judge and the program's steadily declining ratings, it's been a long time since we had to watch this nonsensical show. But we must say they made it as painless as possible this time. Kiss performed very early in the evening, and Johnson -- who looks and emotes like a young Meat Loaf -- for the most part wisely stayed out of their way, taking a few lead verses and otherwise just singing along as Paul Stanley, Gene Simmons and company did their thing.
The best part was watching new 'Idol' judge Harry Connick Jr. attempt to dance along -- in between texting or taking photos with his phone -- while Stanley testified about the power of his 'Love Gun.' Again, we haven't been keeping up with the 'American Idol' rules, but it doesn't seem like this performance counted towards anybody's final score. Still, whatever the cause, it's always great to watch Kiss set off enough fireworks for a major metropolitan city's 4th of July celebration on live TV. Together with Def Leppard, they'll take their show on the road for a 40-city tour this summer. You can get all the dates right here.
Watch Kiss Legend Ace Frehley's Real-Life 'Spinal Tap' Story
More From Ultimate Classic Rock