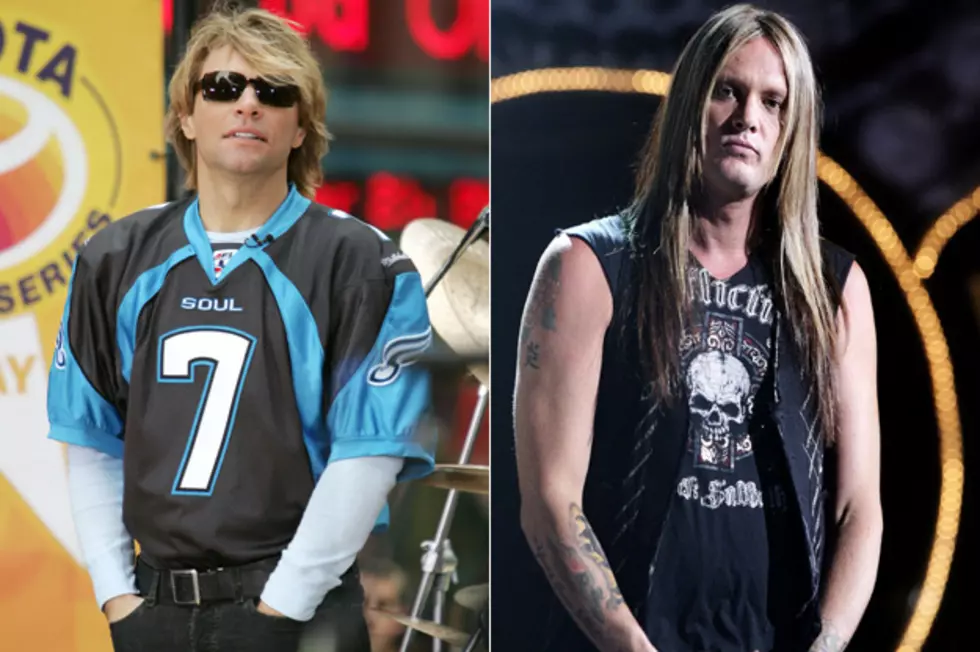 Jon Bon Jovi Questioned By Irish Skid Row Co-Founder Over Band Name Dispute
Skid Row's Brendan 'Brush' Shiels is a founding member of the late '60s-early '70s Irish blues-rock band that shares a name with the American Skid Row -- the more famous one that's fronted by Sebastian Bach. You may remember the original Skid Row best for being the first professional band that late guitarist Gary Moore played in, which Thin Lizzy's Phil Lynott was also a member. Got all that?
At any rate, Shiels is accusing the American Skid Row of stealing his band's name without permission.
Shiels has recorded and posted a public video, a query of sorts, asking Bon Jovi's Jon Bon Jovi to contact him in regards to the name conflict. Why Jon Bon Jovi? According to Shiels, the American Skid Row signed a publishing deal prior to releasing their first album with Jon. Shiels also is asking early Skid Row manager Doc McGhee to help resolve the name issue, but the video (view below) seems more directly aimed at Jovi.
The dialogue becomes a bit salty, when Shiels reveals that he doesn't believe that Moore received a $35,000 payoff by the American band for the use of the name and he's challenging Bach and all the parties involved.
The real question is, why is Shiels asking and why all of these years later?
Shiels insists that he is Skid Row, he was there first and he has paid his dues. His Skid Row jammed with tons of bands over the years, including Led Zeppelin, Frank Zappa, The Allman Brothers and Iggy Pop and The Stooges. Fast forward 40 years and the true root of the problem becomes clear: Shiels has made a new Skid Row recording and wants this band name conflict resolved once and for all.
It'll be interesting to watch how this story unfolds. Will it end up in a courtroom, or will the bands come to  a resolution without calling in the suits? Better still, will Jon Bon Jovi respond to Shiels video query or
will he move forward, living on a prayer? Time will tell.
Watch Skid Row Co-Founder Shiels Question Jon Bon Jovi:
More From Ultimate Classic Rock