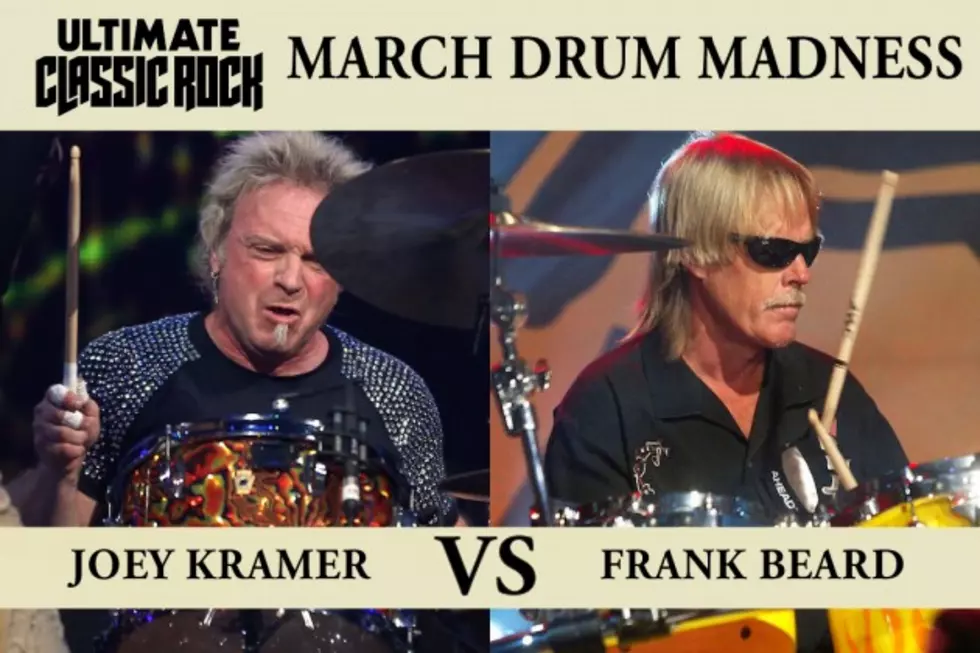 Joey Kramer Vs. Frank Beard: March Drum Madness
Christopher Polk / Kevin Winter, Getty Images
They both rose to fame in the '70s, then made stirring comebacks in the '80s. Now, Joey Kramer and Frank Beard – the engines behind Aerosmith and ZZ Top, respectively – face off in our new March Drum Madness competition.
How does it work? We've placed 32 of the most famous drummers in classic rock history into our March Drum Madness bracket. Over the coming weeks, their ranks will be cut in half in each of five rounds until we arrive at your choice for the greatest rock drummer of all time.
Beard joined ZZ Top in 1969, helping complete a sturdy trio lineup with Billy Gibbons and Dusty Hill that remains together to this day. They ultimately saw three albums sell a whopping 16 million copies between 1983-90, including the 10-times platinum Eliminator. Highlights over the years included "Tush," "Cheap Sunglasses" and "Legs." Then you have Kramer, who is said to have come up with Aerosmith's name before going on to propel favorites like "Dream On," "Walk This Way" and "Love in an Elevator." Aerosmith enjoyed huge success with 1975's eight million-selling Toys in the Attic and 1993's Get a Grip, which went seven-times platinum.
Sounds pretty evenly matched, right? Time to decide! You can vote once per hour in each of our 16 opening March Drum Madness battles until the first round closes on March 23 at 11:59PM ET. The ultimate winner will be revealed on April 7.
See Aerosmith and Other Rockers in Our Top 100 Albums of the '80s