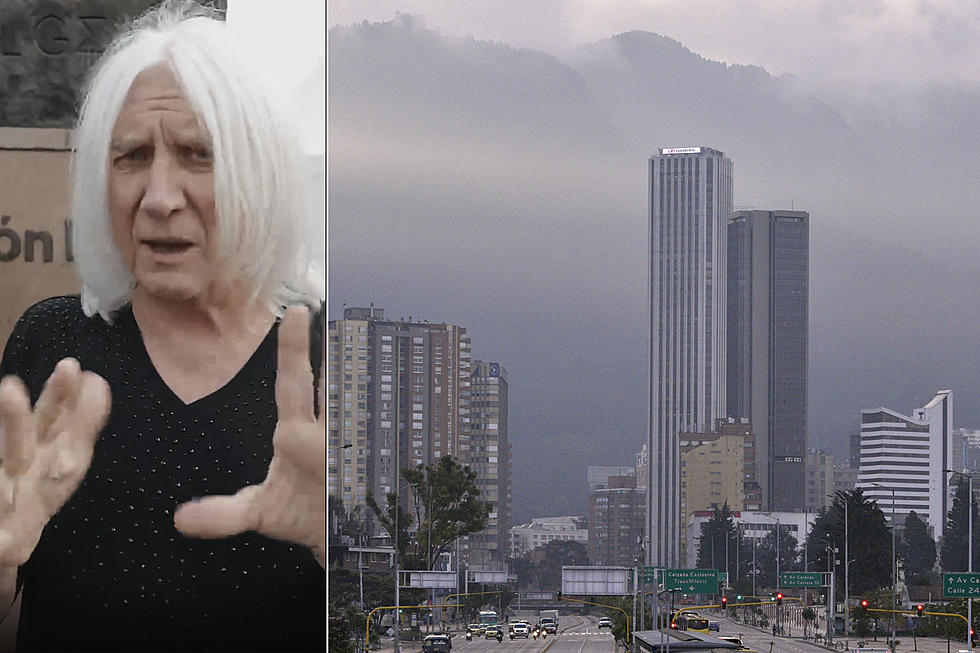 Joe Elliot Overcomes Altitude Sickness Before Def Leppard Show
Twitter / Guillermo Legaria, Getty Images
Joe Elliott led Def Leppard's concert in Bogota, Colombia last night (Feb. 25) after briefly being admitted to the hospital the night before the performance.
The singer led the show on schedule and with a full set – shortened by two songs according to some reports – although he admitted ahead of taking the stage that he was still feeling "a little woozy" after he suffered an attack of altitude sickness soon after his arrival.
"I am alive and well," he said in a video posted via social media two hours before the performance started. "'Moderate to severe' altitude sickness; I would hate to know what 'severe' [was]. I wouldn't wish it on my worst enemy." He continued: "But here I am… apparently the internet lit up, so I'm here to put everybody that cares about it's minds at rest." He concluded: "I'm here, and we are going on at 8 p.m."
According to Wanderlulu, Bogota sits in the Andes mountain range, 1.64 miles (8,660 feet) above sea level. That's more than 3,000 feet higher than Denver, Colorado, which sits exactly one mile (5,260 feet) above sea level. According to the CDC, "inadequate acclimatization may lead to altitude illness in any traveler going to 8,000 ft (2,500 m) or higher, and sometimes even at lower elevations."
During the concert he told the crowd: "Before we carry on I'd just like to say a big thanks to all the staff at the Marly hospital who took care of me last night. I was feeling a little bit under the weather. We call it altitude sickness – you have another word for it that we can't pronounce." He added: "I made it, you made it, and thanks to them, that's why I'm here. So let's make some noise for all those good folks at the Marly hospital please."
Def Leppard and Motley Crue are currently in South America as part of their World Tour road trip. Following the show at the Parque Simon Bolivar in Bogota, their next appearance is at the Estadio San Marcos in Lima, Peru on Feb. 28.
Def Leppard Albums Ranked
From their metal-edged debut to their pop breakthrough to the recent records, we rank every single LP.
More From Ultimate Classic Rock