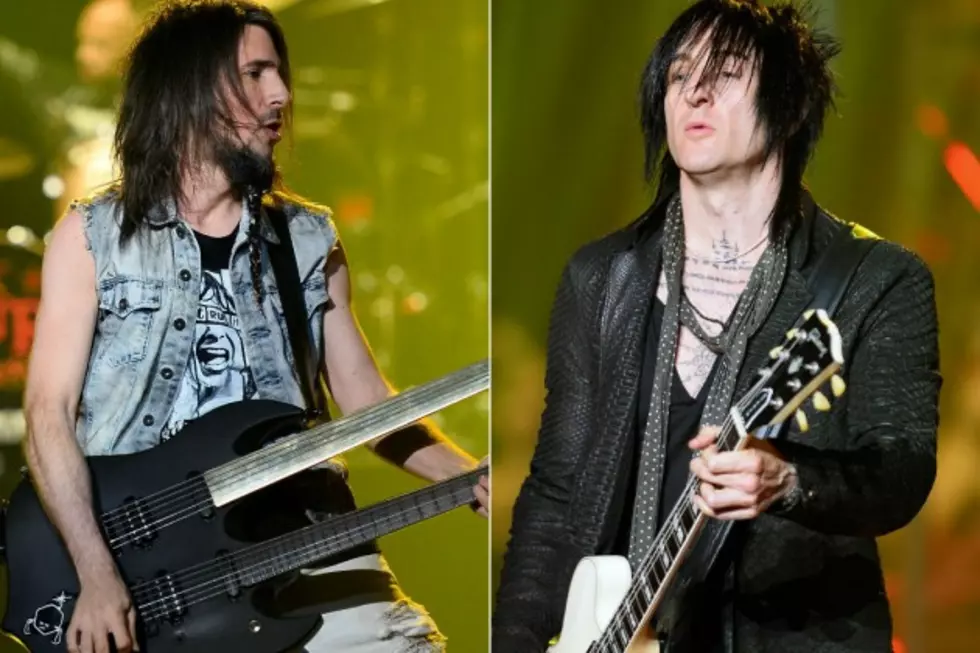 Bumblefoot Hints at Guns N' Roses Hazing, While Richard Fortus Promises New Music
Ethan Miller, Getty Images
The subject came up again during a recent interview with Rock.About.com, with Thal asked to comment on rumors that he encountered some less-than-friendly treatment when he joined the GNR lineup in 2006 — and had to be "a little violent" in order to assert his position. Insisting that he doesn't "want to get into dirt and all that negative crap," he then proceeded to admit that he may never have really felt like a part of the GNR family.
"I think it was just more of a situation like a new family member was brought home without the other siblings' consent or to their surprise," laughed Thal. "It was, like, 'Who the f– is this guy?' So it took a good minute for us to get to know each other. ... I don't know if we ever got to really know each other, to be honest. I feel like the environment I was in never gave me a chance to just comfortably be myself and not feel guarded. But that's just me, and that's just the way the pieces fell, you know."
While Thal renews his focus on his solo career, Guns N' Roses is reportedly edging toward the completion of their long-rumored followup to 2008's Chinese Democracy — at least according to current guitarist Richard Fortus. Fortus, who's been known to say this sort of thing in the past, recently told Stormbringer that fans can expect to hear new material next year.
"We're going to be doing stuff next year," predicted Fortus. "We're not going to have anything out this year. Next year it should be out and we'll be touring."
Given that Fortus thought the next Guns LP was just about done in 2013 — and his fellow GNR guitarist DJ Ashba promised new material on the horizon a year earlier — it might be best to take this latest prediction with a grain of salt.
See Guns N' Roses and Other Rockers in the Top 100 Albums of the '80s
Slash Explains How Guns N' Roses Got Together
More From Ultimate Classic Rock