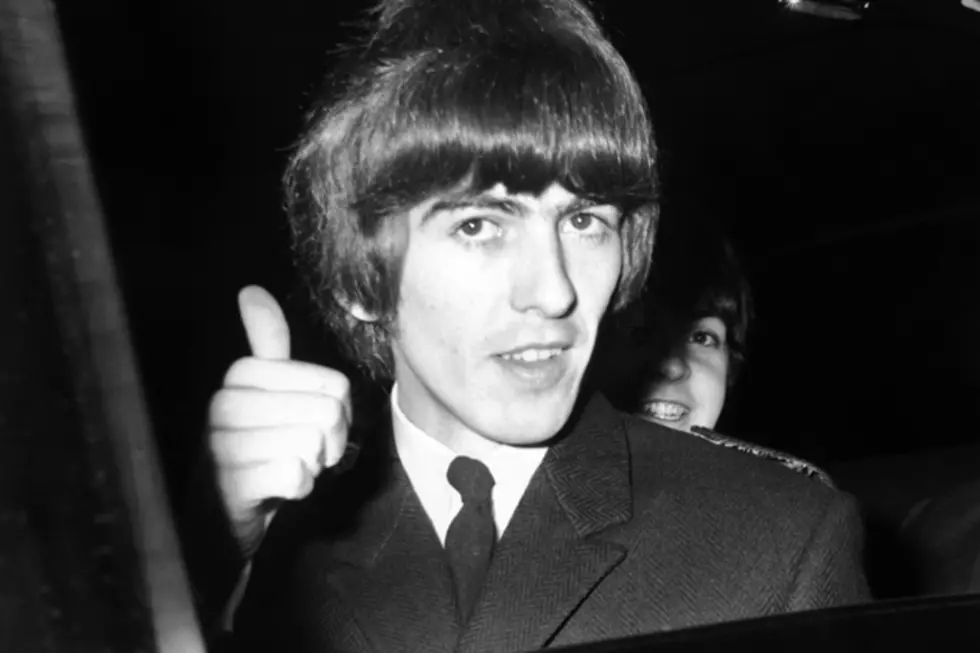 Top 10 George Harrison Beatles Songs
Keystone / Hulton Archive / Getty Images
George Harrison was known as the Quiet Beatle. Too bad -- maybe if he had spoken up more often, he would have had more of his songs included on the Beatles' albums. Even when John Lennon and Paul McCartney started writing and singing their own songs, Harrison was pretty much relegated to one track per album. And only one of those songs -- 'Something' -- was released as a single (and even then it had to share a record and airplay with 'Come Together'). But as our list of the Top 10 George Harrison Beatles Songs proves, he penned plenty of terrific cuts while in the band. In a way, his quiet contributions to the group spoke the loudest.
10

'I Want to Tell You'

From: 'Revolver' (1966)

Harrison somehow managed to place three of his songs on 'Revolver': 'Taxman' (see No. 6 on our list of the Top George Harrison Beatles Songs), 'Love You To' and this one, a densely produced pop track featuring one of Harrison's most effortless vocals. It doesn't go too deep. And why would it? It's mainly about the dangers of overloading your brain with too many ideas at one time.

9

'I Me Mine'

From: 'Let It Be' (1970)

Harrison's bluesy shuffle from 'Let It Be,' like many of the songs that came out of the album's long and troubled sessions, isn't so much a fully formed track as it is a sketch of one played out over two and a half minutes. The song gently ribs the members of the Beatles (including Harrison), whose egos were shifting the band dynamic.

8

'I Need You'

From: 'Help!' (1965)

After two albums featuring zero Harrison songs, the soundtrack to their second movie included two of them, including this simple love song with a great, and somewhat innovative, guitar line running through it. Like many Beatles songs from the period, 'I Need You' features a double-tracked lead vocal, which gives the song a hazy, dreamlike quality.

7

'Savoy Truffle'

From: 'The Beatles' (1968)

The Beatles wrote some pretty goofy songs, and this could be Harrison's goofiest (it's certainly the silliest to show up on our list of the Top 10 George Harrison Beatles Songs). He had a reputation as the most serious, stoic Beatle, but anyone familiar with his ties to the Monty Python crew will tell you that he had a deep, dark sense of humor. This playful horn-speckled 'White Album' cut is all about pal Eric Clapton's addiction to fancy chocolates. Seriously.

6

'Taxman'

From: 'Revolver' (1966)

Harrison's only Beatles-album opener is also one of the most overtly political songs in the entire Beatles catalog. The track, the most direct rocker on 'Revolver,' is essentially a two-and-a-half-minute screed against the high taxes the world-famous band was forced to pay at the time. The backing vocals even call out two of the government figures responsible for the tax -- Harold Wilson and Edward Heath. Cheeky.

5

'It's All Too Much'

From: 'Yellow Submarine' (1969)

On the surface, the soundtrack to the Beatles' animated freak-out movie seems to be little more than a quick fix and an easy buck. Of the six Beatles songs included on the album, only four are new, and half of them belong to Harrison. This psychedelic-era relic builds over six glorious minutes. 'It's All Too Much' was recorded for 'Magical Mystery Tour,' so it finds the band at its most adventurous, especially during the everything-but-the-kitchen-sink ending. It's an obscure classic.

4

'Within You Without You'

From: 'Sgt. Pepper's Lonely Hearts Club Band' (1967)

Harrison's only contribution to 'Sgt. Pepper's' is the most popular of the handful of Indian-influenced music he released as a Beatle. 'Love You To' from 'Revolver' is good too, but if we had to pick one Beatles song featuring tambura and sitar, it's this one, a perfect blend of exotic and traditional instruments. None of the other Beatles played with Harrison and the session musicians on this track, but it's a crucial piece of the album's legacy.

3

'Here Comes the Sun'

From: 'Abbey Road' (1969)

Harrison landed two songs on the last album the Beatles made together ('Let It Be' was recorded earlier than 'Abbey Road' but released later), and they're among his greatest tracks (check out No. 2 on our list of the Top 10 George Harrison Beatles Songs). 'Here Comes the Sun' features one of Harrison's loveliest melodies and brightest guitar solos. And it holds its own as the opening cut on the album's second terrific side, which is dominated by Paul McCartney's multi-song medley.

2

'Something'

From: 'Abbey Road' (1969)

Shockingly, 'Something' is the only song written and sung by Harrison released as a Beatles single (it reached No. 1). It became, next to 'Yesterday,' the band's most covered song (Frank Sinatra infamously gave credit to the song to Lennon and McCartney when he sang it onstage). It's also Harrison's greatest composition, a love song with a killer bridge and subtly moving guitar line.

1

'While My Guitar Gently Weeps'

From: 'The Beatles' (1968)

One of Harrison's most popular songs is also one of his most searing. It's also one of the best group performances to surface from the fractured 'White Album' sessions. By this time, Harrison was no longer living in Lennon and McCartney's huge, looming shadows, and 'While My Guitar Gently Weeps' is almost his declaration of independence from them and the band. It features one of his greatest vocal performances, but more so, it's the guitars -- by Harrison and Clapton -- that drive it to No. 1 on our list of the Top 10 George Harrison Beatles Songs. They scream, wail, howl and, yes, weep so magnificently.

BONUS

You Think You Know The Beatles?
More From Ultimate Classic Rock