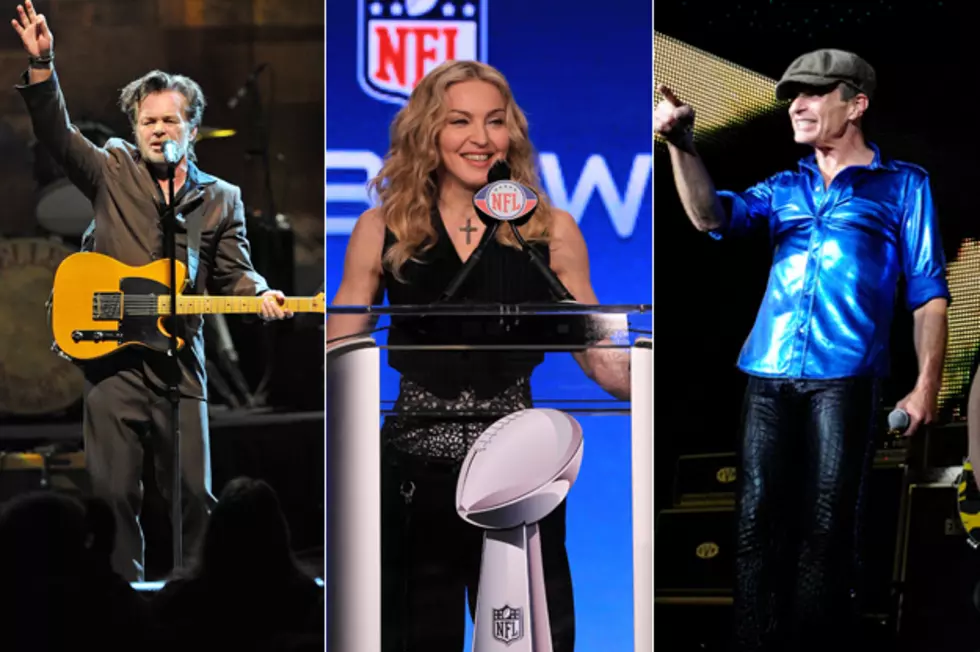 Five Bands That Should Be Performing at Super Bowl 46 Instead of Madonna
Let's face it, very few rock fans are excited about seeing Madonna perform the halftime show at this year's Super Bowl. Between her exercise regimen and all the plastic surgery she's had recently, you'd think the National Football League wouldn't want to feature someone who'll scare all the children watching.
So who's got the chops to follow in the footsteps of the rock stars who've done such a good job in this big spotlight in the past? Well, we have some suggestions -- here's Five Bands That Should Be Performing at Super Bowl 46 Instead of Madonna:
It doesn't matter if it's with the current band or if they go all-out and reunite, Axl Rose remains one of the most compelling frontmen in rock history, and everybody always wants to see what he's going to do next. 'Welcome To The Jungle,' 'Sweet Child O'Mine" and Paradise City' were written to get huge crowds on their feet, they wouldn't even need a fourth song. On the other hand, the show runs on a very tight schedule, and punctuality isn't, you know, one of Axl's specialties. Still, Vegas could clean up by offering odds on the length of the inevitable delay.
He just finished a North American tour, so his band and voice have to still be in good shape. As we reported back in November, he's currently writing material for a new album, but that doesn't mean he can't leave his beloved Michigan for a few days and sing for a billion people around the world, does it?  While the other great American rockers of his generation (Springsteen, Petty, Mellencamp) maintain active schedules, Seger's star has unjustly fallen due to relative inactivity. A halftime show with high-energy classics like 'Hollywood Nights,' 'Rock and Roll Never Forgets,' 'Katmandu' and, of course, 'Old Time Rock and Roll,' could go a long way towards reminding everybody what a great performer he is. Just please, no 'Like A Rock.' It was the original 'Our Country' (see below).
The Super Bowl is the country's biggest spectacle, so why not have the band whose entire career has been a spectacle? Every stadium in America already plays 'Rock and Roll All Night' or 'Shout It Out Loud' at some point during every single sporting event, so why not have Kiss there in the flesh to do those and a few others? And don't you think Gene Simmons would love to be surrounded by the Patriots' cheerleaders? The only drawback could be that, with a 12-minute set, it could take longer for them to get into their costumes and makeup than to perform.
With a new album ('A Different Kind of Truth,' reviewed here) coming out two days after the game and a tour to promote, the timing couldn't be more perfect to get them in front of a worldwide audience. Just throw one of the new songs in with 'Jump,' 'Panama' and 'Unchained' and watch the ticket sales increase. And it's best to get them now, while Dave and Eddie are still presumably talking to each other.
A Super Bowl taking place in Indianapolis without a performance by the most famous rockin' Hoosier? After the season the Colts have had, it's the least the NFL could have done for the hometown crowd. Besides, a set comprised of stadium-friendly anthems like 'Small Town,' 'R.O.C.K. in the U.S.A.' 'Paper In Fire,' and 'Authority Song' would go a long way towards making us forget that the Chevrolet commercial that used 'Our Country' was played during every single commercial break in every single football game during the 2006 season. The league blew this one like Tony Romo in the fourth quarter.
More From Ultimate Classic Rock