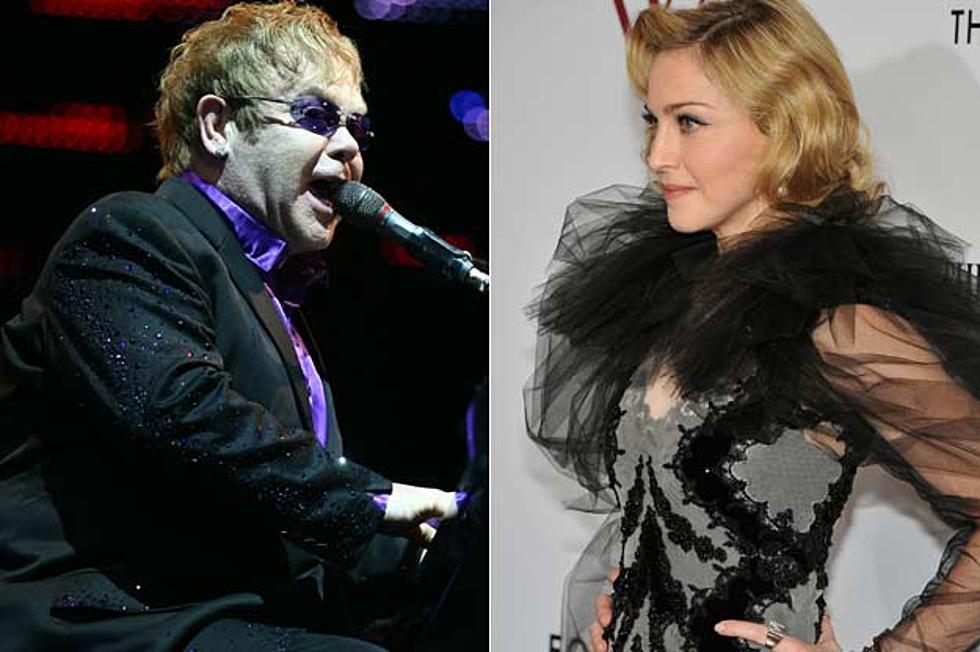 Elton John to Madonna: 'Make Sure You Lip-Sync Good'
Madonna is preparing for her first-ever Super Bowl halftime performance this Sunday (Feb. 5) and in an interview with ABC News, singer Elton John has offered some unsolicited advice to the Material Girl about how to handle the big show. Elton's No. 1 suggestion? "Make sure you lip-sync good." That's free advice and Madonna can take it or leave it as she wishes.
John also said that he doesn't have high hopes for the show being incredibly entertaining, but that has nothing to do with Madonna specifically, since he said he is routinely disappointed by halftime performances. He said, "I've never seen a decent one. Never ever." We bet he likes the commercials, especially since he is starring in one.
He then qualified his commentary on the halftime show, saying, "Of course you have to play live, but I don't think you can. In all fairness to everyone who's done it before, I think you may be able to sing live, but it's really hard to play live." Is this Elton John's way of passive aggressively campaigning to be the halftime entertainer at next year's Super Bowl? Or is he just fond of trashing a pop star? It could be either one.
Remember, John's husband David Furnish attacked Madonna when she won the Golden Globe for Best Song from her film 'W.E.' earlier this month. Furnish said "Madonna winning Best Original Song truly shows how these awards have nothing to do with merit. Her acceptance speech was embarrassing in its narcissism" in a post on his Facebook page. He later apologized and said it was blown out of proportion.
More From Ultimate Classic Rock