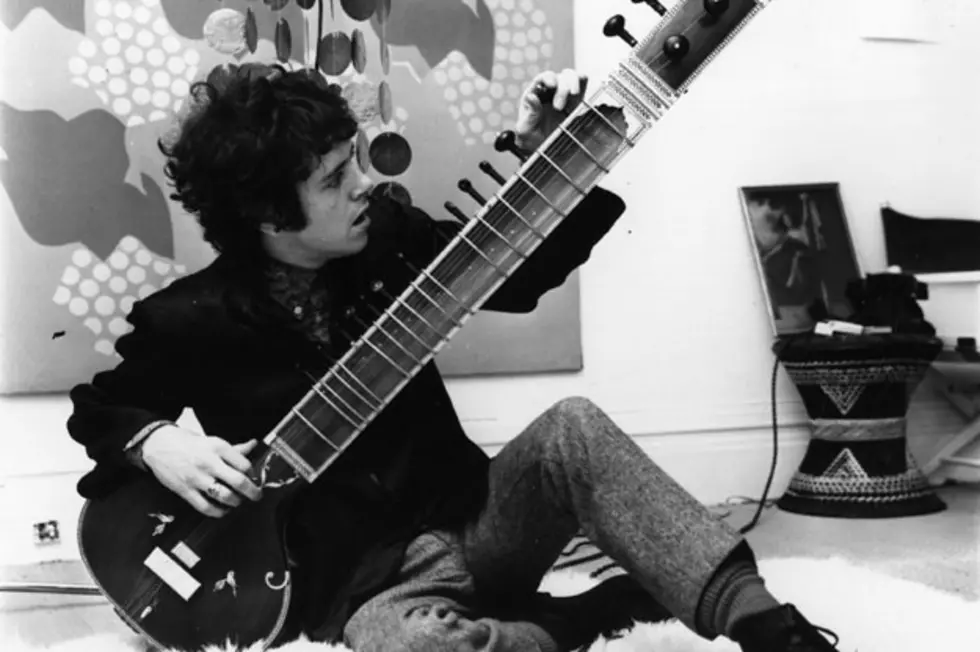 Donovan Talks About Being a Psychedelic Music Pioneer and His 'Friendly Rivalry' with the Beatles
Wandering minstrel, psychedelic pioneer, whimsical folkster, all around cool guy. Call him what you want, there is no denying Donovan. Just ask him! We got the chance to do just that recently, and to celebrate his 66th birthday (May 10, 2012), here are the results of that enlightening conversation.
Donovan has been a part of our lives for many years now. After making some of the most original music in the rock and roll storybook for over 45 years, he was finally recognized by the powers that be, and inducted into The Rock And Roll Hall Of Fame this past April. A brand new two disc anthology, 'The Essential Donovan,' has just been released, and there's new music on the way from the man as well. Tag along as we wander through Donovan's world for a brief visit:
First off, it's an honor to speak with you. Congratulations on your long overdue induction into the Rock and Roll Hall Of Fame!
Oh, well thank you! It's a significant honor in itself. An honor above all other awards I've had. People keep telling me, "it's about time" and I say, do you feel I should have been in before? I feel the timing is perfect for me!
Do you think that over the years people may have forgotten just how revolutionary some of your records really were?
It's very easy to maybe not know what I was up to all those years ago and making new experimental music. I don't think many people could put their finger on what I was up to. Only now, young journalists and history look back and see that in actual fact when you look at the calendar, that the 'Sunshine Superman' album was, my goodness, a herald of things to come. A year before ' Sgt. Pepper,' a year before 'Surrealistic Pillow.'
Without a doubt. 'Sunshine Superman' was really one of the, if not the first, full-blown psychedelic records.
I mean I didn't really know at the time that that would be the case. But what I did know at the time, Gypsy Dave (his long-time partner in crime) and I, we knew this was groundbreaking stuff. But you know, it was just sort of personal to me. And over the years people have said to me, "my goodness that was a first and there was a door you opened there." So now it is quite clear that's what happened. I was quite happy at the time, I'm not very happy now (laughs).
What about the fact that the 'Sunshine Superman' album was released in the September of 1966 in the U.S., but was not issued in the UK until June of '67?
'Sunshine Superman' was held up for five months in the courts. So, not only was it a year before 'Pepper' and way before it's time in many ways, but it could've been out earlier even.
And didn't the recording sessions actually start in late 1965?
(surprised) Yeah, yeah! That's right! And finished in May of '66, but then it was held up for months in lawsuits.
What happened with the lawsuit?
Those lawsuits were because Alan Klein, the great baron, manager of the Stones at the time, and Marianne Faithful, he had his sights on me too. When he started to manage me, took me from Pye Records in the U.S. and put me with Clive Davis and Epic in the United States, which was the first signing that Clive would do, which was amazing. But then it stopped everything!
And you were also a pioneer in being busted for drugs at the time.
(laughs) Yeah. Boom! I was the first to be busted, before the Beatles and the Stones, in the big bust drive that was trying to close down probably the three most prolific, radical songwriting teams, me, the Beatles and the Stones. We were all making such radical, revolutionary moves, they thought that if they closed us down, and got a criminal status on our passports, we wouldn't be able to go the the United States. Which actually was the case for a while. But actually it didn't matter, cause the music was already out.
So the drug bust and the court battle over the release of the 'Sunshine Superman ' album, put the breaks on you for a while, what did you do?
Gypsy Dave and I went off to Greece, we just thought that was it, it was the end, it was a great year, it's been fun. We'd made this extraordinary album, and it can't come out. But, before I went to Greece, Mickie Most, my producer, said to me 'look Don, about this album, whatever you do, don't play it to McCartney.' (laughter). And I said, okay, but of course I played it to McCartney. We made records to impress our peers. Of course they would do the same. George (Harrison) would make a recording with the Beatles and say 'listen to this one we just did!'
It was a friendly competition kind of thing.
Yeah right, a friendly rivalry!
The Beatles, of course, had George Martin to guide their ideas to reality, did Mickie Most serve the same ground for you?
Yeah I had my George Martin, in a way, with Mickie Most and John Cameron, who was my arranger, whereas Martin was a producer and an arranger. Both Martin and Cameron came from the world of classics and jazz. But what kind of happened on 'Superman' was that we were experimenting so fast, I heard all this stuff in my head and we were laying it down so fast at Abbey Road No 2, it would influence George Martin, and Paul to say, "We can expand we can go further." They'd already introduced the sitar, of course, and strings. It's fascinating when you look back.
Even something like 'Sunny Goodge Street' from your second album (1965's 'Fairytale') was really ahead of it's time. Lyrically and musically.
I mean, I can't think of anybody else putting jazz into pop or rock music at that time.
Yeah...that too, when you go back a year before 'Superman'. These elements I was working with were so natural to me but to actually put them all together in the way I did where nothing really mattered, all the rules could be broken, and if it's really gonna be a world message that we're gonna beam out, the music would have to be world music. So, classical and baroque, jazz and blues, folk and Indian... everything... everything all together!
I think that's why the 'Sunshine Superman' album doesn't come off like just a period piece, because it's so cohesive. Forty-six years later it holds together very strong. I know you performed the album in it's entirety last year in London at the Royal Albert Hall, tell me about that.
Ahh yeah. It has yet to be broadcast in America. It's been done, it's mixed...it sounds incredible. A complete performance of the whole album, with (Jimmy) Page doing his bit, and harpsichords and sitars by John Phillips, and Danny Thompson on upright bass and the London Contemporary Orchestra. The first half is all the hits, everything sounded just like it was recorded-'Jennifer Juniper,' 'Barabajagel' -- all the stuff is there! We're looking to broadcast it, hopefully before the end of the year in the United States, then a DVD release before Christmas.
That will be great! One thing I think most people tend to ignore with a lot of artists who have been doing music for a long time, is that you are still making new music
Tell me a little about 'Ritual Groove'
Well, about 400 analogue tapes arrived from a storage that Alan Klein was holding. I went through this stuff and found stuff I forgot I'd even recorded, so 'Ritual Groove' is mostly new stuff but there's a few things I'm dropping in from these archives. I'm still writing and performing occasionally. So I put all this stuff together, called it 'Ritual Groove' and wondered what to do with it. It's not really for general release, you can just get it on the website for now, so it's kind of an in house sort of project, but maybe a smaller selection of songs will come out of that later.
What's your connection with David Lynch?
He's become a fast friend in the last seven or eight years. He gave a call when Linda (Donovan's wife) and I demonstrated transcendental meditation about seven years ago in New York on TV, and David said wow, I've just done this foundation, would you be the musical wing of the foundation? He's seriously taking it to schools. David had been meditating for thirty five years but didn't tell anybody cause he didn't want people to say, "Oh I know why he made that film." He wanted his art separate from his meditation.
He saw this news clip that said ten million American students between the age of ten and fourteen were on attention deficiency drugs, he said, "that's ten million a day, seventy million a week, two hundred some million a month." He already knew that TM was working wonders with students and wondered if it would work with those with ADHD. So, he called me up and said he'd just started this foundation, the David Lynch Foundation, and asked Linda and I to join him. We said yeah.
And didn't you do a concert with some old friends?
Ringo and Paul. We contacted them and did a big concert, Ringo, Paul, David and I did, at Radio City Music Hall two years ago. It's going to hit the screens this summer, it's called 'Change Begins Within.' So that's how David and I got together and then at one point he said 'come in the studio Don and maybe we'll make a recording' so we cut two tracks, one of which is 'I Am The Shaman' and that's also on 'Ritual Groove'. There's another one we held back that I'm very excited about called 'Gimme Some Of That' that we're hoping to release. So yeah, I've been working on new stuff. I do write new material, but this archive is presenting an extraordinary big job to bring all this stuff together. It's getting close.
EMI UK did a nice job on the reissues from a few years ago
They did, and I've now found stuff they haven't got cause it's all in my storage, mostly '70s stuff, so that's all being worked on now too. So yeah, there's archive, there's new stuff.
You seem to have adapted to 21st century technology alright.
Funny, the new stuff kind of goes back to the old days when we were all releasing singles. Nobody released albums, we all just released two songs, an A side and a B side, and that seems to be happening again.
Any plans for a larger tour?
Well, I'm stretching my vocal muscles. The Faireworlds festival up in Oregon is very unusual, because I'll be exploring the celtic magical Donovan songs, the fey, playing with harps, mandolins and viloins. Unusual sounding folk sounds for that, along with the hits, so I'm looking forward to that. The over in the east, I'll be doing jazz with just acoustic guitar and upright bass at the Syracuse Jazz Festival. Just feeling myself out. An actual tour is uncertain.
Thanks to Donovan for his time and memories!
More From Ultimate Classic Rock