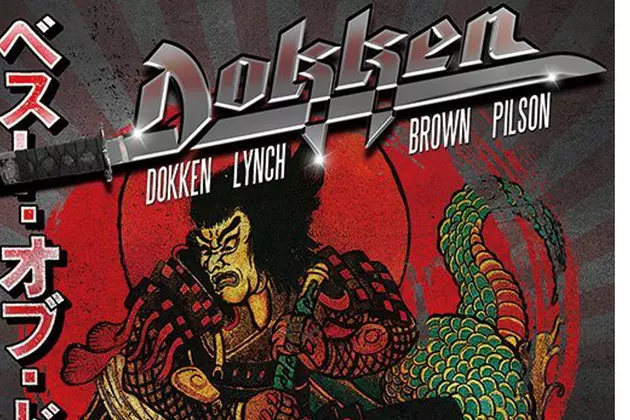 Dokken's Don Dokken and Jeff Pilson on the Band's Reunion Tour and More: Exclusive Interview
Image Credit: Dokken.net
One of the most anticipated hard rock reunions of the past few years will finally take place when Dokken reunite their classic lineup of Don Dokken, George Lynch, Jeff Pilson and "Wild" Mick Brown for seven shows.
The brief trek begins with a single U.S. date on Sept. 30 at Badlands Pawn Guns Gold and Rock 'N' Roll, a sold-out show that will be filmed for a possible video release later this year. (They're also performing what is being called a special "VIP dress rehearsal" show on Sept. 29. One hundred fans can buy tickets to the event, which is expected to quickly sell out. And it looks like the band is doing its best to avoid any spoilers for the real gig by including the following message on the ticketing page: No cameras, video or audio equipment allowed, including all cellphones. All attendees must check all phones and cameras at the door.)
After that, the group will head to Japan for Unleashed in the East tour dates -- six shows happening between Oct. 5 and Oct. 12. Once the tour wraps up in Tokyo, "we're all going to go back to our own lives," as Don Dokken put it during a recent chat with Ultimate Classic Rock.
We spoke with Dokken and bassist and singer Jeff Pilson in separate interviews to get their thoughts on the upcoming shows. As fans are aware, there have been several attempts in the past few years to launch a reunion, including one that found the band members getting together in Pilson's studio and working on three new songs.
"That was about three or four years ago and I honestly don't remember how the songs went, I don't remember what they were," Dokken says. "I don't remember the lyrics, I don't remember anything. They had some ideas and George was like, "What do you think of this?" And I go, "Oh, that's pretty cool." It was just like a brainstorming session, and Jeff goes, "Well, how about we do this for the chorus?" We did that and we spent a day and did three songs, just roughed them out and that was the end of it. We never took it to the next level."
New music is again on the agenda as part of the reunion. Pilson says initial work had been done on a new song, which is still in development. "So far it's just the music," he says. "It's very Dokken sounding. It's very tricky to try and come up with something that sounds authentic but sounds sincere, and I think we did it. We kind of just let all go and let our inhibitions fly and it came out."
But a few weeks later, Dokken revealed that with things coming down to the wire, he wasn't sure what would happen with the new song. "Jeff and George wrote a riff and some music, and they sent it to me. I've been super-busy and I've been trying to write lyrics. The song really hasn't spoken to me as much, so I let Mick take a crack at it," Dokken explains. "Mick wrote an entire lyric and the whole song and it's really good, but it's too high. It's just out of everybody's range. So that needs to be taken into consideration. I think it was written in the wrong key for me. You'd have to either sing really low, and it wouldn't sound good, or like super-high, and I'm stuck in the middle. Jeff and I are going to try to get together."
Besides the tour, Dokken's current lineup also has some shows lined up. The groups' frontman says he's been juggling a lot lately, but that he feels like he and Pilson will come away with something. "I'm sleeping three or four hours a night," he notes. "When you go to do a tour, nobody will understand the logistics of work visas, tax, I.R.S., hotels, flights, equipment, production -- it's just never-ending on a daily basis. "Jeff's busy -- he's out with Foreigner, and George is getting ready, he's got shows.  I'm hoping to get to Jeff's house in the next four or five days and I've got some alternative ideas that I think might be even better [for the new song], like more of an anthemic up-tempo 'Paris Is Burning' kind of song. It's not going to be hard -- Jeff and I are kind of on the same page -- we were cut from the same cloth as far as our likes, Beatles, the Hollies."
Both Pilson and Dokken say they're not surprised that this reunion is finally happening. Each of them point to busy schedules as the main factor that kept things from coming together earlier. "We've been kind of dabbling and trying to talk about it for a long time," Pilson explains. "Scheduling was the thing we couldn't figure out. When Japan came along and offered us a date that happened to fall in a Foreigner break, it worked out great for me. How do you say no to that?"
"[Jeff] reminds me of me 15 years ago," Dokken says. "I owned a recording studio for almost 15 years, and I lived in that studio. I rarely went home. I'd just make music, music, music every day. When I sold the studio, I kind of fell out of that. But Jeff has a recording studio, so when he comes home, that's where he is comfortable. He likes to be on the console. He's very, very good at Pro Tools, so he doesn't need an engineer, and that's my weak spot. I can't play guitar and push buttons at the same time. I just can't do it."
When the short Dokken run of Japanese shows wraps up on Oct. 12, Pilson will be back on the road with Foreigner two days later, playing a show with the band. But he's not thinking about the super-busy schedule. Instead, he's concentrating on playing with his old bandmates again.
"I do love these guys," he says. "There's a lot of history. When George and Mick and I play as the musical bed of the band, there is something really special that's going to feel really good. ... There's been times in the band when we, for one reason or another, weren't at our best, and this time, I really hope we're at our best. I'd love to see that. That's what I'm really looking forward to. The satisfaction of knowing that we've fulfilled a lot of our potential. There is a lot of talent in the band. There is a chemistry about the band that's undeniable. When it functions, it can be really great, and I really want one more chance to show that."
Could there be additional dates featuring the classic lineup? Lynch has indicated that he felt like there was a "50/50 chance" of that happening, at the same time choosing his words carefully when it came to discussing the current reunion. For Pilson, it would again come down to scheduling. "I would be open to it. It's just got to fall in places that I can do it.," he says "But if this also ends up being the last of it, I'm also happy there. I've seen Don call it an exclamation point, to go to Japan, and if this is the end, I can't think of a better way to end it."
Since the reunion was announced, Dokken has been adamant that the upcoming shows would be the only chance to see the classic lineup. He stands by that now. He says a promoter recently called him and showed interest in booking the reunited band for more shows. "He told me how much, and it was like, 'Wow, that's a lot of money,'" he recalls. "But it's a dilemma. How can I? Why would I want to kill my own franchise? If we go and do those [shows], then what do I do? We're supposed to go back with the other lineup, and we keep going? It would hurt the franchise. And Jeff's in Foreigner. Forever. He's not in Dokken. He's going to be in Foreigner. And George is going to do Lynch Mob. So it doesn't make any sense when the truth is, I'll still be playing those same festivals next summer with this current lineup. I just won't make as much money, that's all."
But he says that's not a concern. "I've been very lucky," he explains. "I have a lot of good friends that play with us, and I see what they're making, and I say, 'God, guys, how do you do that?' You've got plane flights, hotels, a van, you've got to rent a trailer, I mean, how do you tour and just make a very little amount of money? Where's all your money? You guys have platinum records. Everybody's got a story: I got divorced three times, I was doing drugs, I bought too many fancy cars, I bought a mansion with 10 bedrooms thinking it would go on forever, and it turns out it didn't go on forever. These stories go on and on and on with all of these bands from the '80s. You take a bunch of kids in their twenties that don't know anything and were all poor and never had a pot to pee in. And all of a sudden, you're making all of this money. You've got a million dollars in the bank, and you buy your first home and you get married and you have kids and now you have expenses, and they just keep you going and going and going. You think it's going to go on forever."
Dokken feels like they're doing the right number of shows to keep things happy and professional so that everybody can enjoy the experience. "I would be concerned if we kept going and doing the shows for the money that tensions might arise," he says. "I don't need any more tension in my life. Money does not buy happiness. It comes from the inside. It's not a check. You've got to be happy. I know a lot of people that have more money than God and they're some of the most miserable people I've ever met. It's going to be fun and I want to keep it fun."
He has only one real concern: "I think people in Europe and America are a little more forgiving when it comes to the singing. If you don't sing it exactly the way you did on the record 25 years ago, the Japanese are pretty finicky about that, you know," he says. "I just played there two years ago in Loud Park with Scorpions and [other bands]. We played Loud Park, this huge festival and I didn't hit all of those big screamy high notes, you know like 'Kiss of Death' or 'Tooth and Nail' and I remember fans in front of me looking at me, pointing at my mouth and pointing up, like, 'Sing higher, sing higher,' and I wanted to say, 'You sing it! I can't sing that high! I'm an old man! Let it go!'"
The band's past, particularly the conflict among group members, is part of their history. There are many layers to what caused friction over the years, both Dokken and Pilson agree. "But probably one of the reasons we broke up at the top of our game was that we'd already been on the road for a year and a half," Dokken says. "By the time Monsters of Rock came, nobody had been on the road for a couple of years. We show up with our tails in between our legs after doing Aerosmith, AC/DC, touring Japan, Judas Priest -- all over the country. We were tired, and when you get tired, that's when the problems start. You get the drugs, you get the alcohol, you're taking sleeping pills at night to go to bed. You're drinking too much, because you've got nine guys on a bus and it's noisy. And then you start to argue and you start to disagree and you start to not get along. Nobody was saying, 'Hey guys,' they just said, 'Keep going, you're making money, we're making lots of money off of you guys -- c'mon, keep going. If you die, you'll be even more famous!'
"And that's what happened -- after Monsters of Rock, I was toast. Worn down physically and worn down spiritually. I think Jeff was too. He was doing a lot of drugs, a lot of drinking -- as was everybody. I didn't do drugs, but I did plenty of drinking and plenty of Valium, but cocaine was never my drug of choice. I didn't understand it and never got it."
Pilson says he's aware of the stories that surfaced over the years, "you know, Don and George hated each other, and I was the mediator. You can make it that simple, but It wasn't that simple, of course. It was much more involved. There was a lot of unique personalities. There was a lot of ego, and there was a lot of agendas going on. Mine included. We weren't appreciative enough of what we had and we weren't smart enough to know how to pull it together and make it work so that we had one agenda instead of multiple agendas. Because had we done that, we could have been a much better force to work with.
"Had we had healthy competition, we could have gone much further," he continues. "We allowed the conflict to turn into much more than that. And it's not entirely our fault. Early on, our publicist decided that the hook about the band was that we'd talk about the conflict between Don and George. That became a self-fulfilling prophecy, and that's dangerous when you do things like that. Not that it wasn't there to some extent, but it's so much more complicated and involved than the simple press soundbite could ever describe. Was I the levelheaded guy in Dokken? Sometimes. Was I pretty out of my mind sometimes? Yes. So I think there's no simplification for it. It was a complex thing that we didn't handle as well as we should have."
The Top 100 Rock Albums of the '80s
More From Ultimate Classic Rock