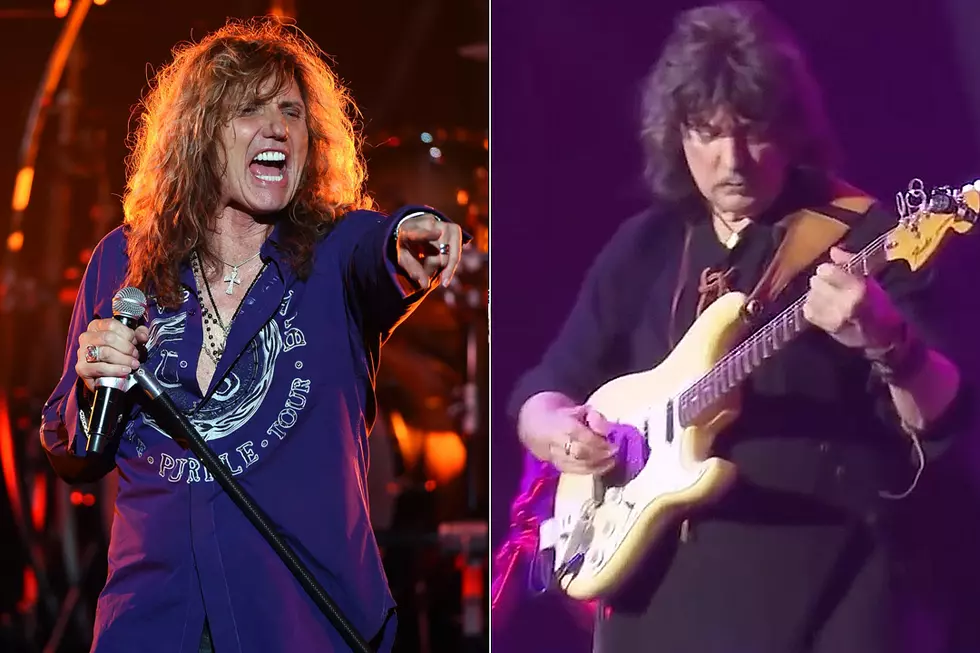 David Coverdale Says Deep Purple 'Prevented' Ritchie Blackmore's Rock Hall Attendance
Ethan Miller, Getty Images / YouTube
Blackmore was not present when the group was honored, saying in a statement at the time that "he was discussing the possibility of attending, until we received correspondence from the President of the Rock Hall of Fame, who said that Bruce Payne, management for the current Deep Purple Touring Band, had said, 'No ......... .!!!!!' Therefore, Ritchie will not be attending the ceremony. He sincerely thanks all the fans that voted for him for their support."
Coverdale attended the ceremony along with fellow ex-member Glenn Hughes. "It was a complete and utter honor," Coverdale told Z93 in a recent interview. "But I was only concerned about Glenn Hughes. The rest of 'em I haven't got time for. They prevented Ritchie Blackmore from coming in to be honored as a Rock and Roll Hall of Famer."
You can listen to the full interview below.

"I called Ritchie and I said, 'Come with me. Nobody's gonna do anything,'" Coverdale recalled.
"The first thing I said [in my speech] was, 'I'm so sorry that Ritchie Blackmore isn't here, without whom none of us would be on this stage,' which is absolutely true. So, Glenn and I just stuck to ourselves and had fun with Chicago, Cheap Trick, Steve Miller – everyone was just fabulous. ... So, ex-colleagues; I'm happy they'll remain ex-colleagues. They just don't figure in my life in any way, shape or form."
He added that the other members had "an entirely different philosophy, ideology, you name it – it couldn't be more different." Soon after the induction, Hughes stated that Blackmore had been invited to attend but had declined, adding that it had been "gracefully done." However, he reported that he and Coverdale had been refused the option of taking part in Deep Purple's induction performance.
"I'm not going to name names, as there is a member who didn't feel it was appropriate that we should sing," he said. "So David and I braved it together, as we were arm and arm all the way through."
More From Ultimate Classic Rock