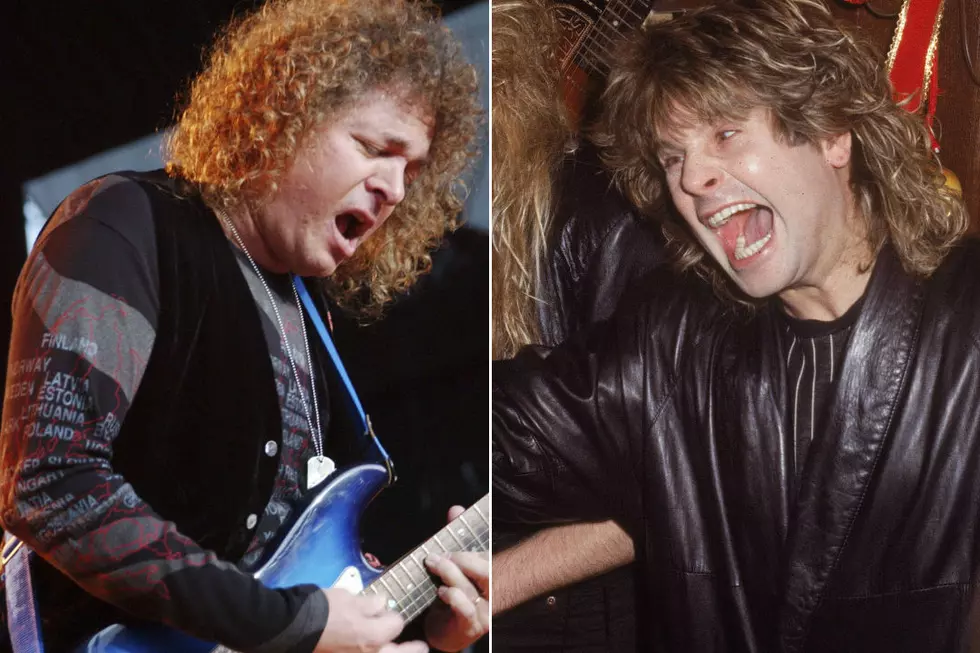 Y&T's Dave Meniketti Remembers Ozzy Begging Him to Join His Band
Tim Mosenfelder / Hulton Archive, Getty Images
For more than 40 years, Dave Meniketti has led Y&T — but he says things could have turned out very differently if he'd been swayed by a dramatic job offer from Ozzy Osbourne.
Meniketti recalled the incident during a recent visit to The Metal Voice, saying it happened after Y&T toured with AC/DC in 1982. Osbourne, then touring with Night Ranger guitarist Brad Gillis following the death of Randy Rhoads, knew he'd need a replacement soon, and reportedly made his move minutes after the tour's U.K. leg ended.
"Ozzy was waiting for us as we got offstage and he was there with Sharon," said Meniketti. "And Ozzy got down on his knees in front of me, of course the band members standing only a few feet away, did the up and down thing with the hands in the air: 'Please join my band.' It was something to be proud of, but I kindly declined. 'I got my own fish to fry, but I appreciate the offer.'"
It's a story Meniketti has told before, and one he delved a little deeper into with writer Dave Ling in a separate interview.
"In front of my entire band Ozzy got down his knees and said, 'David, would you please join my band?' I looked around and thought, 'Oh no, this isn't gonna go down well with the rest of the guys,'" remembered Meniketti. "I replied thanks, but I was kinda busy, to which he insisted that I had to teach his guitarist, Brad Gillis, how to be a rock star. He said that Brad was too much of a square."
Aside from a couple of hiatus periods in the '90s, Meniketti has remained with Y&T ever since, and he says next year, the band will return with its first studio album since 2010's Facemelter.
"We need to have time off from the road to spend two or three months straight so we can sit down and concentrate on writing for the next record. That's going to happen next year," he told The Metal Voice. "We're going to spend a good period of time off the road and just finish this record and try to get something done by the end of 2016."
Ozzy Osbourne Albums Ranked Worst to Best
You Think You Know Ozzy Osbourne?
More From Ultimate Classic Rock