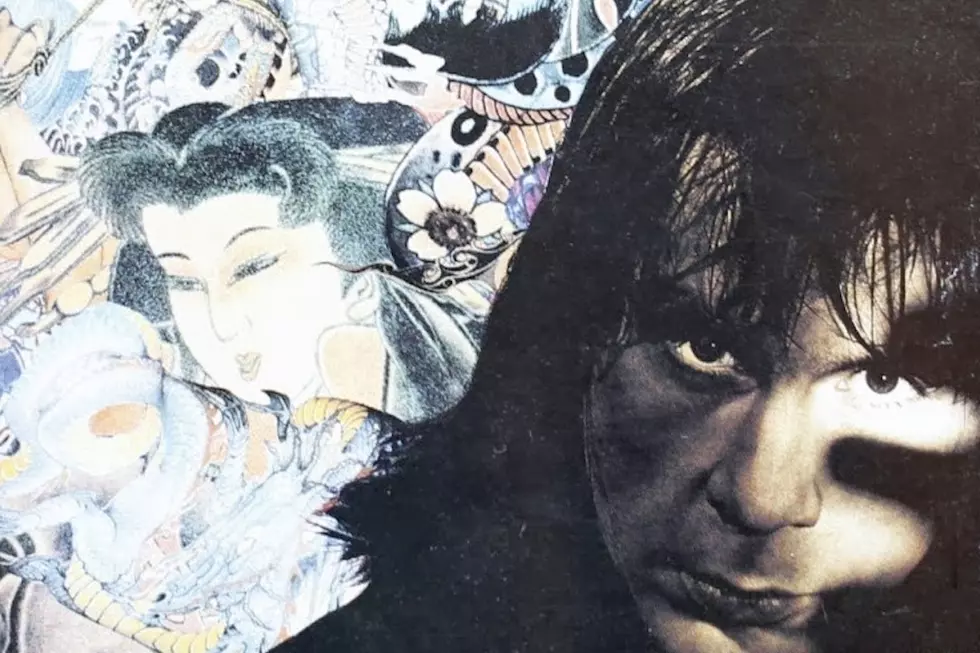 When Bruce Dickinson Went Solo With 'Tattooed Millionaire'
Columbia
Bruce Dickinson went solo on May 8, 1990, after years spent leading metal heroes Iron Maiden. Fans of Tattooed Millionaire can thank Freddy Krueger.
Dickinson was given the chance to contribute a song to the Nightmare on Elm Street 5 soundtrack, "Bring Your Daughter ... to the Slaughter," with help from guitarist Janick Gers. Old mates since the early days of the New Wave of British Heavy Metal, when Dickinson fronted Samson and Gers played with Deep Purple revivalists White Spirit, the pair had reconnected a couple of years earlier at a one-off charity performance with Marillion for the Prince's Trust.
So, when Iron Maiden decided to take a year off in 1989 to catch their breath after a decade of nonstop activity, Dickinson's vacation accidentally turned into a solo career. He and Gers wrote and recorded all of Tattooed Millionaire in two inspired weeks of hyperactivity, with some assistance from bassist Andy Carr and drummer Fabio Del Rio.
The results showcased a concerted departure from Iron Maiden's patented heavy metal, though melodic hard rockers like the dramatic "Son of Gun," the autobiographical "Born in '58" and even "Zulu Lulu" (which included lyrics reminiscent of Dickinson's vocal idol Ian Gillan) didn't stray too far from the path. But "Dive! Dive! Dive!" (basically a hypnotic groove topped with some comedic vocal riffing) and "Lickin' the Gun" (a funk metal song) somewhat did.
Watch Bruce Dickinson Perform 'Tattooed Millionaire'
Other highlights included the punchy title track, which poked fun at celebrity tabloid rockers, the acoustic flavored "Gypsy Road" and a faithful cover of Mott the Hoople's David Bowie-penned "All the Young Dudes." The catalyst for Tattooed Millionaire, "Bring Your Daughter ... to the Slaughter," however, was left off after Iron Maiden bassist Steve Harris begged Dickinson to save it for the band's next album, 1990's No Prayer for the Dying.
By then, Janick Gers was a full-time member of Iron Maiden, replacing Adrian Smith. But the reception to Tattooed Millionaire sparked a greater sense of creative wanderlust that would drive Dickinson out of Maiden in 1993. He wouldn't return to the band that made him famous until the end of the decade.
 
 
Iron Maiden Albums Ranked Worst to Best
More From Ultimate Classic Rock