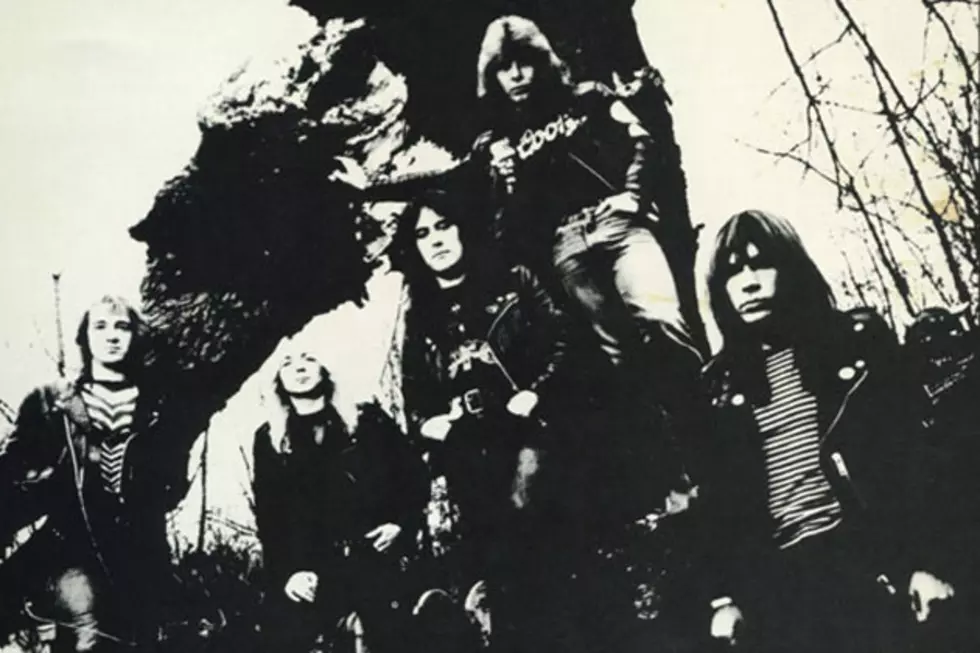 EMI Records
The top Iron Maiden songs demonstrate how the British legends quite easily could be seen as the definitive heavy metal band. They capture all the elements of the genre and make them their own with a high level of musicianship and a ferocious attack. Their legend looms large and yet time and again, they rise to meet it with daring new albums and tours. With too many regretful omissions to list, we have selected ten of the band's finest moments -- our own best of the beast -- the Top 10 Iron Maiden Songs:
10

'Burning Ambition'

From: UK single b-side (1980)

Steve Harris can say all he wants about how Iron Maiden's early songs had nothing to do with punk, and while that may be true, this 1980 b-side certainly has its roots in the raw pub rock style of bands like Eddie & The Hot Rods and early rock and roll. It's a simple three chord rocker -- a pop song really -- with some melodic riffing adorning it. The mid-song guitar break is unhinged and blistering, before it settles in with a more signature style twin lead. It's sort of like the child you'd spawn from Chuck Berry, Deep Purple and Troggs DNA...and all in under three minutes! Hidden away on the flip side of their first single, this is unclaimed classic Maiden!

9

'Wasted Years'

From: 'Somewhere In Time' (1986)

A complex guitar line starts this one off before the band come charging in. The song's melodic chorus is instantly unforgettable, while the band is still burning full power. The interplay between the bass and the guitars get woven together like some insane tapestry. Written by guitarist Adrian Smith, 'Wasted Years' became a Top 20 hit for the band and was one of the highlights of the 1986 'Somewhere In Time' album.

8

'Flight Of Icarus'

From: 'Piece Of Mind' (1983)

'Flight Of Icarus' is a heavy, mid-tempo rocker with an very Dio-esque feel to it. Bruce Dickinson sings of the mythical Icarus concept refitted for life in 1983. This classic Iron Maiden song's slower, steady groove actually helps provide a break from their more signature super charged delivery, without losing any, shall we say, headbangability. The record was another pearl form the 'Piece Of Mind' LP and when released as a single, scored high, flying just below the Top 10. Though band members differed in opinion over the final result, it helped introduce Iron Maiden to a wider audience, especially in the US, with its highly memorable chorus. The big time was right around the corner.

7

'Running Free'

From: 'Iron Maiden' (1980)

Original singer Paul DiAnno didn't have the voice or stage presence of Dickinson, but he certainly provided the right amount of grit, spit and attitude on that first pair of LP's. The band's debut single, 'Running Free,' is a great example of what the first chapter of Maiden was all about. The song covers a lot of ground in its three minutes of glory. Kicking in with a chugging, souped up Gary Glitter-like rhythm, DiAnno nails it here. A gravity centered bass riff hold it all together, while the twin lead break and defiant lyrics mark this an instant classic. Were they 'punk' or 'metal'? They were Maiden, simple as that. There is something undeniably urgent about those first two Maiden albums that, though replaced by something ultimately more on target, was never recaptured in later years.

6

'Aces High'

From: 'Powerslave' (1984)

A full-throttle rocker here, with another first class riff at its core. The twin guitar riff sounds like Thin Lizzy on speed, and yes, that's a compliment. As Dickinson tells a wartime tale, the band come on like a non-stop train throughout. The opening number on the band's 'World Slavery Tour,' it was given extra drama with an excerpt from a famous speech by Winston Churchill as its lead in. A triumphant guitar break mid-song still gets the heart rate up.

5

'2 Minutes To Midnight'

From: 'Powerslave' (1984)

Written by guitarist Adrian Smith and vocalist Bruce Dickinson, '2 Minutes To Midnight' is powered by one of the eternal metal riffs. Countless bands employed a similar, staccato style riff, but to nowhere near as great effect as Maiden did with this monster. A highlight of the 'Powerslave' LP, it's a driving hard rocker with one hell of a catchy chorus you can't help but get caught up in. The song nearly hit the Top 10 in the UK and has become one of the most beloved Iron Maiden songs over the years.

4

'The Trooper'

From: 'Piece Of Mind' (1983)

Another Maiden song...another dynamic riff. They toss 'em off in their sleep! This Steve Harris-penned number is straight ahead rock and roll and in many ways, once again not unlike Thin Lizzy musically. The highlight of the band's fourth album 'Piece Of Mind,' 'The Trooper' is loosely based on the Lord Tennyson poem, 'The Charge Of The Light Brigade.' Harris alters the concept just enough to fit Maiden's attack plan, which includes a stellar guitar break from the team of Dave Murray and Adrian Smith. The record peaked at No. 12 on the British charts, and its place in Maidenology is secure.

3

'Run To The Hills'

From: 'The Number Of The Beast' (1982)

It's all cowboys and Indians then, isn't it?! Whoever has Maiden on their side wins, and this still ranks as one of their finest moments. From the unique drum intro to the signature guitar/bass riff, 'Run To The Hills' is prime Maiden that has yet to wear thin with fans. The off script opening of the song leads straight into the galloping verses before reaching the mountain top with the rousing chorus. The operatic vocal style works wonders here and makes for one of the band's catchiest songs. Heavy is as heavy does, but without a hook, what have you got? Maiden have always known that, and that's why we're still talking about them 35 years on.

2

'Wrathchild'

From: 'Killers' (1981)

Yes it's true, the Iron Maiden of albums one and two was a somewhat different creature than they were to become. Some might say better while others will scoff in horror at such a suggestion. The main difference is, of course, vocalist Paul DiAnno. His rougher, streetwise style certainly lent itself to the songs on 'Iron Maiden' and 'Killers' and while his range was obviously nowhere near that of his successor, Dickinson couldn't have done what DiAnno did on those albums. 'Wrathchild' is a masterpiece and stands up against anything in the band's arsenal. The sweat and grit of the band's early club days shines through and the more venomous approach of DiAnno's style is perfect.

1

'The Number Of The Beast'

From: 'The Number Of The Beast' (1982)

Perhaps the ultimate Iron Maiden song, when this came out in 1982 it turned more than a few heads and made instant fans for the band. Everything about the song and the album was perfect, from the cover art to the ace production courtesy of Martin Birch. Birch had worked with a list of classic artists including Fleetwood Mac and Deep Purple. His skills behind the board mixed with theirs in front was an unbeatable combination. The song itself has all the best elements of Maiden -- classic riff, amazing vocal, twin guitar attack and energy level on high. Simply immortal.
More From Ultimate Classic Rock