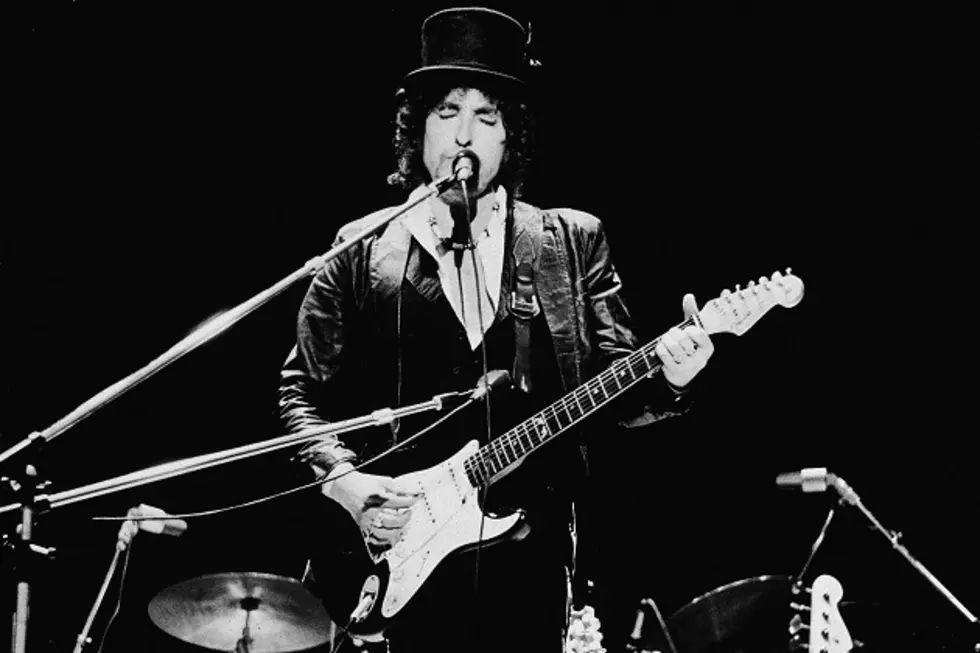 When Bob Dylan's 'Street-Legal' Arrived Amid Personal Struggles
Hulton Archive, Getty Images
Street-Legal, Bob Dylan's 18th album, was created during a period of personal and artistic strife. The year before the record's release, Dylan finalized the divorce of his 11-year marriage to Sara, underwent a custody battle for his kids and continued to edit his ill-fated, four-hour movie Renaldo and Clara, which had been shot in 1975.
In the middle of all this, he sojourned to his farm in Minnesota with his children and new partner to write songs for his next record. Subjects ranged from the biblical (presaging his late-'70s/early-'80s Christian albums) to his relationship with his ex-wife.
But before Dylan would record any of these new songs (including "Changing of the Guards" and "No Time to Think"), he would make arrangements for a world tour – his first in 12 years. For years, fans have speculated that it was planned for financial reasons rather than artistic ones, calling it Dylan's "alimony tour."
Dylan began assembling a band that would include members from the freewheeling Rolling Thunder Revue. But while the Rolling Thunder gang had a folksy, old-timey charm, Dylan envisioned a slicker and more contemporary sound for his upcoming tour, with backing vocals, prominent keyboards and a saxophone. He even told some of his bandmates that he was inspired by Elvis Presley's Vegas-style approach to live shows, even going as far as to hire musicians who had played with the King earlier in the decade.
After rehearsing new versions of his best-known songs (radically altered to suit the eight-piece band featuring three female singers) in California, Dylan took the show on the road in February 1978 for 23 dates in Japan, New Zealand and Australia. (Bob Dylan at Budokan was recorded during this tour but wouldn't be released until 1979.)
Listen to Bob Dylan's 'Changing of the Guards'
After returning from overseas, but before beginning the U.S. leg of the tour, Dylan wanted to record some of the songs he had written the previous year. Using most of his touring musicians, he laid down all nine Street-Legal tracks at his Santa Monica rehearsal space during four days in April. Things came together so quickly that the album's not-so-stellar sound mix would be lambasted by both critics and the musicians who played on the LP.
When Street-Legal was released two months later on June 15, 1978, it was mostly panned by stateside critics. Commercially, it didn't fare as well as 1975's Blood on the Tracks and 1976's Desire, both of which hit No. 1, stopping at No. 11. But in Europe, especially in the U.K., the album was hailed as Dylan's best in a decade. Street-Legal became his bestselling album ever in Britain, thanks to the single "Baby, Stop Crying."
Fans would remain divided about the album over the years, even as songs like "Changing of the Guards" and "Senor (Tales of Yankee Power)" became favorites in some circles. Original producer Don DeVito even remixed Street-Legal in 1999 to see if modern technology would improve the LP's sound. But, just like everything associated with this LP, reactions were mixed.
Dylan would play Street-Legal's songs and reworked versions of his classics with his "Vegas" band in Europe and North America for the rest of 1978. During the tour, he became a born-again Christian, which would have an enormous effect on his next era, which was right around the corner.
20 Greatest Comeback Albums
Becoming a successful artist is difficult. Remaining on top forever is downright impossible.
Why Don't More People Like This Bob Dylan LP?
More From Ultimate Classic Rock