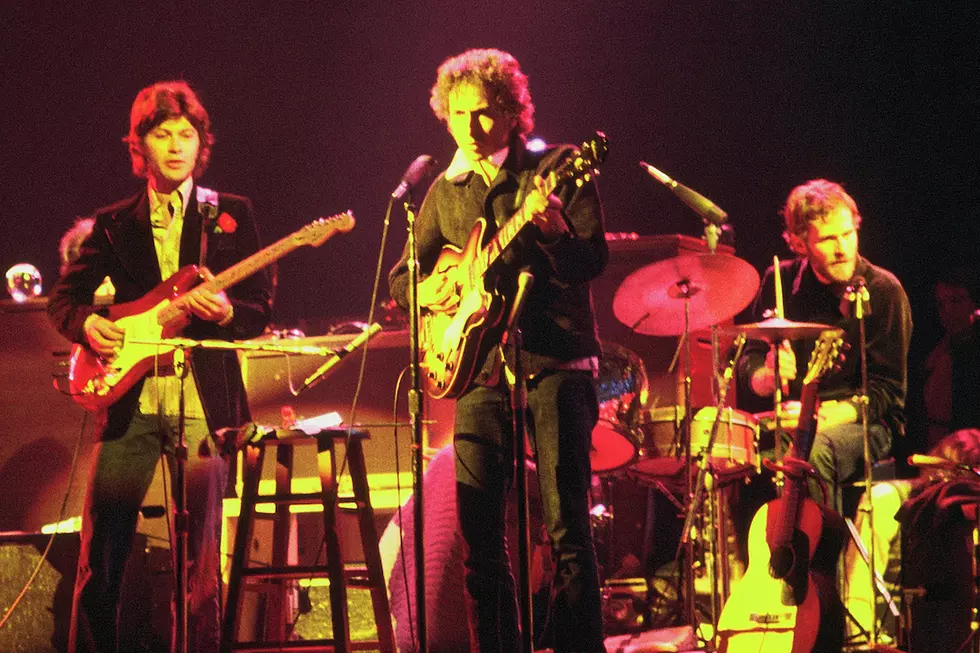 When Bob Dylan Returned to the Road With the Band
YouTube
Bob Dylan early 1974 tour with members of the Band marked their first together since 1966, when a series of controversial shows heralded Dylan's move from folk music to rock. This new run would prove to be no less volcanic.
The Jan. 3, 1974 debut appearance in Chicago arrived with some details still to be worked out. Dylan sat in with the Band for their Richard Manuel-sung cover of Bobby "Blue" Bland's "Share Your Love With Me." After that, and until the end of the 21-city tour in February, the shows featured a more formalized format. But the set list continued to evolve night after night.
At first, several songs from Dylan and the Band's recently released studio collaboration Planet Waves were prominently featured but, as the tour continued, "Forever Young" was the only one played consistently, as the artists favored more familiar songs from their catalogs. Even though the numbers dated back to the '60s, their arrangements and ferocious new approach were brand new, as heard on the subsequent live album Before the Flood.
The shows were met with cult-like praise from fans and critics. "Together they cut loose with music that made the Rolling Stones' live show sound polite, and yet within the storm was an emotional complexity that went beyond Dylan's lyrics," Griel Marcus wrote in his book Mystery Train. "Roaring with fury and wit, riding [drummer] Levon [Helm]'s enormous beat, and fusing all parts into a collective momentum, this was rock 'n' roll at its limits." Likewise, Robert Christgau summed up Before the Flood in Creem: "Without qualification, this is the craziest and strongest rock 'n' roll ever recorded."
In time, however, the ever-mercurial Dylan came to distance himself from this sound and fury, stating in the liner notes to his 1985 Biograph box set: "I think I was just playing a role on that tour. I was playing Bob Dylan, and the Band were playing the Band. It was all sort of mindless. The only thing people talked about was energy this, energy that. The highest compliments were things like, 'Wow, lotta energy, man.' It had become absurd."
With the exception of Dylan's appearance at the Band's Last Waltz farewell concert, the 1974 tour would be their last major collaboration.
Bob Dylan Albums Ranked 
More From Ultimate Classic Rock