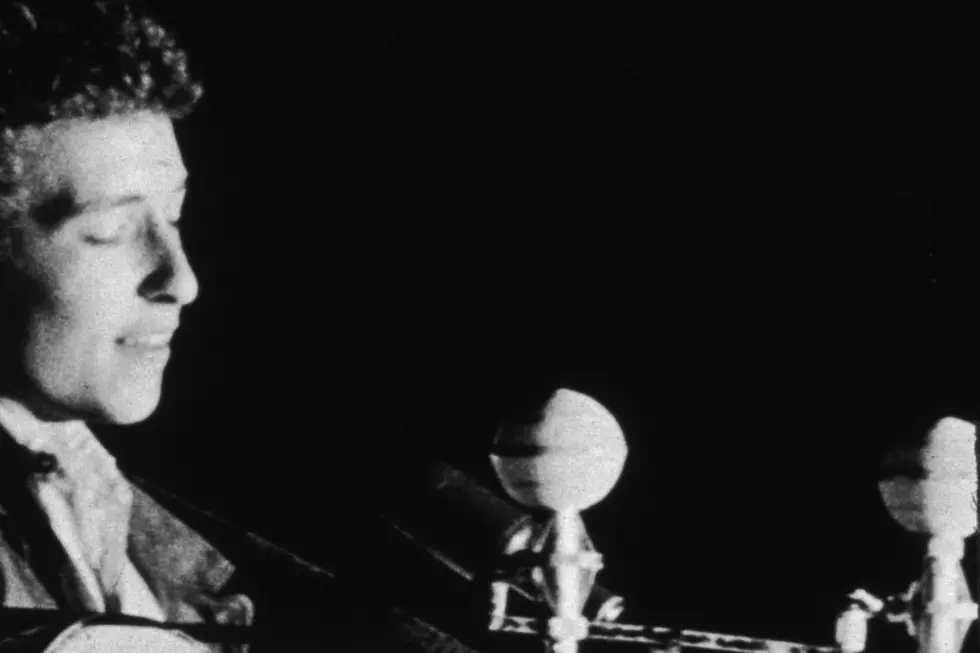 When Bob Dylan Played His First Major Show
Hulton Archive, Getty Images
Soon after Bob Dylan arrived in New York City from Minnesota in January 1961, the young folk singer performed for loose change at Greenwich Village "basket houses" like the Café Wha? and the Gaslight Café. Dylan also took part in Monday hootenanny nights at Gerde's Folk City, New York City's top folk club. Audience reaction and entreaties by friends persuaded Gerde's owner Mike Porco to hire Dylan to open for bluesman John Lee Hooker. The two-week engagement that began April 11, 1961, was Dylan's first major gig.
Dylan was paid $90 a week for playing six nights a week. "He was so excited he was jumping up and down," Porco recalled in Bob Dylan: An Intimate Biography. "His first real job, and working with John Lee Hooker who was liked by everybody, and Bobby probably figured, too, that Hooker would bring a lot of people in."
Because he was under-aged, "Mike signed for me as a guardian on my cabaret and union cards," Dylan wrote in Chronicles, Volume One. "So, he became like a father to me – the Sicilian father that I never had."
To get a picture for his cabaret card, Porco took Dylan to a subway photo machine. "His hair was kinda messy, so I asked him if he wanted to comb his hair," Porco said in No Direction Home: The Life and Music of Bob Dylan. "Bob said: 'I don't ever comb it.' So, I gave him my comb, but he looked in the mirror and hesitated. He thought he would look better with more messy hair.
"Dylan had a theory then: 'The more hair you have outside your head, the less there is cluttering up the inside of your head. Crew cuts are bad, with all that hair cluttering around your brain. I let my hair grow long so's I can be wise and free to think.'"
On his self-titled 1962 debut album, the singer-songwriter chronicled his gig at Gerde's in "Talkin' New York," singing, "After weeks and weeks of hanging around / I finally got a job in New York town / In a bigger place, bigger money too / Even joined the union and paid m' dues."
According to New York magazine, Dylan played a five-song set: "House of the Rising Sun," "Song to Woody," "Talkin' Hava Negeilah Blues" and two others, identified only as an "unknown Woody Guthrie song" and "a black blues."
Folksinger and Dylan friend Dave Van Ronk was in the audience the first night. "He was absolutely remarkable," Van Ronk said in Dylan: A Biography. "It was one of the most electrifying shows I have ever seen in my life. His delivery was letter-perfect; he kibitzed with the audience. The songs sounded positively beautiful. Little bits he did with his guitar and stool were perfectly Chaplin-esque. If ever a star was born, it was that night at Folk City."
After the shows, Dylan would go back to Hooker's suite at the Broadway Central Hotel. "Every night he'd be right there with me. We'd stay there, we'd party there, drink gin," Hooker recalled in Bob Dylan: An Intimate Biography. "He'd sit around and watch me play; he'd be right there every night, and we'd be playing guitars in the hotel. I don't know what he got from me, but he must've got something.
"We were great friends. A beautiful man," Hooker added in the book Down the Highway: The Life of Bob Dylan. "He really wasn't playing with me for money. He was doing it for fun."
None of Dylan's debut performances was recorded, but Gerde's continued to play a big part in Dylan's career. Robert Shelton of the New York Times wrote a glowing review of Dylan's performance at Gerde's that described him in September 1961 as "bursting at the seams with talent." Soon after the story appeared, Dylan was offered a contract with Columbia Records.
Bob Dylan Albums Ranked
More From Ultimate Classic Rock