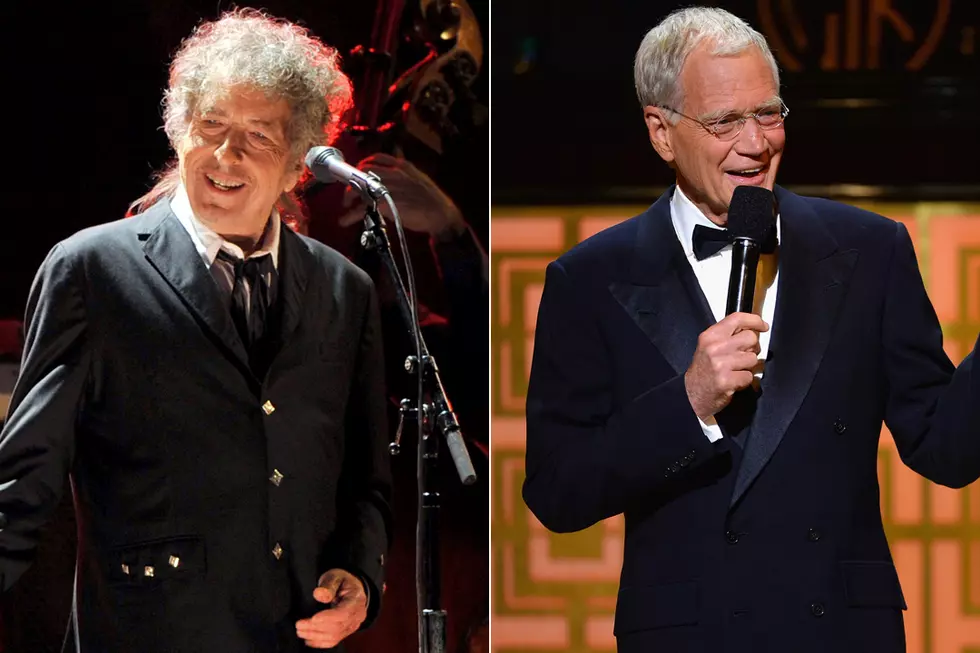 Bob Dylan Will Be the Last Musical Guest on 'The Late Show With David Letterman'
Kevin Winter / Theo Wargo, Getty Images
Diffuser notes that Dylan will appear on the show on Tuesday, May 19, which is the second-to-last episode of Letterman. Dylan last played on the program in 1993, a few months after it debuted on CBS. He also played on Late Night With David Letterman, the NBC version of the show, in 1984. Then, backed by the Plugz, he performed "Jokerman," from his then-most recent album, Infidels.
Bill Murray, who was the very first guest on Letterman's old NBC talk show, is the only other person booked for the episode. Letterman's final show will be Wednesday, May 20 and is expected to feature numerous surprises. When Letterman signed off NBC in June 1993, Bruce Springsteen, who rarely consented to making television appearances at the time, showed up to perform "Glory Days."
Eddie Vedder will appear on Monday night's show. On Thursday, Tom Waits, a longtime favorite of Letterman's, premiered a new song, "Take One Last Look," which he sang after chatting with Letterman and George Clooney, who was handcuffed to the host for the episode.
Ultimate Classic Rock will look back at some of the memorable classic rock moments on The Late Show With David Letterman next week.
See Bob Dylan and Other Rockers in the Top 100 Albums of the '80s
25 Interesting Rock Movie Facts
More From Ultimate Classic Rock