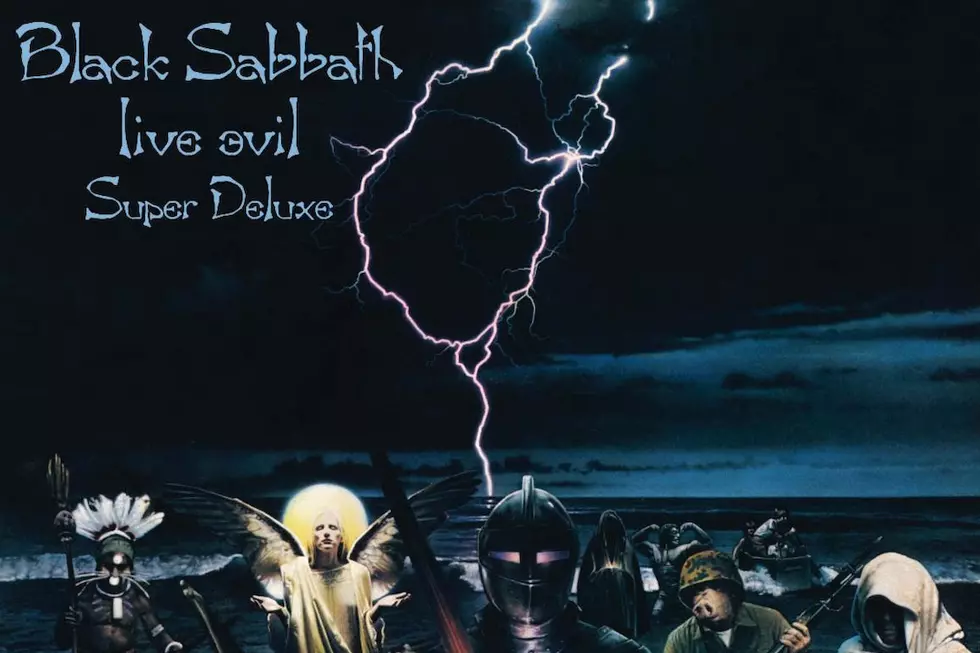 Black Sabbath Announces 'Live Evil' 40th-Anniversary Reissue
Rhino
Black Sabbath will commemorate their first official live LP, Live Evil, with a remixed and remastered 40th-anniversary deluxe reissue.
Live Evil (40th Anniversary Super Deluxe Edition) will hit shelves on June 2 and is available to preorder now as a four-CD set, a four-LP set and digitally. The new sets will feature two versions of the album: one remastered by Andy Pearce and one remixed from the original analog multi-tracks by longtime band associate Wyn Davis.
The physical versions will also include an illustrated hardback book featuring new liner notes and replicas of the concert book and poster from the Mob Rules tour.
Black Sabbath is previewing the Live Evil reissue with a freshly mixed "The Mob Rules." You can hear the performance and see the full track listing below.
Live Evil marked the third and final release from Black Sabbath Mark II during Ronnie James Dio's first tenure with the band. The singer joined the metal legends following Ozzy Osbourne's ouster and helped resuscitate their career with 1980's critically acclaimed Heaven and Hell and 1981's Mob Rules. Soon, however, Dio began to butt heads with guitarist Tony Iommi and bassist Geezer Butler, who accused the singer of sneaking into the studio at night to remix Live Evil behind their backs.
"Something had come to a head and it was the whole avoiding confrontation thing, which Geezer and Tony specialize in," Dio said in Mick Wall's Symptom of the Universe. "Eventually Geezer phones me and says, 'I don't think this is working out. We really want Tony to produce the album on his own.' Now I know this kind of cryptic talk, so I say, 'So if you don't want me involved with this album, are you saying it's over then?' And Geezer says, 'Well, er ... yeah, I suppose so.' They could never just tell you straight. It was all a device to force me out."
Dio subsequently formed his eponymous band and released the landmark Holy Diver. He reunited with Black Sabbath for 1992's Dehumanizer, and the same lineup — also featuring drummer Vinny Appice — released The Devil You Know under the Heaven & Hell moniker in 2009.
Black Sabbath, 'Live Evil (40th Anniversary Super Deluxe Edition)' Track Listing
CD 1
1.  "E5150"
2.  "Neon Knights"
3.  "N.I.B."
4.  "Children of the Sea"
5.  "Voodoo"
6.  "Black Sabbath"
7.  "War Pigs"
8.  "Iron Man"
CD 2
1.  "The Mob Rules"
2.  "Heaven and Hell"
3.  "The Sign of the Southern Cross"
4.  "Heaven and Hell" (Reprise)
5.  "Paranoid"
6.  "Children of the Grave"
7.  "Fluff"
40th Anniversary Remaster (CDs 1-2)
40th Anniversary New Mix (CDs 3-4)
Black Sabbath Albums Ranked
From Ozzy to Dio and beyond, we look at all of the band's studio LPs.
More From Ultimate Classic Rock