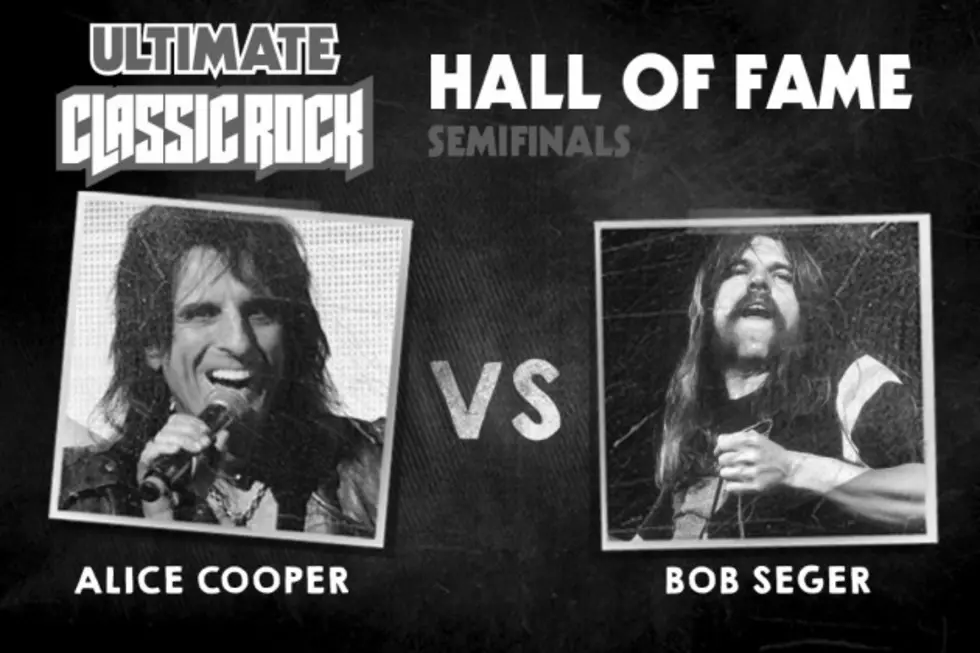 Alice Cooper vs. Bob Seger, Ultimate Classic Rock Hall of Fame Semifinals
Cooper made quick work of Neil Young in the first round, amassing more than 67 percent of the vote, while Seger bested Genesis by a similar margin, taking more than 62 percent of the ballots cast. Their victories set up a semifinal with a little more local flavor than most, because while Cooper and Seger might not seem to have much musical ground in common, they do both hail from the Detroit area.
Cooper was born there in 1948, eventually moving to Arizona for health-related reasons before beginning his career as a shock rock pioneer. Seger, born in nearby Lincoln Park in 1945, has long been a hometown hero, with a meat-and-potatoes approach to heartland rock that's helped him maintain blue-collar icon status even as he's racked up multi-platinum LPs.
Both artists have continued to tour and record in recent years, with Seger lately hitting the road in support of his Ride Out LP and Cooper joining Motley Crue as a support act for their Final Tour while putting the finishing touches on his long-in-the-works covers project. They've both been inducted into the Rock and Roll Hall of Fame, too — but only one will make it into the Ultimate Classic Rock Hall of Fame this time.
Who will emerge victorious? That's all up to you, and you can vote every hour between now and when this round of voting ends on Feb. 23 at 11:59PM ET. The winner for the month will be announced on March 3. Be sure to read our official rules.
See the Yearbook Photos of Alice Cooper and Other Rock Stars
More From Ultimate Classic Rock