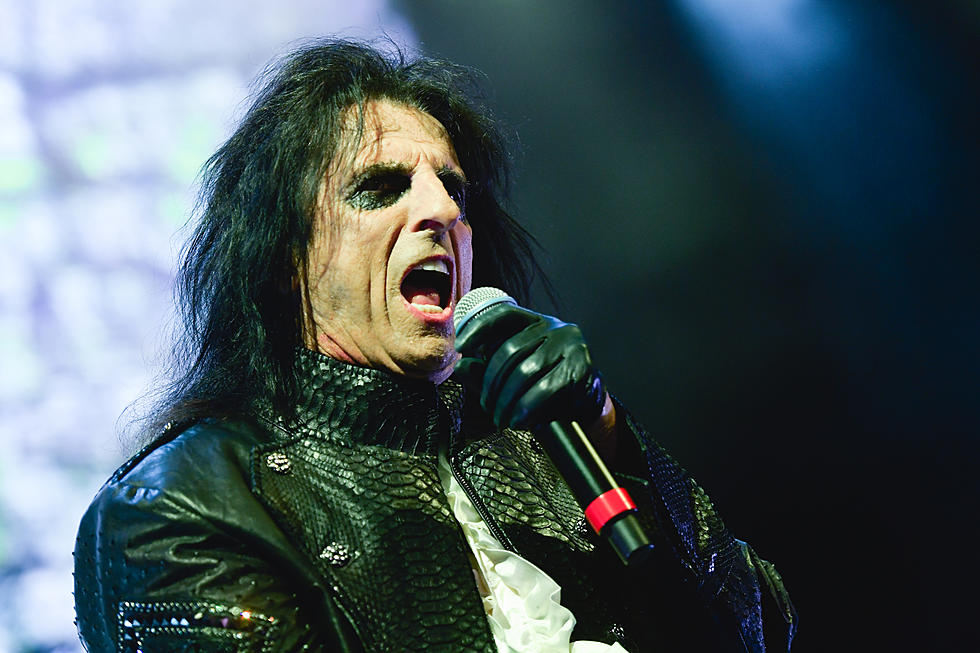 Alice Cooper Kicks Off 'Ol' Black Eyes Is Back' Tour: Set List, Videos
Matt Winkelmeyer, Getty Images
Alice Cooper launched his Ol' Black Eyes is Back tour last night with a 4th of July performance at Foxwoods Resort Casino in Connecticut. You can see the full set list and fan-shot video below.
According to Setlist.fm, the 20-song set found Cooper and his band blending hits such as "School's Out" and "Billion Dollar Babies" with a handful of songs that haven't been played live in decades. "My Stars," from 1972's School's Out, was performed for the first time since 1974, and "Roses on White Lace" for the first time since 1988.
The legendary shock rocker has been teasing a brand new stage show for months that he said would include "new staging, new toys." "It's going to sort of be Christmas morning for us," Cooper remarked in a conversation with Mass Live promoting the Foxwood concert. More recently, both Cooper and his guitarist, Nita Strauss, posted images to social media as the band prepared to tour.
Watch Alice Cooper Perform 'Feed My Frankenstein'
While Cooper may have a reputation for outlandish production design, he's insisted the music always comes first. "We spend more time making sure it's as musically good as anybody has ever heard. You can't have the icing on the cake without the cake," he said. "But putting it all together with all the staging and the toys is the best part."
While many artists incorporate elaborate stage effects into their live show, Cooper said the cohesion between visuals and music sets his performances apart. "Anybody can buy lasers. Anybody can buy pyro. Generally, people use these when they don't have a good idea," the Rock and Roll Hall of Famer noted. "The Alice Cooper show, every piece of theatrics happens because of the lyric. When the lyric says something, the theatrical piece is part of that. I let the lyrics shape the whole show."
Cooper will continue touring across North America with dates scheduled through mid-August. He then heads to Europe for a series of performances, before returning to the U.S. for additional tour stops in the fall.
Watch Alice Cooper Perform 'School's Out'
Alice Cooper July 4, 2019, Mashantucket, CT
1. "Feed My Frankenstein" (from 1991's Hey Stoopid)
2. "No More Mr. Nice Guy" (from 1973's Billion Dollar Babies)
3. "Bed of Nails" (from 1989's Trash)
4. "Raped and Freezin'" (from 1973's Billion Dollar Babies)
5. "Fallen in Love" (from 2017's Paranormal)
6. "Muscle of Love" (from 1973's Muscle of Love)
7. "I'm Eighteen" (from 1971's Love It to Death)
8. "Billion Dollar Babies" (from 1973's Billion Dollar Babies)
9. "Poison" (from 1989's Trash)
10. Nita Strauss guitar solo
11. "Roses on White Lace" (from 1987's Raise Your Fist and Yell)
12. "My Stars" (from 1972's School's Out)
13. "Devil's Food" (from 1975's Welcome to My Nightmare)
14. "Black Widow Jam" (from 1975's Welcome to My Nightmare)
15. "Steven" (from 1975's Welcome to My Nightmare)
16. "Dead Babies" (from 1971's Killer)
17. "I Love the Dead" (from 1973's Billion Dollar Babies)
18. "Escape" (from 1975's Welcome to My Nightmare)
19. "Teenage Frankenstein" (from 1986's Constrictor)
20. "Under My Wheels" (from 1971's Killer)
21. "School's Out" (from 1972's School's Out)
 Alice Cooper Albums Ranked
More From Ultimate Classic Rock