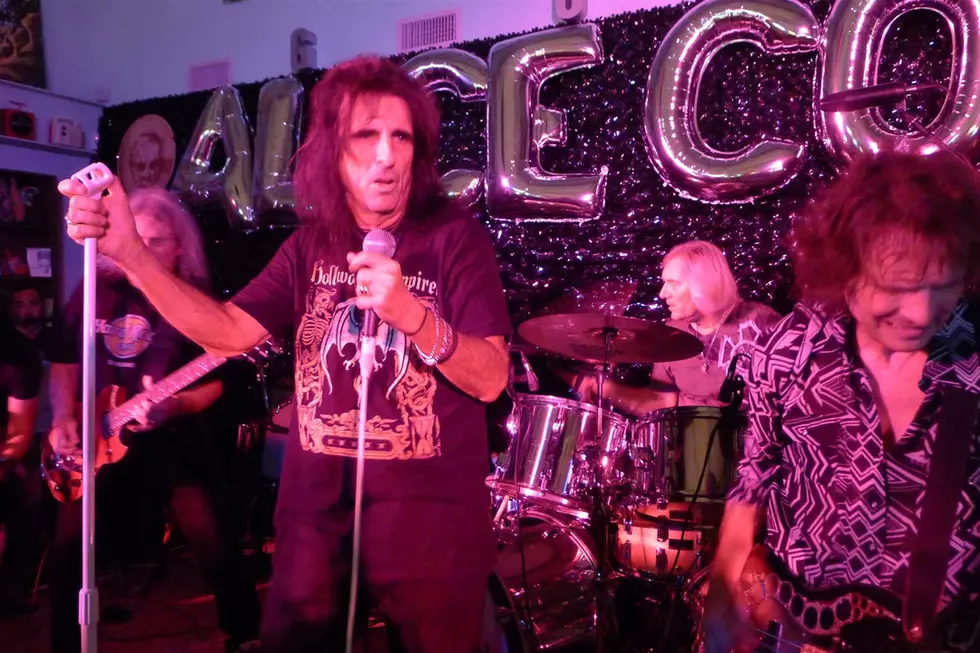 Check Out Exclusive Photos + the Inside Story on Alice Cooper's Surprise Reunion
Mark Bowman Images
Bassist Dennis Dunaway was at Good Records in Dallas for an Oct. 6 book signing event celebrating his new memoir Snakes! Guillotines! Electric Chairs!: My Adventures in the Alice Cooper Group. Guitarist Michael Bruce and drummer Neal Smith were already scheduled to join him, and then Alice Cooper himself arrived in town a day before he was set to play a gig with Motley Crue.
A rare 8-song set followed. Ryan Roxie, who's worked with Cooper's solo band, sat in for the late group guitarist Glen Buxton. Click through the gallery above for exclusive photographs by Austin-based rock photographer Mark Bowman from the show.
"The surviving members of the Alice Cooper group seemed so happy to be playing together and feeding off the delirious crowd's energy," Bowman tells Ultimate Classic Rock. "I thought I was going to Dennis Dunaway's book signing and in the middle of it, a Rock and Roll Hall of Fame reunion went down right in front of my face! I had not seen these guys play together live for 42 years."
There were moments when it seemed like this surprise performance wasn't to be, as Good Records owner/manager Chris Penn tried to accomodate the growing throng of pre-show fans who wanted the trio to sign various pieces of memorabilia. Penn finally ended the meet-and-greet at 9:45, telling the assembled crowd they could leave merchandise to be signed later.
"They were having a blast visiting with the fans," Bowman adds, "and it was such a generous, interactive book signing that they were up there for over two hours. Somebody reminded them that it was time for a little music. They cleared the stage, came out and blew the roof off the place with Cooper classics. Why these guys are not making music today or touring today is beyond me."
You Think You Know Alice Cooper?
More From Ultimate Classic Rock