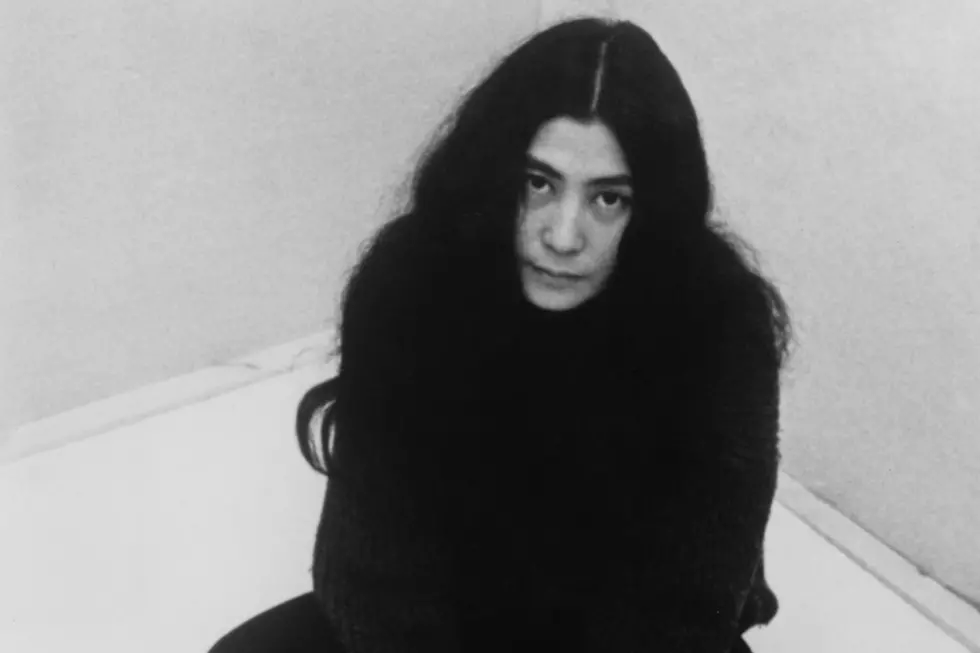 Top 10 Songs Inspired by Yoko Ono
Hulton Archive, Getty Images
There are more than a few songs inspired by Yoko Ono, one of the most celebrated and vilified figures in rock history.
After all, she was the muse for one of pop music's biggest legends, John Lennon. And she was blamed by many for the breakup of, arguably, the greatest band that ever existed – the Beatles. Her work has influenced Sonic Youth, Elvis Costello and Lady Gaga, but her music is also laughed off as shrill, shrieking and unlistenable. Even Yoko seems to understand how she is perceived. She's written songs with the titles "Yes, I'm Your Angel" and "Yes, I'm a Witch."
No matter how you feel about Yoko Ono, she's inspired some great music. Here are 10 songs that might not have existed without her.
10

From: 'Let it Be' (1970)

Paul McCartney's "Get Back" was recorded during the Let it Be sessions, when tensions among the Beatles were at an all-time high. Although McCartney always denied it, Lennon felt that there was something nasty being stated about Yoko in the song, and said so in his infamous interview with Playboy in 1980. There were also rumors that McCartney looked straight at Yoko every time he sang the words "get back" during the Fab Four's 1969 rooftop concert. It's not difficult to make the leap that one of Lennon's bandmates would wish that the ever-present Yoko would "get back to where she once belonged."

9

From: 'The B-52's' (1979)

This new wave hit by the B-52's doesn't mention Yoko in the lyrics, but takes some of its musical inspiration from Yoko's singing style. Cindy Wilson's screechy warbling was intended as a tribute. When Lennon heard the song, he got it right away – thrilled at hearing that his wife's music had impacted others. John also credited the song for helping to make him want to record music again, resulting in his and Yoko's Double Fantasy album.

8

From: 'Double Fantasy' (1980)

Speaking of Double Fantasy, this sweet, bouncy ode to Yoko can be found on that album. It's a lovely little portrait of Lennon and Ono in middle age, in which John can't even imagine doing the most mundane things without his soulmate by his side ("Even when I watch TV / there's a hole where you're supposed to be"). Lennon's sunny tribute to their enduring love is made bittersweet by his murder, which occurred only three weeks after the album's release.

7

"I Won't Be Your Yoko Ono"

Dar Williams

From: 'The Green World' (2000)

Folk singer Dar Williams uses John and Yoko as a starting point for exploring love, and particularly, love between artists. She wonders if Yoko ever considered staying solo and if she was worried that being associated with a Beatle would ruin her own art. And she gets in some wry lines, regarding Ono's perceived duality – "I could sell your songs to Nike / And for all you know, that I could save your soul." Ultimately, Yoko stands for devotion in the song. And Dar won't be your Yoko Ono, if you're not good enough for her.

6

"5:01 a.m. (The Pros and Cons of Hitch Hiking, Part 10)"

Roger Waters

From: 'The Pros and Cons of Hitch Hiking' (1984)

This single – from Roger Waters' first post-Pink Floyd album – features the memories of a character named Reg Waters said that Yoko Ono's role in the lyrics came about because of drummer Andy Newmark's dream (Newmark also played on Double Fantasy). It's hardly the most flattering portrayal: Yoko encourages Reg to commit suicide. Before opting to stay alive, he asks, "Did you understand the music, Yoko? Or was it all in vain?" Dream or not, that's pretty harsh. Eric Clapton's bluesy guitar work softens the blow.

5

"I'm Losing You"

John Lennon

From: 'The John Lennon Anthology' (1998)

Most fans would probably assume that "I'm Losing You" was written during Lennon's "Lost Weekend" phase when he was estranged from Yoko. Instead, it resulted from a time when John wasn't able to phone his wife. Lennon would write plenty of love songs that worshipped Yoko, but here he sounds angry, sad and sick with desperation. It's the ugly side of marital devotion. As such, the ideal version of this song is the raw, rocking original – which features Cheap Trick's Rick Nielsen and Bun E. Carlos. Maybe it was a little too raw. "I'm Losing You" was re-recorded for Double Fantasy; the superior first version of the song finally surfaced on The John Lennon Anthology in the '90s.

4

"Too Many People"

Paul McCartney

From: 'Ram' (1971)

Not known for acerbic lyrics, McCartney instilled his anger about the Beatles' breakup in "Too Many People." Paul was initially reluctant to cop to the barbs directed at Lennon and Ono, but he later admitted that lines such as "Too many people preaching practices" were about the outspoken couple. The song started out a little nastier – the line in the chorus originally went "Yoko took your lucky break and broke it in two." Still, "Too Many People" was pointed enough for Lennon to take notice and retaliate with "How Do You Sleep?"

3

From: 'Imagine' (1971)

The ramshackle closer on the Imagine album strips down love to its barest essentials. Lennon sings about calling for his wife when he's in the middle of five different things. As on "Dear Yoko," years later, the song is about John needing his woman, no matter what he's doing. The music was written a few years earlier, when the Beatles visited India, but went unrecorded until 1971. In all of the music that John recorded, did he ever sound as happy as he does on "Oh Yoko"?

2

"Be My Yoko Ono"

Barenaked Ladies

From: 'Gordon' (1992)

These clever Canadians crafted a pop-folk ditty that simultaneously mocks, blames, celebrates and exonerates Yoko Ono. On the one hand, the Ladies don't blame her for breaking up the Beatles. On the other, the song contains "Oh no / Ono" puns, Yoko-esque shrieking and the line "If I were John and you were Yoko, I would gladly give up musical genius / Just to have you as my very own, personal Venus." It's certainly the best Yoko Ono song written by people who don't know her.

1

"The Ballad of John and Yoko"

The Beatles

Single (1969)

This freewheeling chronicle of John and Yoko's wedding and honeymoon was written by Lennon in a Paris hotel room – he called it "a piece of journalism." The song combines the couple's obvious joy with intermittent comments from the press. In a telling preview for how Yoko would be treated as a Beatle accessory for the rest of her life, the media express adulation, but also confusion, and then gripe about her influence on John. Although credited to the Beatles, "Ballad" only features two members: John and Paul. With Ringo Starr and George Harrison away and Lennon itching to record, the pair recorded all the parts in less than seven hours on April 14, 1969. It hit No. 1 that June.
More From Ultimate Classic Rock