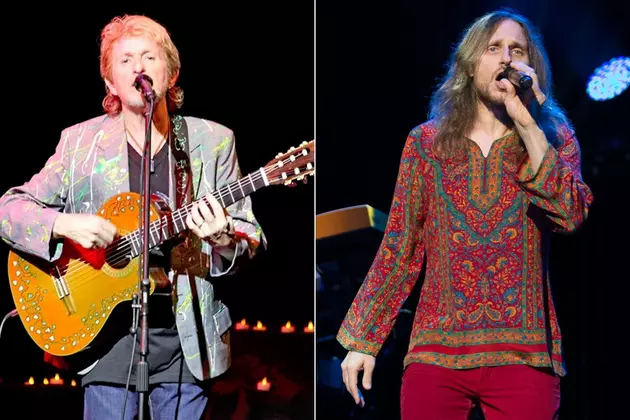 Yes, ARW: Who Rocks 'Roundabout' the Best?
Facebook / Dave Kotinsky, Getty Images
Singer Jon Anderson is on the road with fellow Yes vets Trevor Rabin and Rick Wakeman — and meanwhile, their former band's current lineup is still very much active. That leaves audiences with competing versions of Yes classics like "Roundabout," and it's your job to pick a favorite.
ARW recently set out on their inaugural tour, reuniting what Wakeman has described as the "holy trinity of Yes" with hopes of a new album to follow. The latest iteration of Yes boasts its own busy itinerary, including a recent tour highlighting their Drama LP, the upcoming 2017 edition of their Cruise to the Edge and plans for a new studio LP.
Both acts lay claim to the group's distinguished musical legacy. Anderson, a co-founding member of Yes, contributed lead vocals to their most widely heard records during a lengthy tenure that ended in 2008; Wakeman served numerous tours of duty with the band between 1971 and 2004 and Rabin was a pivotal part of the lineup during their impressive commercial resurgence during the early '80s.
The current Yes lineup, on the other hand, retains a number of important links to the past — guitarist Steve Howe and drummer Alan White both boast decades of service, as does bassist Billy Sherwood, while keyboardist Geoff Downes' ties go back to the Drama LP. Current singer Jon Davison, a member since 2012, has logged numerous shows since joining, developing an intimate familiarity with the catalog over that span.
So who's performing "Roundabout" better these days? Check out recent live renditions from both bands below, and cast your vote to let us know who comes out on top.
Watch ARW perform 'Roundabout'
Watch Yes perform 'Roundabout'
Yes Albums Ranked Worst to Best
More From Ultimate Classic Rock