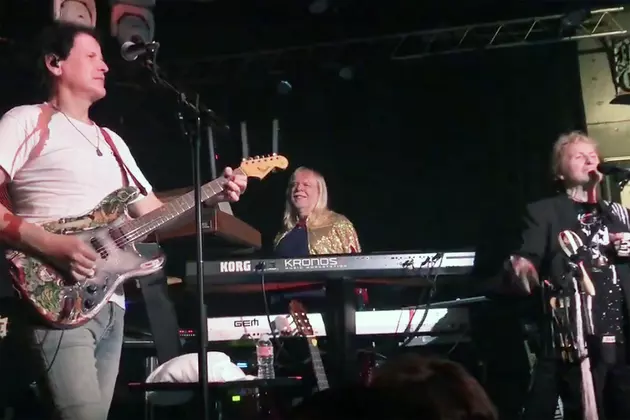 Yes ARW Kick Off Their U.S. Tour in Hollywood: Set List and Videos
YouTube
Yes ARW – the lineup featuring Jon Anderson, Trevor Rabin and Rick Wakeman – kicked off their 50th anniversary U.S. tour with an intimate show at the Whisky A Go Go in West Hollywood last night, with 400 people paying just $2 to see them.
The small stage looked cramped with Wakeman's sprawling keyboard setup taking up most of the space, leaving Anderson and Rabin with minimal, but workable, areas to perform in.
The set – which included "Owner of a Lonely Heart," "Cinema" and "Your Song" – was performed in the venue where Yes played their first headline show in 1971.
You can watch videos from the concert below, as well as the set list.
"I can remember playing the Whisky as though it was yesterday," Anderson said when the show was announced. "It was such an important happening for the Yes band. We were still very new to the U.S.A., but I felt so connected to America for some reason … the stage, the setting, the atmosphere was so exciting. We played five nights, and each night the crowds got bigger and more excited, so did we. We played our hearts out; the reaction was amazing to say the least. I felt at last we are making it in this wild and wonderful rock 'n' roll business, and I just loved every minute."
"I remember the shows so well," Wakeman added. "There was no room on the stage for my keyboards, so they put planks of wood over the door entrance and I played there. It was my very first trip to America and I loved it."
Yes ARW will release a live video and album on Sept. 7 and previously premiered a video of the Yes song "Rhythm of Love." The band released its first original song, "Fragile," in July. Their tour runs until Sept. 9, with further U.S. dates planned for 2019.
Yes ARW - Aug. 26, 2018 Set List
1. "Cinema"
2. "Hold On"
3. "All Good People"
4. "Changes"
5. "And You and I"
6. "Fragile / Touch"
7. "Rhythm of Love"
8. "Perpetual Change"
9. "Wondrous Stories-Soon"
10. "Lift Me Up"
11. "I Am Waiting"
12. "Heart of the Sunshine"
13. "Awaken"
14. "Owner of a Lonely Heart"
15. "Roundabout"
More From Ultimate Classic Rock