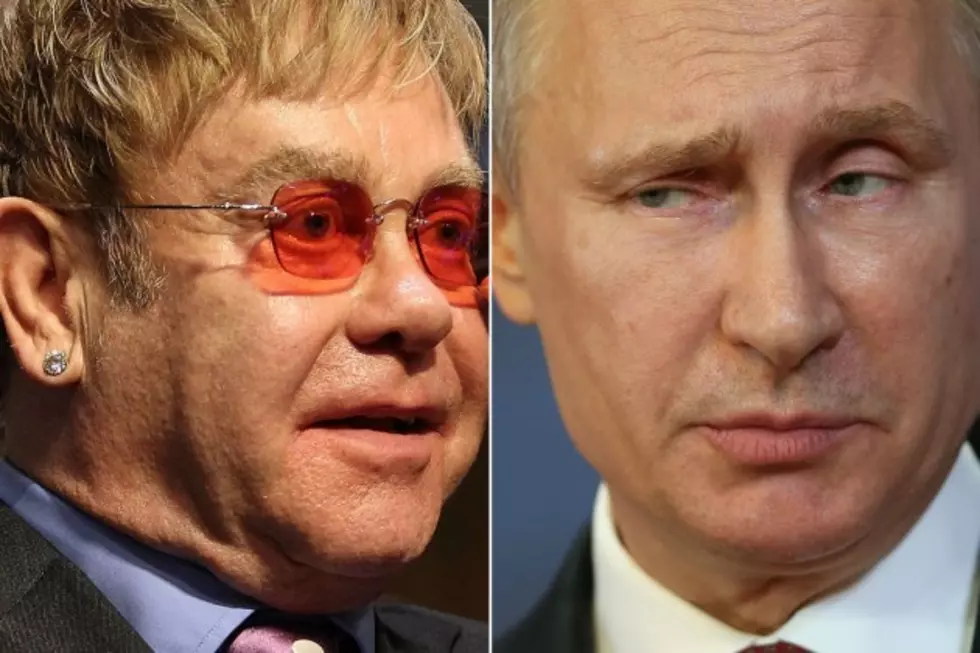 UPDATED: Vladimir Putin Denies Calling Elton John
Paul Morigi / Sean Gallup, Getty Images
UPDATE: A prank-calling comedy team from Russia has taken credit for fooling Elton John into thinking he received a phone call from Russian President Vladimir Putin. They reportedly planned to air the entire conversation this evening (Sept. 16) on a late-night comedy show.
Either Vladimir Putin's office is out of the loop when it comes to his phone records, or Elton John has been the victim of a crank caller who can pull off an effective impression of the Russian president.
As previously reported, John has gone on record as saying he'd like to meet with Putin to discuss gay rights in Russia. While referring to Putin's comments and policies as "ridiculous" and "isolating and prejudiced," John said he was open to the possibility of setting up a face-to-face conversation in the hopes of getting him to consider the issue from a different perspective.
"It's probably pie in the sky," he admitted. "He may laugh behind my back when he shuts the door, and call me an absolute idiot, but at least I can think I have the conscience to say I tried."
Shortly thereafter, John took to Instagram to say Putin had reached out to discuss a meeting. "Thank-you to President Vladimir Putin for reaching out and speaking via telephone with me today," he wrote. "I look to forward to meeting with you face-to-face to discuss LGBT equality in Russia." Unfortunately, as the BBC reports, Putin's office is denying such a call ever took place.
I don't know who spoke to Elton John but President Putin did not speak to him," said a Kremlin rep. "I don't know [what happened], but President Putin did not speak to Elton John, and most importantly we didn't receive any proposals to meet."
That said, while Putin doesn't currently have any plans for a meeting, his office indicated a willingness to be available if and when John offers a time and place. "If the president does get such a signal from Elton John, the president has always been open to discuss any... human rights problems, any issues," added the rep. "He is always ready to clarify the real situation."
Elton John Albums, Ranked Worst to Best
This Day in Rock History: September 16
More From Ultimate Classic Rock