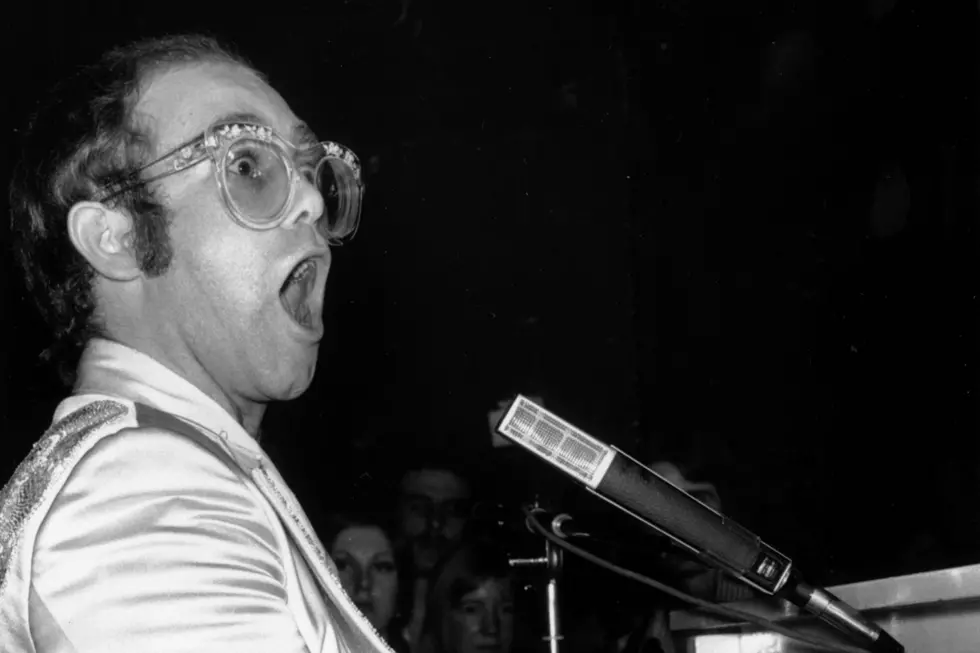 Hulton Archive, Getty Images
He's the Rocket Man. Captain Fantastic. Reginald Dwight. But you know him best as Sir Elton Hercules John, and his songs are some of the best in classic rock history.
In his latter years, John found personal peace and happiness, a beautiful thing to see after the years he lost to wild rock star living and a portfolio of various addictions. Watching him pound the keys with his band at one of his regular shows in Las Vegas, it was hard to even remember the diva who waddled onto a stage in New York's Central Park wearing a full Donald Duck costume.
But that's central to the brilliance of Elton John's art: The contradictions within the man. He can kill you with the beauty of a tender ballad, then bowl you over with an intense blast of filthy rock and roll. He can dedicate decades of work to defeating AIDS, then engage in a public catfight with Madonna through the gossip columns.
Ten songs from Elton John's career? That's a tall order. Your favorite isn't on here, and neither is mine. (Okay, a few of my favorites are. MAKE YOUR OWN DAMN LIST.) But like his many public personas and musical identities, no matter which songs you choose to love, there's always something amazing to find in Elton John's songs.
10

'This Train Don't Stop There Anymore'

From: 'Songs From The West Coast' (2001)

Although his modern work hasn't had the same impact on the charts as his '70s records, Elton John put out a solid run of quality albums since 2001's Songs From The West Coast, including his twang-infused 2004 release Peachtree Road and the 2010 Leon Russell collaboration The Union. The closing track from West Coast is one of Bernie Taupin's classic "state of the Elton" lyrics, where he illustrates the stages of his best friend's life with poetic accuracy. It captures Elton John as the train of his life slows down and he begins to appreciate the simple pleasures of love and music.

9

'I Guess That's Why They Call It the Blues'

From: 'Too Low for Zero' (1983)

Featuring guest harmonica from Stevie Wonder, "I Guess That's Why They Call It the Blues" finds Elton John delivering a warm slice of '80s mid-tempo pop, aided and abetted by his own down and dirty piano skills. The man's one of music's greatest balladeers, but this is something different; this may be the closest he's ever come to the straightforward soul music that's one of his many influences.

8

'Please'

From: 'Made in England' (1995)

Made In England is a refuge of organic instrumentation smack in the middle of Elton John's most synth-laden era, when every album was lathered thick with electronic bleeps and sighs. This deep cut is a simple love song with some of the sweetest hooks Elton ever penned, a Beatles-esque chiming guitar, and a sly but sincere Taupin lyric.

7

'Crocodile Rock'

From: 'Don't Shoot Me I'm Only the Piano Player' (1973)

Sometimes it's an artist's slightest work that maintains the greatest staying power. Which is not to say "Crocodile Rock" isn't a terrific tune; just that its aspirations are small. It's a song from the '70s that's a pastiche and homage to all the '50s rock, pop, and doo wop that Elton John and his peers grew up on. From that perspective, it's a rung or two above Sha Na Na. Here the devil's in the details, like the whirligig organ that floats above Elton's central piano riff, or the ascending guitar lines that underpin the chorus. Roger Ebert said that great parody becomes that which it parodies, which is a high-falutin' way of saying that on 'Crocodile Rock,' Elton didn't just imitate his idols; he equaled them.

6

'Goodbye Yellow Brick Road'

From: 'Goodbye Yellow Brick Road' (1973)

You could write an entire separate piece ranking Elton John's '70s albums, but one looms large above the others, if only by size and the weight of its many iconic songs: "Goodbye Yellow Brick Road." If Elton John and Bernie Taupin have created a magnum opus, this may very well be it. While Elton and his band hopscotch through the entire history of American popular music, Bernie crafts evocative words that look ever backward with nostalgia, wit, and occasional anger. This title cut captures those themes perfectly with the tale of a green young farmboy who finds himself trapped in the orbit of a world weary, powerful figure. There's something almost Spector-esque about the sound Elton and his band achieve on this track, adding an extra halo of wistful yearning to the song.

5

'Empty Garden (Hey Hey Johnny)'

From: 'Jump Up' (1982)

Elton John was one of the first generation of musicians to be deeply influenced by the Beatles, not as peers but as wide-eyed fans. One can only imagine the thrill of befriending John Lennon after years of staring at his face on album covers. The pair recorded a few tunes together and even appeared live at Madison Square Garden for a short but legendary set in 1975. When Lennon was senselessly gunned down in 1980, Bernie Taupin set these words to paper and Elton used them to create this biting, yearning ballad of loss. It's all in those opening words: "What happened here / As the New York sunset disappears?" The world is still asking itself that question.

4

'I'm Still Standing'

From: 'Too Low for Zero' (1983)

Although it's not quite fair, the eighties seem to be regarded as a "lost decade" for Elton John, at least when it comes to critical appreciation. Outside of his 1989 Sleeping With The Past album (the first produced after his recovery from drug addiction) and 1983's Too Low For Zero, the decade yielded plenty of hits for Elton, but few of them memorable. (The less said about "Wrap Her Up," his campy duet with George Michael, the better.) Too Low, yielded our No. 9 Elton John song selection and this propulsive rocker, a staple of Elton's live shows and another iconic song that has come to define the singer's public persona. Weaving effortlessly between genres, "I'm Still Standing" is somehow both a full-out rocker and completely danceable, the wailing electric guitar and searing synth meshing with a bouncing bass line that's almost disco-esque.

3

'Saturday Night's Alright for Fighting'

From: 'Goodbye Yellow Brick Road' (1973)

And yet, as great as "I'm Still Standing" is, and for all the great rock tunes Elton John has contributed to classic rock playlists over the decades, it's "Saturday Night's Alright For Fighting" that looms large above them all. It's driven entirely by Davey Johnstone's legendary guitar riff and a snot-nosed lyric by Bernie Taupin that captures a snapshot of a certain type of British thug at a certain moment in that nation's cultural history. There's no mercy or grace in Elton's vocal; this is all primal rock wail, and he absolutely murders it, earning a spot on the all-time great rock vocalists list with just this performance.

2

'Tiny Dancer'

From: 'Madman Across the Water' (1971)

It may have been immortalized by writer/director Cameron Crowe in Almost Famous, but for Elton John fans, "Tiny Dancer" has always been an undisputed classic. It starts with that simple, beautiful opening piano riff, like the tinkling tune of a music box, and builds effortlessly into a full, warm sound – a chorus of voices, a relaxed acoustic guitar, Elton's piano weaving its way around every note. Bernie Taupin wrote the lyrics for his girlfriend at the time, and surely her face is lost to the mists of history; it's the unforgettable images in his words, her dancing in the sand and those Jesus freaks "handing tickets out for God" that will endure.

1

'Rocket Man'

From: 'Honky Chateau' (1972)

Harry Nilsson did it with "Spaceman," David Bowie did it with "Space Oddity," and Elton John did it with "Rocket Man." Each song as about the new-at-the-time phenomenon of men actually climbing aboard giant machines and soaring upward beyond the veil. But while the other songs zero in on the strangeness of space travel, only Elton John and Bernie Taupin manage to capture the underlying sadness of drifting alone above Earth, so far from family and friends, looking back at a massive turqouise orb that just grows smaller as you float away. It's that emotional undercurrent, that human element, that Elton and Bernie so often discover, and that makes their greatest songs so great.
More From Ultimate Classic Rock