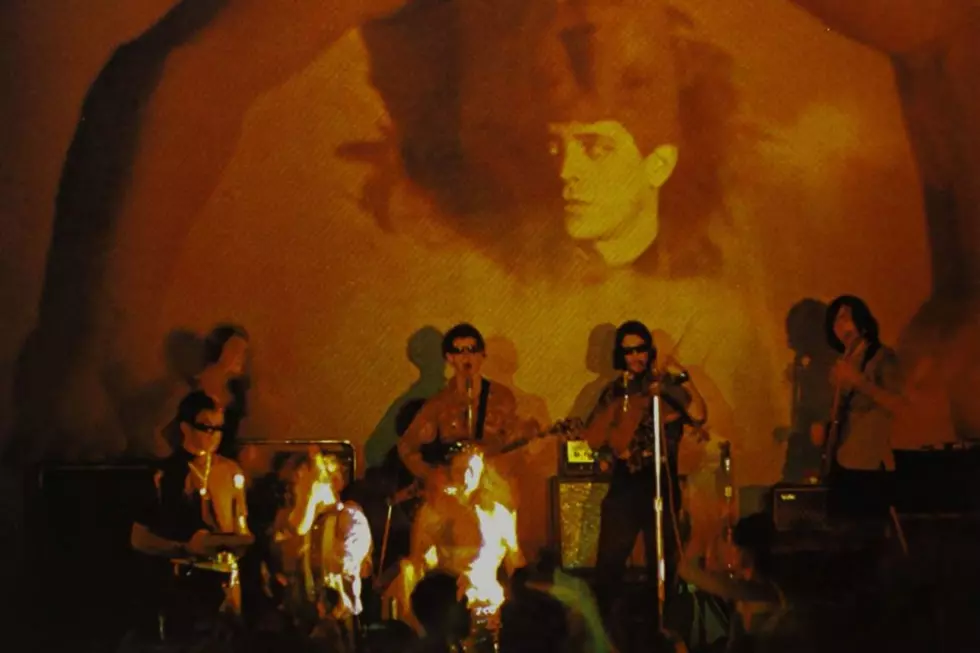 How 'Peel Slowly and See' Collected the Velvet Underground's Past
Polydor
By the time the five-disc box set Peel Slowly and See was released on Sept. 26, 1995, the Velvet Underground's reputation and influence were pretty much secure. But in the '60s and '70s, when the four full studio albums collected on the set originally came out, it was an entirely different story.
During their brief period together – Peel Slowly and See includes only the albums made with Lou Reed; a final LP recorded after Reed left the band isn't included – the group released four records, every single one of them considered a classic today.
From the rattle-and-hum dissonance of their landmark 1967 debut, The Velvet Underground & Nico, and the dark noise assault of the following year's White Light/White Heat to the late-night come-down folk of 1969's The Velvet Underground and the relatively mainstream rock 'n' roll of 1970's Loaded, the band rarely repeated itself on record. Peel Slowly and See collects all four albums plus a bunch of previously unreleased demos and leftovers on five stuffed discs.
In a way, it's the ultimate Velvet Underground experience, a six-hour journey from the band's jagged beginnings to its commercial-minded end. It's the story of rock 'n' roll itself, if you want to look at it that way, and a cautionary tale for artists who valued integrity over success. Somebody once said that not too many people bought the Velvet Underground's records when they first came out, but everyone who did eventually formed a band. Peel Slowly and See makes it clear as to why: They proved that even misfits, junkies and rebellious brats could make music, even music as artsy and as difficult and as abrasive as this, if they put their hearts to it.
Listen to the Velvet Underground's 'I'm Waiting for the Man' Demo
The first disc – of previously unreleased demos from 1965, all 78 minutes and six songs of it – reveals a band, even at this early stage, unafraid to venture into territories that most sane artists would stay away from. Much has been made of Reed's song subjects (dope fiends, sex addicts, misanthropic souls wandering the lost jungle of the city) over the years, but the Velvets were just as much about pushing your expectations of rock 'n' roll music into distorted, blurred and sometimes terrifying new realms.
These early demos are sketchy, and not really something most people will listen to again and again (for one thing, their fidelity isn't all that sharp), but they carve an interesting and significant intro to the band. Without a doubt, there's little from 1965 that sounds even remotely like what was on the charts at the time.
Scattered among the four official albums here, which play out chronologically and occasionally in slightly new versions (the 1969 album is presented in Reed's claustrophobic "closet mix," and Loaded includes expanded takes on some of the songs), are various singles, discarded sessions and live tracks recorded during the five years documented on Peel Slowly and See.
The most intriguing are the handful of cuts that first surfaced on the 1985 VU album of outtakes originally recorded for The Velvet Underground's follow-up LP before the band was booted from its label.
Peel Slowly and See -- the title comes from original copies of the Velvets' debut, which included a peel-off banana on the cover -- was released during a period when record companies were scrambling to compile their artists and repurpose their material on hefty (and, hopefully, money-making) box sets.
It remains one of the greatest of the era, for both its curating of the band's four classic albums and the wealth of previously unreleased tracks that were added to help fill in the gaps. It's telling that it didn't crack Billboard's Top 200, even at this late stage of the group's influence. But its historical importance remains an inspiration for bands everywhere that are churning out music that nobody in their lifetime may ever hear.
See the Velvet Underground Among the Top 100 Albums of the '60s
Lou Reed Released One of Rock's Most Hated Albums
More From Ultimate Classic Rock